Build a Better Salad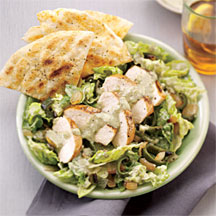 Salads, my friend, are the essence of summer. They are quick, easy to make, and invigorating meals. Although I have always appreciated a good salad I have come to the conclusion that not all salads are created equal.
When I check the menu at a restaurant, I find myself intrigued with the many new creations of salad recipes. I am seeing yummy mixes of food that I would have never thought to put together.
I am constantly changing the way I view salads. I am seeing so many salads that have fruit, vegetables and proteins all mixed together to create one big happy salad family. When I find a new salad featured at a restaurant, I frequently want to try to duplicate it at home.
I appreciate fresh vegetables and so that is clearly my first choice. If I use a bag of salad, I make sure I run it through the salad spinner to freshen it up. My spinner is a kitchen tool I would not want to do without. Once you start using one, you will understand what I mean. Clean, fresh salad greens make all the difference.
A green salad is a very enjoyable summer dinner. Here are some exceptional salad recipes for you to try.
---
Chicken Fajita Salad
3 tablespoons cooking oil
1/4 cup lime juice
1 garlic clove (minced)
1/2 Teaspoon cumin
1/4 Teaspoon oregano
1 pound chicken breast cut into strips
1/4 cup onion finely chopped
1 red bell pepper finely chopped
1 small can chopped green chilies
6 cups mixed salad greens finely chopped
2 medium tomatoes finely chopped
1 avocado sliced
1/4 cup shredded taco blend cheese
Mix the lime juice, garlic and spices together. Use as marinade on chicken for about 1 hour. Heat oil in skillet. When oil is hot, saute onion. Remove chicken from marinade and add to the skillet. Cook until slightly brown about 5 or 6 minutes. Add red pepper, green chilies and cook an extra couple of minutes. Serve over a bed of lettuce with tomato, avocado and cheese.
---
Baja Bean Salad
1 (15 ounce can black bean)
1 (15 ounce can) small white beans
1 chopped cucumber (small)
1/2 cup guacamole
1/2 cup Greek yogurt
1/2 Teaspoon salt
6 Tablespoons milk
Mixed greens, tortilla chips and shredded cheese
Rinse and drain beans. Place in a large bowl, add cucumber, tomato and onion. Mix with shredded salad greens and toss.
In a small bowl, mix together yogurt, guacamole, salt and milk to thin. Pour dressing over lettuce, beans and corn chips and cheese.
---
Caribbean Shrimp Salad
8 cups salad greens
1 papaya (cubed)
12 ounces shrimp
3/4 cup orange juice
1/3 cup mayonnaise
1 jalapeno pepper (seeded and finely chopped
1/8 Teaspoon Chili powder
1 Tablespoon lime juice
In a large bowl, tear cleaned salad greens. Place pre-cooked, deveined shrimp and sliced mango on top of salad. In a smaller bowl mix orange juice, mayonnaise, jalapeno pepper, lime juice and chili powder. Whisk and pour over dressing. Toss and serve immediately.
---
---
An unbeatable value with exclusive benefits for members only.
Get a newsletter like this each week when you join the Cook'n Club.