Hot and Spicy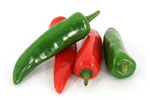 One of our Cook'n club members wrote in and said he would like to see a little more hot and spicy in the recipes. It got me thinking. Is there a trend that is leading us toward new flavors like hot and spicy and I think the answer is yes. Have you noticed that the fast food establishments are offering more hot and spicy? Check it out! I even have in my cupboard some dark chocolate with chili pepper in it. I really like the chocolate with a bite. I have noticed chocolate bars that have heat in them as well.
Marinades are providing us with a zing, such as Chipotle, Jalapeño and other tangy spices. Snack food are also offering more products with a kick... Maybe it is time to kick it up a notch. Experiment and add a little excitement to some of your already favorites. I think you have to start small and add hot and spicy a little at a time. Like most things it is an acquired taste. Some of you already have that ability to appreciate the "Hot and Spicy."
---
Hummus with Habanera Pepper
2 cans garbanzo beans (chick peas)
1/4 cup olive oil
6 cloves of garlic, peeled
4 Tablespoons lemon juice
1 cup thin (toasted sesame paste)
3 Tablespoons toasted sesame oil
1/2 Teaspoon habanera powder
2 Teaspoons cumin
1 Teaspoon salt
Rinse and drain chick peas and mash them in a blender and add the garlic. Add all other ingredients and blend until smooth. For an additional taste, add either roasted red peppers or pine nuts on top.
This dip is great for vegetables and pita crackers
---
Coconut Curry Chicken Breast
4 Tablespoons vegetable oil
1 onion, quartered
4 chicken breasts
1/2 Teaspoons lime juice
12 ounce can of coconut milk
4 Teaspoons fish sauce
4 Teaspoons Massaman curry paste
2 Teaspoons sugar
Heat the oil in a large saucepan. Add the chicken breast and brown on all sides. Stir the coconut milk into the pan and bring to the boil. Add the curry paste. Lower the heat and simmer for 2 hours.
Stir in onion, lemon juice, fish sauce, sugar. Cover the pan and simmer for 30 minutes.
---
Hot & Spicy Beef
2 Tablespoons oil
2 Teaspoons fresh root ginger, sliced
1 pound minced beef
1 Teaspoon Chinese five spice powder
1 red chili, sliced
1 green pepper, seeded and chopped
1 carrot, sliced
6 ounces bean sprouts
1 Tablespoon sesame oil
Heat the oil in a wok or skillet until its smoking hot. Add the minced beef and cook for 4 minutes, stirring at all times. Add ginger, Chinese five spice powder and chili. Cook for 1 minute. Add pepper and carrot and cook for a further 2 minutes, stirring continuously. Add bean sprouts and sesame oil and cook for a final 2 minutes. Serve with Chinese noodles
---
Five Spice Chinese Almonds
2 cup almonds
1 Teaspoon Chinese five spice powder
2 Tablespoons olive oil
1 Teaspoon fine sea salt
1/2 Teaspoon cayenne pepper
1 Tablespoon sugar
Preheat oven to 350 degrees. In a large bowl, toss the almonds with the olive oil. Spread almonds out on a sheet pan in a single layer. While oven is hot, mix the spices, salt, and sugar in a small bowl. Bake almonds for 10 minutes. Remove pan from oven and carefully pour the hot almonds back into the mixing bowl. Sprinkle spices over the nuts and toss well with a spoon. Pour the seasoned almonds back onto the sheet pan and return to the oven for 6 minutes. Remove from oven and let nuts cool completely on pan.
---
Lebanese Hot Red Pepper and Walnut Dip (Muhammara)
This recipe was sent to me from my son, Kevin, who lives in Canada. This deliciously exotic and spicy dip is easy to make and can be served warm or cold. Serve it with toasted pita bread or fresh vegetable sticks for dipping.
1 cup shelled walnuts
1 Teaspoon ground cumin
1 Tablespoon tomato paste/puree
1 Tablespoon red wine vinegar
6 Tablespoons extra-virgin olive oil
7 oz. roasted red bell peppers
1 garlic clove, crushed
1 Teaspoon Spanish smoked hot paprika
2 Tablespoons pomegranate molasses* (syrup)
6 Tablespoons fresh white or brown bread crumbs
Fresh pomegranate seeds, to serve (optional)
Sea salt and freshly ground black pepper to taste
Toasted pita bread or vegetable crudités, to serve
Toast the walnuts in a dry skillet/frying pan for about 2 minutes, until fragrant. Set aside to cool.
Put the toasted walnuts and bread crumbs in a food processor and blend until finely ground. Add the peppers and garlic and blend until smooth and then add the paprika, cumin, tomato paste/puree, vinegar and pomegranate molasses. Season well with salt and pepper and blend again until the dip is smooth and creamy.
With the blender running, slowly pour in the olive oil until it is incorporated. If the mixture is too thick, add a few tablespoons of water or lemon juice. Serve sprinkled with fresh pomegranate seeds, if using. Cover and refrigerate until ready to serve.
*Note: This thick, fragrant and tangy reduction of pomegranate juice is made by boiling the liquid until it becomes thick and syrupy. It's a key ingredient in traditional Middle Eastern cooking and has become an increasingly popular gourmet ingredient over the last few years. It is available from larger supermarkets and online retailers. If you can't find it, put 3/4 cup pomegranate juice (make sure it's 100% and not a cocktail) in a small saucepan bring to a boil. Reduce the heat to medium and simmer, uncovered, for about 6 minutes, until the juice is reduced to about 2 tablespoons. Set aside to cool and thicken before using.
---
---
An unbeatable value with exclusive benefits for members only.
Get a newsletter like this each week when you join the Cook'n Club.