Mouthwatering Main Course Salads
In my reading and researching for this article I learned on thing for sure. There are as many "salads" out there as there are forks to eat them! One forum I googled across attempted to answer the question "what makes a salad a salad?" For every well thought out reply there was at least one response as to why that couldn't be the all-encompassing answer.
By the end of reading their replies I came to this conclusion: A salad is a salad if the recipe or cook says so! I have had "salads" that contained vegetables, meat, fruit, pasta, even a Snickers bar. They may not have all followed a rulebook on "How to be a salad", but most of them were delicious!
Though I didn't come to a definitive definition of the word salad, I did still want an answer to one question. What makes a salad a "main course salad"? I read several opinions and found that it boiled down to protein! Protein brings the real substance that can change your side salad in to a healthy main course!
One of the easiest forms of protein to toss in to your salad is chicken. We see chicken in many salads, but there are so many other options for stepping it up! This list will show some other meat options as well as some great add-ins for vegetarian main course salads.
All meat and other animal products are sources of complete protein.
•beef, lamb, pork
•poultry, eggs
•fish, shellfish
•milk and milk products
Plant foods contain the same amino acids as animal foods, but in differing amounts. Protein in foods such as most grains, fruits, and vegetables are considered incomplete proteins, being either low in, or lacking, one of the essential amino acids. Plant protein sources can be combined with other plant or animal products to form a complete protein; eg rice and beans, milk and wheat cereal, corn and beans. Plant foods considered complete proteins:
•Nuts
•Soy foods (tofu, tempeh, miso, and soy milk)
•Sprouted seeds (each type of sprout differs in nutrient proportions, so eat a variety)
•Grains (especially amaranth and quinoa, highest in protein)
•Beans and legumes (especially when eaten raw)
•Spirulina and chorella or blue-green algae (over 60% protein)
Hopefully, you will find some new ideas and inspiration when looking at that list. Introducing a variety of proteins to your salad repertoire will keep your culinary audiences excited and applauding! Chicken in a salad is fantastic, but not every day. By using different proteins you can really explore some great flavors and textures all while sticking with a healthy salad.
As always, I will leave you with three recipes to try. I hope you and yours find them delightfully delectable.
---
Summer Salad with Beans and Basil
Fresh, flavorful, and filling!
Serves 2-4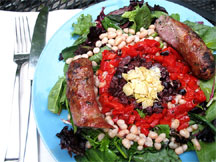 2 Italian sausage
2 tablespoons good quality olive oil
lemon juice from 1/2 lemon
1/4 teaspoon freshly cracked black pepper
4 cups mixed salad greens, washed and dried
1 cup basil washed and stems removed, torn into medium-sized pieces
1 (15-ounce) can cennellini beans or other small white beans, drained and washed
1 jarred roasted pepper
12 kalamata olives , pitted
1/2 cup marinated artichoke hearts
Heat grill to medium high and cook sausage until rich golden brown on both sides, about 8 minutes per side.
Meanwhile, in a medium bowl, whisk together olive oil, lemon, and black pepper, then add greens and basil.
Spread dressed greens on a dinner plate, then add washed and drained beans.
Finely chop each of the remaining ingredients separately, then plate on top of beans and greens in concentric circles.
When sausage has finished cooking, let rest for a moment, then slice and add to top of salad. Serve.
---
Asian Steak Salad
4 cups green cabbage, sliced very thin
4 cups red cabbage, sliced very thin
5 tablespoons fresh lime juice
3 tablespoons hoisin sauce
1 tablespoon tamari sauce
20 ounces (eye steaks) beef steaks
2 shallots, sliced thin
1/2 cup green onion, sliced into 1/2 inch lengths
1/3 cup chopped cilantro
1/3 cup mint leaves, chopped
3 tablespoons lemongrass, minced
1 teaspoon thai chile, minced
2 cups fried chow mein noodles
1/2 cup slivered almonds
Preheat grill to medium high.
Sprinkle steaks with just salt and pepper.
Combine cabbages, 2 T of the lime juice and 1 t. of the Hoisin Sauce.
Toss well and set aside.
Grill steaks to personal preference.
When done cut crosswise into this slices.
Combine the remaining ingredients with the slightly marinated cabbage and toss well.
Arrange salad on four plates and divide the meat equally between them.
Serves 4.
---
Grilled Salmon Salad with Tomato Vinaigrette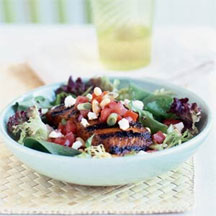 1 1/2 pounds boned, skinned salmon fillet, cut into 4 equal pieces
3 tablespoons light brown sugar
1 teaspoon ground cumin
1 teaspoon chili powder
1 teaspoon salt , or to taste
1 teaspoon black pepper , or to taste
8 ounces salad oil mix, rinsed and crisped
Tomato Vinaigrette (see below)
4 ounces fresh (chevre) goat cheese , crumbled
1/4 cup minced green onion (white and green parts only)
1/4 cup pine nuts
Tomato Vinaigrette:
1 cup diced firm tomato
1/4 cup red wine vinegar
2 tablespoons extra-virgin olive oil
1 tablespoon minced shallot
1/2 teaspoon dry mustard
1/2 teaspoon salt
1/4 teaspoon black pepper
Salad:
1. Rinse salmon and pat dry. In a bowl, mix brown sugar, cumin, chili powder, and 1 teaspoon each salt and pepper. Place salmon in bowl and rub pieces all over with spice mixture. Cover and chill at least 30 minutes or up to 4 hours.
2. Lay salmon on a barbecue grill over a solid bed of hot coals or high heat on a gas grill (you can hold your hand at grill level only 2 to 3 seconds); close lid on gas grill. Cook, turning once, until a thermometer inserted in center of thickest part reads 140°, 6 to 8 minutes total.
3. Meanwhile, divide salad mix equally among four plates. Place a piece of salmon on each mound of greens. Drizzle salads equally with tomato vinaigrette and sprinkle evenly with goat cheese, green onions, and pine nuts. Add salt and pepper to taste.
Tomato Vinaigrette:
In a bowl, combine tomatoes, vinegar, oil, shallot, mustard, salt, and pepper. Mix well.
Serves 4.
---