Kathy's Chimichanga Recipe
---

Recipe by Kathy Oaks
---
Ingredients:
2 chopped chicken breasts cooked or raw
1 cup chopped green bell pepper, red, green, orange, and yellow
1 cup chopped onion
1 can black beans
1 1/2 cups shredded cheese
Fiesta Spanish Rice (Click Add to Cook'n button for recipe)
8 uncooked flour tortillas
---
Directions:
Make a big batch of Fiesta Spanish Rice. Place chicken, peppers, and onions in a skillet and cook until chicken is done and veggies are tender. Drain beans and add to chicken. Remove from heat. Heat about 1 quart of oil in a medium size skillet to low medium. Take 1 tortilla at a time and fill with rice, chicken mixture, and cheese. Fold over the 2 side ends and then fold up the bottom end and roll to the top. Put a toothpick in like a sewing needle to hold tortilla closed (don't forget to remove toothpick when serving). Place chimichanga in hot oil and cook until golden brown (about 3 minutes on each side). Serve with rice, beans, lettuce, salsa and sour cream. Yum!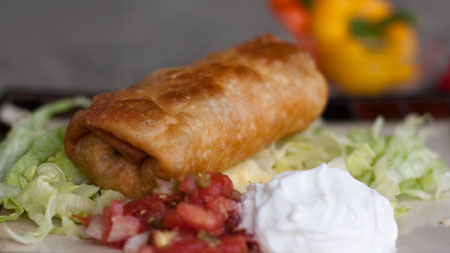 September 2011 Newsletter