4 Ways to Love a Pork Chop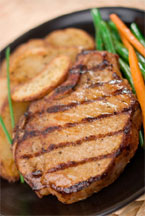 Pork Chops aren't something that we serve very often in our house, but once in awhile we get a hankering for a nice juicy pork chop. The key word here is "juicy." No one wants a dry, tasteless piece of pork that has been over cooked. On the other hand, we also know how important it is to have the pork chop thoroughly cooked.
To insure the pork is done properly, cut the chop in the center and if the juices run clear and the meat is not pink then it's done. You can also use a meat thermometer. Some recipes will tell you the pork should reach the temperature of 150 and some even say 160. I use the knife test; cut the pork chop in the center and if the juice runs clear it's done.
It's best not to trim the fat off the pork chop until you are ready to eat it, the fat adds to the moisture of the chop. The exception to this would be when you are cooking pork in a slow cooker with sauce. If you are using a sauce, you won't want the extra fat drippings.
My brother and husband believe that a pork chop is better with the bone in it. This cut of meat is definitely a darker piece of meat than the cut without the bone. I prefer the no bone, whiter meat.
Seasoning is a big part of making a mouthwatering pork chop. Some of the more popular seasonings are salt, pepper, Worcester sauce, and of course garlic. Here are four ways to love a pork chop. Remember... "Pork is the new white meat."
Once you have had a pork chop cooked to perfection you will want to add it to your Cook'n menu as one of your favorites. You will also be able to pull up a shopping list from your Cook'n software which will tell you exactly what ingredients you will need to make your preferred recipe. Keep lovin' those pork chops!
---
Juicy Fried Pork Chops
Buttermilk has an enzyme that helps to tenderize the meat; it also helps to keep the flour mixture on the chops while frying.
2 Tablespoons canola oil
2 Tablespoons butter
4 - 3/4 to 1 inch pork chops
1 1/4 cup buttermilk
1 cup flour
2 Teaspoons salt
1/2 Teaspoon cracked black pepper
1/4 Teaspoon garlic powder
In a shallow dish add buttermilk. In another swallow dish add all the flour and mix with seasonings. Dip the pork chops in the buttermilk, covering both sides. Dredge the pork chop through the floured mixture.
In a heavy skillet add the oil and butter. On medium-high heat, heat the oil with the lid on the pan. Place chops in hot oil and cook the pork chop for approximately 6 minutes on each side. Cut into a pork chop to make sure the juices run clear.
---
Sweet and Sour Pork Chops
1 tablespoon soy sauce
4 tablespoons brown sugar
2 tablespoons vegetable oil
4 tablespoons ketchup
1 tablespoon Worcestershire sauce
4 pork chops, trimmed
1 teaspoon lemon juice
Preheat oven to 350 degrees.
In a small bowl, thoroughly blend soy sauce, vegetable oil, Worcestershire sauce, lemon juice, brown sugar, and ketchup.
Place pork chops in a medium baking dish, and spread with 1/2 the sauce. Add remaining sauce and cook for another 15 minutes.
Bake at 350 degrees for 45 minutes.
---
Pork Chops with Gravy
4 (1 inch thick) pork chops
1/2 cup milk
1 Teaspoon salt
1/2 cup water
1 Tablespoon butter
1/2 Teaspoon pepper
1 (10 ounce) can golden cream of mushroom soup
Preheat oven to 350 degrees.
Season pork chops with salt and pepper. Melt the butter in a large skillet over medium heat. Brown pork chops in the butter for about 5 minutes per side.
In a medium bowl, combine the milk, water and soup. Place the pork chops in a 9x13 inch baking dish and pour the soup mixture over the chops.
Bake pork chops 30 minutes in the preheated oven. Turn, and spread with remaining sauce. Continue baking 30 minutes, or until internal temperature of the chops has reached 160 degrees.
---
Hoisin Sauce Pork Chops
Hoisin sauce is a Chinese dipping sauce.
1/2 cup hoisin sauce
1/4 cup white vinegar
2 cups brown sugar
3/4 cup soy sauce
4 (1 inch thick) pork chops
Stir together the hoisin sauce, vinegar, brown sugar, and soy sauce in a medium bowl. Dip each pork chop into the mixture, and place in a shallow baking dish. Pour any remaining sauce over the top. Cover and refrigerate for 30 to 60 minutes.
Preheat the oven to 350 degrees. Bake the pork chops uncovered until the sauce has turned to a glaze and the meat is cooked through, 30 to 40 minutes.
---
---
---
An unbeatable value with exclusive benefits for members only.
Get a newsletter like this each week when you join the Cook'n Club.