Taco Soup on Navajo Tacos Recipe
---

Recipe by Kammon and Jordan (Kathy's beautiful niece & her handsome husband sitting in for Dan & Kathy while they are away on vacation)
---
Taco Soup on Navajo Tacos
---
Taco Soup Recipe demonstrated for the Home Cook'n Newsletter October 2011 by Jordan and Kammon.


1 pound lean ground beef (browned)
1 onion (brown with beef)
2 (15-ounce) cans black beans (Don't drain or rinse)
1 (15-ounce) can kidney beans (Don't drain or rinse)
1 (15-ounce) can Diced tomato
1 can corn
1 package taco seasoning mix
1 package Hidden Valley ranch salad dressing mix
1 (8-ounce) can tomato sauce
1 (4-ounce) can green chili
I throw everything into a crock pot and simmer for a couple of hours. We like to put cheese on it and eat it with tortilla chips. You could also serve it with lettuce, cheese, tomato and chips like a taco salad. Sometimes I make it without the meat and we like it just as much. We also like to eat it over navajo tacos. It also freezes well.
Scone Dough
---
6 cups warm buttermilk
4 tablespoons yeast
4 tablespoons vegetable oil
8 tablespoons sugar
4 well beaten eggs
stir until yeast & sugar are dissolved. Add:
12 cups flour
1 teaspoon baking soda
6 teaspoons baking powder
4 teaspoons salt
Stir first 5 ingredients until yeast and sugar are dissolved. Add last 4 ingredients and knead lightly. Let rise for 1 hour. Make soft dough. Roll thin. Cut to desired size. Drop into hot oil and fry on both sides.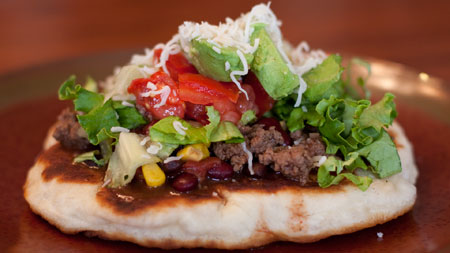 October 2011 Newsletter