Butterscotch Carmel Bubble Loaf

---

Recipe from the October 2011 Newsletter
---
Ingredients:
20 2-inch balls bread dough
1 small box butterscotch pudding not instant
3/4 cup chopped pecans
1/2 cup brown sugar
1/2 cup butter
1/2 cup caramel ice cream topping




---

Directions:

Preheat oven to 350 degrees. Break rolls in half and dip in dry pudding mix. Arrange rolls in well greased bundt pan, alternately with pecans. Be sure not to fill pan more than halfway. Sprinkle any remaining pudding mix over top. Combine brown sugar and butter. Heat together until butter is melted and syrup is formed (microwave 1 1/2 minutes). Pour syrup over rolls. Cover with sprayed plastic wrap. Let rise till double in size or until even with top of pan.

Carefully remove plastic wrap. Bake for 40-45 minutes. Cover with foil during the last 15 minutes of baking time. Immediately after baking loosen from sides of pan with knife and ivert onto serving plate. Let cool 10 minutes then slowly drizzle caramel sauce over bundt loaf, being careful to cover all areas.

October 2010 Newsletter

Be sure to check the Cook'n Recipe Archive for more recipes.
---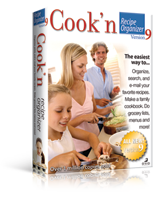 Be sure to check the Cook'n Recipe Archive for more recipes.
Piles of recipe cards in your drawer? Download Cook'n today and get organized!
Buy the CD or download of Cook'n right now! Includes over 300 of our best recipes.
---
"I might learn how to cook yet with all this software of yours. You can't believe how much it has helped. I've had friends come over (I'm just a single guy with a dog - but looking for the right woman) and rave about the meals I prepared for them. It's not all that hard if you just follow the directions. In the end I have to tell them my secret, it's not talent - it's your software.
Oh well, the food is still delicious. Now if I could just figure out how to use the dishwasher.
-John
Cook'n Is Several Products in One!