Dabbling with Apples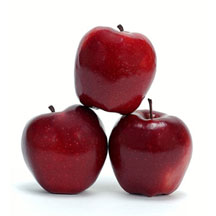 Apples are so versatile and are definitely a fruit that can be used in savory or sweet recipes. Those beautiful apple blossoms have turned into scrumptious apples just in time to celebrate the fall harvest. Some of falls greatest treasures are the Carmel apple, apple pies, baked apples, apple crisp or even basic apple sauce.
Pork and apples or apples and sausage pair well together as does the apple with a myriad of salads. Apples are fun to experiment with because it's hard to go wrong with an apple recipe. Why not try something new? Not too long ago, I had my first apple pizza. It has become one of my favorite apple recipes.
So many kinds of apples and so little time! Take advantage of our newsletter archives. After accessing this month's newsletter, click archive on the right hand side. For instance; in Sept 2009 "Fruits of the Season" You can learn how an apple pie can help you to achieve "Domestic Bliss."
Or, if you're like me and really love apples check out one of our cookbook titles, "
Cook'n with Apples
", it can import directly into your Cook'n software!
Excellent varieties for baking are Golden Delicious, Granny Smith, Jonagold, Jonathan, Rome apples.
Good varieties for eating are Braeburn, Cameo, Empire, Fuji, Gala, Ginger Gold, Honeycrisp, Newton Pippin, Pink Lady apples.
---
Apple Pizza
To Make Crust:
2 1/2 cups flour
3 Tablespoons sugar
1 package yeast
1/2 Teaspoon salt
3/4 cup water
1/4 cup butter, cubed
Apple Topping:
4 1/2 cups sliced peeled tart apples
2 Tablespoons butter
3/4 cup sugar
2 Tablespoons flour
1 Teaspoon ground cinnamon
Cheese Topping:
4 ounces cream cheese (softened)
1/4 cup packed brown sugar
2-3 Tablespoons milk to thin
Streusel:
2/3 cup all-purpose flour
1/3 cup sugar
1/4 cup cold butter, cubed
In a large bowl, combine 11/2 cups flour, sugar, yeast and salt. In a saucepan, heat water and butter until butter is melted. Let cool. Add to dry ingredients; beat for 2 minutes. Stir in remaining flour to form firm dough. Turn onto a floured surface; cover and let rest for 15 minutes.
Meanwhile, in a large sauce pan, cook apples and butter over medium heat for 2 minutes, stirring constantly. Combine the sugar, flour and cinnamon; stir into sauce pan. Cook 3 minutes longer. Reduce heat to low; cook, uncovered, for 5 minutes or until apples are tender.
In a small bowl, combine room temperature cream cheese topping, brown sugar; beat with mixer until smooth and easy to spread. Add 2-3 tablespoons milk if mixture is too thick.
For streusel, in a small bowl, combine flour and sugar; cut in butter until crumbly.
Pat the crust dough onto a greased 14 inch pizza pan or cookie sheet, building up edges slightly. Spread with cheese topping, then apple topping. Sprinkle with streusel. Bake the Apple Pizza at 350 degrees for 25 minutes or until crust is golden brown. Serve warm or cold. Apple Pizza can be warmed in the microwave.
---
Crock Pot Apple Butter
5-5 1/2 pounds cooking apples
3 1/2 cups white sugar
2 Teaspoons ground cinnamon
1/4 Teaspoon salt
1/4 Teaspoon cloves
1/4 Teaspoon all spice
Place the apples in a crock pot. In a medium bowl, mix the sugar, cinnamon, cloves, all spice and salt. Pour the mixture over the apples in the crock pot and mix well. Cook 9-11 hours on low heat, stirring occasionally, until the mixture is thickened and dark brown. Uncover and continue cooking on low for 1 hour. Use a stick blender to make the mixture as smooth as you want. Spoon the mixture into sterile jars. Using the cold pack method, cook for 20-25 minutes. Set jars aside until they are cool to the touch and completely sealed.
This will happen as the jars make a popping sound. They are sealed if you cannot press the center down with your finger and have it pop back up again. If the jar lid doesn't seal, refrigerate, freeze or use immediately.
---
Turkey Apple and Brie Sandwiches
2 Tablespoons butter, softened
2 Tablespoons apple butter
1/2 pound thinly sliced roasted turkey
4 ounces brie cheese, thinly sliced
1 apple, sliced
4 slices of bread
Spread a 1/2 tablespoon of apple butter on the inside of the slices of bread for each sandwich. Add half the turkey, brie, then a few thinly sliced apple slices to one slice of bread and top with another slice of bread. Spread the outside of the bread slices with 1/2 tablespoon of butter. Cook in frying pan (butter side on outsides of sandwich) on medium heat; grill until golden brown on bottom and top, 3-4 minutes on both sides, or until cheese is melted. This sandwich can also be cooked using a panni maker.
---
I prefer not to use just one kind of apple when I am making a pie or other desserts. I like the taste and variation of texture that the mixture of apples gives most recipes. Have fun experimenting using apples that you are not familiar with. Enjoy becoming a Happy Apple Dabbler!