Crockpot Bread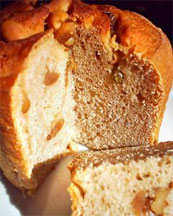 Oh my goodness, how can it be? Two of my loves have come together? Crockpots and Bread! ? It is like a match made in simple, delicious smelling, carbohydrate-loving Heaven! I would never have believed that you could cook good bread in a slow cooker until I walked in to a friend's amazing smelling house a while back and she proved it to me. It was fantastic tasting bread and had all the wonderful benefits of the crockpot I love!
I have had a bread maker since before I was married (many, many, moons ago) and I have never had space in my kitchen to store it. So, it sits lonely and dusty, sealed in its box and hidden away in the garage. I don't know why I haven't been able to part with it, but it just sits there unused. My slow cookers (yes, that's right – plural), on the other hand get prime spacing in the kitchen. I use them very often and love the results they give me. Now that I know that my slow cookers can give me delicious warm bread I think I may finally be able to part with that dusty, lonely, old bread maker!
In this method of bread baking, water and a trivet are placed in the bottom of the crock. Mixed and slightly kneaded dough sits loosely covered in a glass or metal container; this container sits on the trivet inside the crock.  It may seem strange, but it is definitely worth trying!
Here are some pros and cons to think about before you send your bread machine to good will, or go out to buy anything new!
---
Crock Pot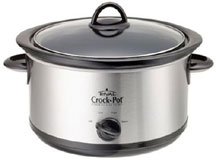 Benefits
• lower initial cost
• only 15 to 20 minutes preparation time (much less than oven baking)
• does not require a special kind of yeast
• uses less energy and puts out less heat than oven baking
• quieter than a bread machine
• can make a variety of breads
Drawbacks
• requires more preparation time than a bread machine (mixing & kneading)
• does not make bread in standard sandwich size/shape
• no "easy select" buttons for different types of bread
• method does not allow for pre-set timing
• no auto shut-off or notification when bread is done
• bread may not brown
• more clean-up required
Bread Machine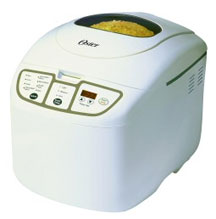 Benefits
• fastest and easiest method of bread preparation
• specific settings for different types of bread
• makes standard sized loaves
• dough setting allows for hand shaped fancy breads
• many models have a crust colour setting
• many models have a pasta dough setting
• newer models can also make jam
Drawbacks

• more expensive to buy

• removable parts are not dishwasher safe

• care must be taken not to chip any of the non-stick baking surface

• greater chance of mechanical failure (moving parts/motor)

• not as versatile as a crock pot
If cost is a very important issue to you, the crock pot may be your best bet. We used a large 6 quart model. It does not have all the features of a bread machine, but it can make basic nutritious bread as well as a multitude of other things. If you don't already have either you can always start with the slow cooker and upgrade to a bread machine later, and your crock pot will still be useful for so many things.
Here is a recipe to get started with:
---
Couldn't Be Better Crockpot Bread
1 tablespoon yeast
1/4 cup water (warm)
1 cup buttermilk (or warm milk)
1/2 cup rolled oats
1 1/2 teaspoon salt
2 tablespoon oil
2 tablespoon honey
1 egg
1/4 cup wheat (germ)
2 3/4 cup whole wheat flour
Grease a deep metal or glass bowl or 1# coffee can. Turn slow-cooker on high to preheat. Dissolve yeast in water. Combine with milk, oats, salt, oil, honey, egg and wheat germ. Add flour and knead until smooth and elastic, about 5 minutes. Turn dough immediately into bowl or can and cover loosely with foil. In bottom of slow-cooker, place 1/2 c. water and a trivet or some crumpled foil. Place can or bowl on this, cover and bake on high for 3 hours. Top of bread will not necessarily brown. Serves 6.
---
---
An unbeatable value with exclusive benefits for members only.
Get a newsletter like this each week when you join the Cook'n Club.