Let Kindness Come with Every Gift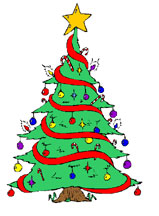 When I think of the perfect Christmas I can't help but think of friends and family gathering together and the sound of Holiday music filling the air. Then I start thinking about food. But most important to me is spending time together with family – sharing in the preparation, eating meals together and furthering the tradition of giving gifts.
I also am reminded that the tree does not have to be decorated with expensive ornaments. I still treasure the ornaments that once covered our tree that were made by our children, either at school or at home with the family. My favorite tree is one decorated with homemade gingerbread men. Children love to be a part of making decorations and planning Christmastime activities.
We can still have a good old fashion Country Christmas – you know... the cost less, mean more type of Christmas. I don't mean to suggest that you won't have children asking for toys and electronic gadgets. But you can still show them the satisfaction of spending time together, making decorations and homemade gifts. Playing games together and making this time not just about them but also about their family and friends and more importantly those who don't have happiness during the Holiday Season.
I think the best Christmas I ever had was a cozy, comfortable Christmas without a lot of running around. Some of you may just love doing that sort of thing, but many people find stress in the rush. On this Christmas, as a family, we drew names and we encouraged the kids to make something homemade to give as their gift to their siblings. I was amazing what they came up with. One made a Denim bag out of old jeans and put hotdog roasters inside. Another made marshmallow shooters that looked darn fancy. One made a stain glass star to top the tree, and another made a small picnic quilt. Pictures of family members put into a small book or frame reminded them of special times together. There are so many thoughtful things to do at Christmas that don't require a lot of money, just time and thought.
For friends, extended family and neighbors, I believe a small gift with a heartfelt note is the way to go. Let that note say something about them that you like or admire not just "Merry Christmas" or "Happy Holidays." We want the gift, large or small, to say "you are special to me."
Often going with a theme is fun, for instance; there are many images and ideas for vintage or country ideas on the Internet that can be incorporated in your gift tags or jar decorations. The label can make a big difference in your presentation. If you feel uncomfortable with making the labels, do the cooking and get a family member or friend to help you with the labels or packaging. It's more fun to do things together and to share talents. Here are a few ideas for easy Christmas gifts that won't break the bank but still say "I Love You Guys."
---
Russian Tea Cookies
2 cups butter (room temperature)
2 teaspoons Mexican vanilla
2 cups flour
1/2 teaspoon salt
1 cup finely chopped pecans
1/2 cup sifted confectioners sugar, plus more for rolling cookies in
Preheat the oven to 325 degrees F.
Cream butter in a large mixing bowl. Add the vanilla then gradually add the 1/2 cup confectioners sugar, beating until light and fluffy. Sift the flour, measure, and then sift again with the salt. Add gradually to the butter mixture. Add the pecans and mix well.
Shape the dough into 1-inch balls and place 2 inches apart on ungreased baking sheets. Flatten very slightly using the bottom of a glass, then bake for 20 minutes or until edges are very lightly browned. Remove the cookies from the baking sheets and roll in powdered sugar while still hot. Cool on wire racks and roll cookies again in powdered sugar. These are cute in jars, bags or plates.
This Russian tea cookie tastes mighty nice with hot chocolate or some peppermint herb tea.
---
Soup in a Jar
I like it when someone brings me soup in a jar. It's an oldie but a goody! It gives me an extra meal set aside for when I need it and what a comfy way to use up some of the leftover turkey or ham.
1/2 cup uncooked white rice
1/2 cup dry lentils
2 tablespoons dried minced onion
2 tablespoons dried parsley
1/2 cup barley
1/2 cup dried split peas
2 teaspoons salt
2 tablespoons beef bouillon granules
1/2 cup uncooked orzo pasta
1 cup uncooked macaroni
1/8 Teaspoon garlic salt
In a wide mouth one quart jar, layer the barley, peas, rice and lentils. Then layer around the edges the onion, parsley, salt, pepper, bouillon and the orzo pasta. Fill the rest of the jar with the macaroni.
The recipe card should read: Add contents of jar to 3 quarts of water, 2 stalks of chopped celery, 2 sliced carrots and 2 cups diced tomatoes. Over medium low heat, cover and simmer about 11/2 hours or until vegetables are tender.
---
Maple Vanilla Granola with Dried Blueberries
Granola makes a great gift because it doesn't have to be used right away. It can be used as cereal for breakfast, a snack or sprinkled on yogurt.
2 cups old-fashioned rolled oats
1/2 cup sunflower seeds
1 cup chopped almonds
1/4 cup ground flax seed
2 teaspoons cinnamon
1 teaspoon canola oil
1/2 cup real maple syrup
1 teaspoon water
1 Tablespoon vanilla extract
1 cup dried blueberries
Line a baking sheet with foil and spray with cooking oil. Preheat oven to 325 degrees F.
In a large bowl, combine oats, almonds, flax seeds, and cinnamon.
In a medium-sized pot, heat maple syrup, oil and water over medium heat, stirring constantly for about 3 minutes. Remove from heat and add Mexican vanilla.
Pour syrup mixture over oat mixture and stir to combine. Spread granola across the prepared baking sheet. Bake at 350 until the granola reaches the desired color – about 15-20 minutes. Move granola around using a spatula. Lower heat to 25 degrees and bake until granola is mostly dry – about 20-30 minutes.
Remove from heat, and allow cooling before packing in jar. Stir in dried blueberries.
---
Apple Cider Syrup
I love to give syrups or sauces as Christmas gifts, again because they can wait a few days before having to use them. I found this recipe in a book called "Our Best Bites" by Sara Wells and Kate Jones.
2 cups apple juice
1/2 teaspoon cinnamon
2 Tablespoons lemon juice
1/4 teaspoon nutmeg
2 Tablespoons cornstarch
1/2 teaspoons ground cloves
1 cup sugar
Combine all ingredients and cook over medium heat until just thickened. This will keep for a week in the refrigerator.
Here is a small line authored by Robert Louis Stevenson in "A Christmas Prayer." This sums up what I am trying to say in just a few words. "Let kindness come with every gift, and good desire with every greeting." Wishing you all a Joyous Christmas!
---
---
An unbeatable value with exclusive benefits for members only.
Get a newsletter like this each week when you join the Cook'n Club.