---

Recipe by Toni
---
Ingredients:
1 1/2 cups slivered almonds
1 pound butter
2 cups sugar
4 tablespoons water
2 teaspoons vanilla extract
1 large hershey bars
1/2 cup chopped nuts
---
Directions:
Line cookie sheet with wax paper and sprinkle with slivered almonds. Melt butter in a large sauce pan on high and add sugar and water. Stir continually until it starts to come away from sides and the color looks like toast or until the temperature reaches 300 (about 12 minutes). Remove and add vanilla and pour over wax paper. Sprinkle with chocolate chips or candy bars. When chocolate is melted spread like frosting and sprinkle with nuts. Cool completely and break into chunks.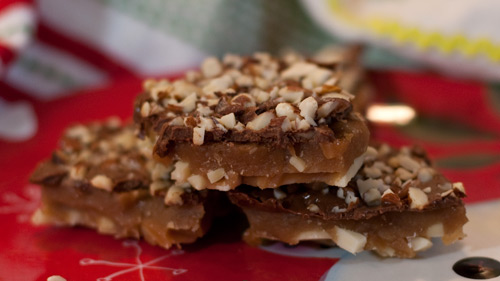 December 2011 Newsletter