Christmas Around The World: Cookie Style!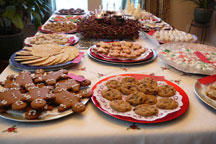 A couple of years ago I was thrilled to be invited to a holiday cookie exchange that one of my husband's coworkers was hosting. She was an incredible hostess that loved to entertain and I thought the idea of a cookie exchange seemed so fun though I had never been to one before.
Well, Colleen's cookie exchange did not disappoint! I had spent the morning baking my cookies and by the time I arrived at the party I was ready for a break. It was so fun to sit around and chat with the women about life, holidays, family, and anything else that came up. What could be more fun than that? I'll tell you what! All that, with cookies!
Each woman had brought two dozen cookies and copies of the recipe. Colleen had done the math when figuring out how many to invite and told us how many of each we could take. When we were finished we each had plates full of a variety of delicious cookies, full tummies, and a collection of recipes we knew were worth keeping. I planned to use my variety plates as neighbor gifts, but, let's be honest; they were empty before they ever made it to a neighbor's doorstep. In fact, a few may have disappeared before I even pulled in to the driveway... but I will never tell!
This year, I plan to host a cookie exchange of my own and as I thought of this "Country Christmas" theme I had an idea for a twist that I can't wait to try out. Cookies from around the world! I mean, I love myself a chocolate chip cookie, but how much fun would it be to try traditional cookies from other countries? Each country has its own customs, traditions, and recipes and I love learning about them so why not include them in this fun way?
Here are some ideas to get us all started!
---
ENGLAND
Mom's Scones
2 cups flour
1/2 cup sugar
1 1/2 teaspoons baking powder
1 teaspoon baking soda
1/4 teaspoon salt
1/2 cup butter, very cold
1/2 cup (minus 2 tablespoons) buttermilk
1 egg
1 teaspoon vanilla
1/2 cup chopped walnuts
1 cup dried fruit - raisins, cranberries, etc. - chopped
Mix dry ingredients well. Cut in butter until the mixture resembles coarse pebbles. Beat together egg, vanilla, and buttermilk, add to dry ingredients. Mix briefly. Add nuts and fruit, mix. Turn dough out on well-floured cutting board. Knead briefly, working in enough flour to make a stiff dough. Shape into rectangle about 1 1/2 inches thick. Cut into 12 squares. Bake at 400F for 20 minutes. Enjoy while fresh. Makes about 12.
---
FRANCE
Cinnamon Madeleines
2 eggs
1 cup white sugar
1 cup all-purpose flour
1/8 teaspoon ground nutmeg
3/4 cup butter, melted and cooled
1/2 teaspoon almond extract
1/2 teaspoon ground cinnamon
Preheat oven to 350F (180C). Spray madeleine molds with non-stick spray. In a double boiler, heat eggs and sugar stirring constantly; whipping in as much air as possible. Remove from heat, let cool. Stir in flour, then add remaining ingredients. Fill madeleine molds with a generous amount of batter, but don't spread it out. Bake until lightly browned, approximately 15 minutes. Cool one minute, then remove to racks to cool completely. Sprinkle with powdered sugar or dip in chocolate.
---
CHINA
Chinese Almond Cookies
A northern China variation of this cookie uses pine nuts instead of almonds.
1 cup vegetable shortening
1/2 cup granulated sugar
1/4 cup firmly packed brown sugar
1 egg
1 teaspoon almond extract
2 1/4 cups all-purpose flour
1/8 teaspoon salt
1 1/2 teaspoons baking powder
5 dozen whole blanched almonds
1 egg yolk
2 tablespoons water
Preheat oven to 350F. In a large bowl with an electric mixer, beat shortening with granulated sugar and brown sugar until creamy. Add whole egg and almond extract; beat until well blended. In another bowl, stir together flour, salt, and baking powder; add to creamed mixture, blending thoroughly. To shape each cookie, roll about 1 tablespoon dough into a ball.
Place balls 2 inches apart on ungreased baking sheets, then flatten each slightly to make a 2" round. Gently press an almond into center of each round. Place egg yolk and water in a small bowl; beat together lightly with a fork. Brush mixture over top of each cookie with a pastry brush. Bake for 10 to 12 minutes or until lightly browned. Transfer to racks and let cool. Store airtight.
---
SCOTLAND
Scottish Shortbread
1 pound butter – softened to room temperature
1 cup granulated sugar
4 cups all-purpose flour
Preheat oven to 350 F. Beat butter in a large bowl until smooth. Beat in sugar until well blended. Add flour, one cup at a time. A wooden spoon works best but the final (4th) cup you may need to incorporate by hand mixing. Dough will be very stiff. Spread batter into a 9 x 13" baking pan, pressing down evenly to all edges. Using the tines of a fork, go around the edges pressing tines against the edge, then with tines, prick multiple scattered vent holes throughout dough.
Bake at for 45 to 60 minutes until golden brown. Upon removal from oven, immediately cut into small 2" pieces but leave in pan to continue to cool. Store in cookie tin.
---
PERU
Alfajores
An almond-flavored shortbread sandwich cookie with a rich caramel filling in the middle. Popular in South American countries.
Makes about 24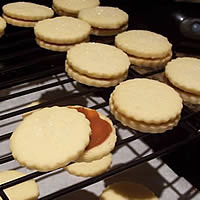 For the cookies:
1-1/2 cups unsalted butter
1 cup confectioners' sugar
2 tablespoons granulated sugar
1/4 teaspoon salt
1/4 teaspoon almond extract
1/2 teaspoon vanilla extract
1/3 cup ground almonds (can be ground in a food processor)
3 cups unbleached all-purpose flour
For the filling:
2 cups firmly packed brown sugar
1 cup half & half or light cream or evaporated milk
3 tablespoons unsalted butter
1/2 teaspoon vanilla extract
To make the cookies:
Cream the butter with the powdered sugar until fluffy. Stir in salt, extracts, ground almonds and flour. Wrap and chill 30 minutes. (If you chill longer, you have to let the dough warm up a bit before it can be rolled. Or, do what professional pastry chefs do: whack it with a rolling pin until it becomes more malleable).
Mealwhile, make the filling:
In a medium saucepan, heat brown sugar with cream over medium heat. As it cooks, brush inner sides of pan with a pastry brush dipped in cold water. This wipes away grainy sugar crystals. Heat until mixture reaches soft ball stage (238-240 F). Remove from heat - let cool to about 110 F. Stir in the butter and beat until mixture is thickened. Add vanilla. (Heat to loosen or add additional cream). If mixture is too thin, add in confectioners' sugar.
To bake the cookies:
Roll out dough 1/4 inch thick. Cut in 2-1/2-inch circles. Bake on a parchment-lined baking sheet at 350 F for 12-14 minutes. Cool baking sheets between batches. Cool cookies on wire racks.
To assemble Alfajores:
Spread some caramel filling on a cookie. Top with another cookie and press together nicely. Be careful, these are fragile. Dust tops with confectioner's sugar.
---
I would love to hear of any cookie or candy exchanges you and your friends enjoy this holiday season! Just remember to bring enough for trading and plenty for snacking on at the party... or you will all go home with empty plates and very full stomachs!
I found these recipes and many, many more for countries throughout the world at http://www.christmas-cookies.com/recipes/bycountry.php. Remember that you can always add as many recipes as you like in to your own Christmas cookbook in Cook'n!