---

Recipe from the December 2011 Newsletter
---
This is a delicious holiday variation of a favorite treat. Have everything ready before you start, because once the candy reaches the right temperature, it will harden quickly. This simple treat will add a festive touch to any party!
Ingredients:
4 cups granulated sugar
1 cup light corn syrup
3 large egg whites
1 1/2 teaspoons peppermint extract
6 drops red food coloring

For Variation
1 bag miniature or regular sized chocolate kisses




---

Directions:

1. Oil a 9" by 9" pan and a spoon and set aside.

2. Combine sugar and corn syrup in a medium saucepan with 3/4 cup water and cook over medium heat until mixture reaches 260 degrees on a candy thermometer, about 20 minutes.

3. Beat egg whites to stiff peaks in a large bowl using an electric mixer set on medium-high speed. Reduce speed to medium and slowly pour sugar mixture into egg whites. Add peppermint and continue to beat until mixture is very thick and fluffy, about 12 minutes.

4. Immediately transfer to prepared pan and smooth using back of oiled spoon. Dot divinity surface with red food coloring and drag a skewer through to create a marbled effect. Let stand at room temperature until firm, about 2 hours. Slice into 1-inch squares.

Note: For a simple variation, drop dollops of divinity batter onto an oiled baking sheet, then top with chocolate kisses.

December 2010 Newsletter

Be sure to check the Cook'n Recipe Archive for more recipes.
---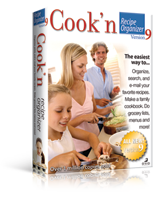 Be sure to check the Cook'n Recipe Archive for more recipes.
Piles of recipe cards in your drawer? Download Cook'n today and get organized!
Buy the CD or download of Cook'n right now! Includes over 300 of our best recipes.
---
"I might learn how to cook yet with all this software of yours. You can't believe how much it has helped. I've had friends come over (I'm just a single guy with a dog - but looking for the right woman) and rave about the meals I prepared for them. It's not all that hard if you just follow the directions. In the end I have to tell them my secret, it's not talent - it's your software.
Oh well, the food is still delicious. Now if I could just figure out how to use the dishwasher.
-John
Cook'n Is Several Products in One!