3 Family Friendly Food Gifts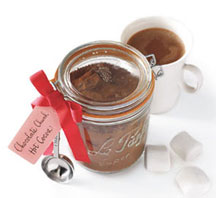 December is definitely the best month of the year! Anticipation, excitement, and joy radiate throughout the month. However, so does the tendency to be so busy creating the perfect holiday season, that sometimes we get overwhelmed! One of my favorite traditions in December is sharing gifts with our neighbors-usually some type of treat.
I remember lots of times in my childhood going what seemed like door to door in my neighborhood dropping off treats and goodies to our neighbors, all lovingly made by my mother and us kids. Sometimes we would wait for the person to answer the door so we could sing a carol or a share a smile with the recipient before moving on to the next house, and sometimes we went in the evening once the sun had gone down and left the treats on the porch before ringing the doorbell and running for all we were worth. Those times were fun, we always liked to watch the children in the house wonder if it was elves or Santa himself that had left the treats for them.
I thought that this month I would share some fast, easy, family friendly treats you can make and share with your loved ones. These are all simple recipes, and they are easy enough to have your children help you make them. They will love sharing these food gifts that they helped create. These will be great gifts for neighbors, friends, or to keep at home for your own family. I have given ideas for how to give each of these treats as a gift in the description as well. Make sure that if you are going to be giving these yummy treats away that you are still saving some for yourself! Happy Holidays!
---
Cinnamon-y Hot Cocoa Mix
This is a delicious way to bring the flavor of the holidays to your family and friends! To give as a gift, put about 1 cup of powder in a festive bag and tie tightly with ribbon. Place bag in a coffee mug before giving away. I recommend a cellophane bag with a snowflake design and a brightly colored mug.
1 3/4 cups nonfat dry milk powder
1 cup confectioners' sugar
1/2 cup powdered non-dairy coffee creamer
1/2 cup baking cocoa
1/2 teaspoon ground cinnamon
1 cup miniature marshmallow (can use red and green marshmallows for a more festive look)
ADD TO POWDER
3/4 cup hot milk
1. In a large bowl, combine the milk powder, sugar, creamer, cocoa and cinnamon. Add the marshmallows; mix well.
2. Store in an airtight container in a cool dry place for up to 3 months.
3. To prepare hot chocolate: Dissolve about 3 tablespoons hot chocolate mix in hot milk.
---
Creamy Caramel Popcorn
This is one of my family's all-time favorite recipes! This caramel popcorn is delicious. To give it as a gift, form it into big balls and wrap in cellophane tied with a ribbon. For a festive look, you can lightly sprinkle red and green colored sugar on top of the balls.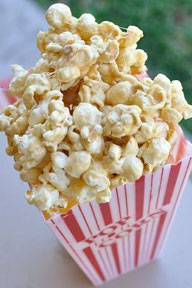 1/2 cup butter
1/2 cup brown sugar
1 cup marshmallow
2 quarts popcorn
1. Pop popcorn according to package directions. Air popped popcorn in best.
2. In a microwave safe bowl combine butter and brown sugar. Microwave until hot and melted together, stirring occasionally.
3. Add marshmallows and microwave until marshmallows are melted, stirring occasionally.
4. Pour over popcorn and mix until coated.
5. Store covered in a cool place, or form into balls and serve.
---
Gumdrop Fudge
This is a delicious, easy to make treat that is very festive looking. Once it's cut up into cubes, it makes great gifts for friends and neighbors as well! Or, leave it as one big slab wrapped in saran wrap with a big bow on the top to make it look like a present.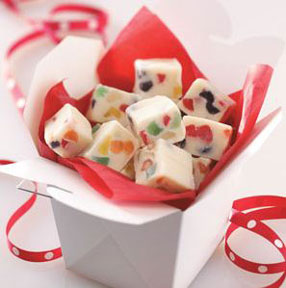 1 1/2 pounds white candy coating, coarsely chopped
1 (14-ounce) can sweetened condensed milk
1/8 teaspoon salt
1 1/2 teaspoons vanilla extract
1 1/2 cups chopped gumdrops
1. Line a 9-in. square pan with foil; set aside.
2. In a heavy saucepan, combine the candy coating, milk and salt. Cook and stir over low heat until chips are melted.
3. Remove from the heat; stir in vanilla and gumdrops.
4. Spread into prepared pan. Cover and refrigerate until firm. Using foil, remove fudge from the pan; cut into 1-in. squares. Store at room temperature.
Yield: About 3 pounds