Santa's Gone Nutty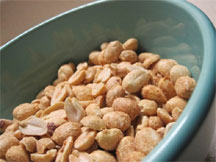 Everyone should go a little nutty during the holidays. Here are a few recipes that will make a nutty, Santa so cheerful! So, let's get crackin'! Santa told me he's watching to see whose sharing. Some of you will remember old fashion Christmas parties where after Santa showed up, he would pass out bags or boxes with hard candy, mixed nuts and an orange.
It was a messy tradition but it was tradition and we loved it. Nuts are a big part of our holiday tradition. We usually have a fancy basket or bowl of shelled nuts for our enjoyment as well as for a delightful decoration. I hope these recipes spur on some more nutty ideas!
---
Homemade Peanut Log Candy
This recipe is fast and easy. Any kind of nut can be used, I prefer salted peanuts.
1/2 pound caramels (approx.30)
1/4 cup butter
2 tablespoons half & half or 2 tablespoons milk
1 1/2 cups confectioners' sugar
1 cup salted peanuts
2 cups miniature marshmallows
1 cup salted peanuts
Put the caramels, butter and half & half in a 2 quart casserole dish or mixing bowl. Microwave on medium heat for 3-5 minutes, stirring after 2 minutes, then every minute after. Stir in the sugar until smooth, add nuts. Stir in the marshmallows, using only a few strokes. Sprinkle 2 large sheets of waxed paper with finely chopped nuts. Shape into logs, coating with finely chopped salted peanuts.
---
Pumpkin Spice Holiday Nuts
Your family and friends are sure to enjoy these munches. These are great at parties and to give as gifts.
1 cup whole almonds
1 cup blanched peanuts
1 cup sugar
1/4 cup butter or margarine
11/2 teaspoons Pumpkin Pie Spice
1/2 teaspoons Cinnamon
1/2 teaspoons Allspice
1/2 teaspoons Ginger
1/4 teaspoon salt
Put all ingredients into a heavy pan. Stir frequently over medium heat until the sugar and spices are glazed onto the nuts and they are golden brown. This takes about 15 minutes. Spread onto parchment lined cookie sheet and let cool. Break into small pieces.
This recipe yields about 3 cups of delicious spiced nuts. Create a colorful gift-wrapped package and add them to a holiday gift basket.
---
Chocolate Peanut Butter Bars
1 cup butter or margarine, melted
2 cups graham cracker crumbs
2 cups confectioners' sugar
1 cup peanut butter
1 1/2 cups semisweet chocolate chips
1 cup peanut butter
In a medium bowl, mix together the butter or margarine, graham cracker crumbs, confectioners sugar, and 1 cup peanut butter until well blended. Press evenly into the bottom of an ungreased 9x13 inch pan. This will make the bottom crust. In a double boiler or in the microwave, melt the chocolate chips with the peanut butter, stirring occasionally until smooth. Spread over prepared crust. Refrigerate for at least one hour before cutting into squares. Drizzle with extra chocolate and chopped nuts, if desired.