Edible Thanksgiving Fun
Setting the table with these sweet treats will make any seat a sweet spot at your Thanksgiving table. Whether you use them as favors or place cards everyone is sure to love the special touch.
Fall Leaf: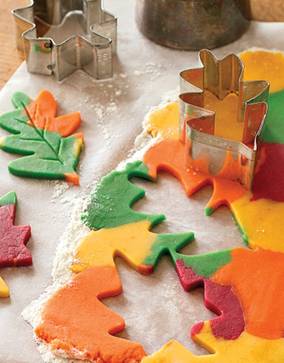 Divide homemade or purchased sugar cookie dough into three or four portions. Color each portion a fall color such as red, orange, terra cotta, copper, olive green, yellow, tan, etc. using paste food color. For brown color, use cocoa powder. For each cookie, press together several colors of dough and roll out so the colors mix slightly and the dough has a variegated look. Cut using a leaf shaped cookie cutter. Bake and cool. If desired, use melted chocolate or chocolate icing and a pastry bag with a writing tip to write the name of each guest on a cookie. Place a cookie at each place setting with several candy acorns. Tip: dust cookies with gold luster dust for a beautiful sheen. Luster dust is available at baking supply stores.
Candy Acorn: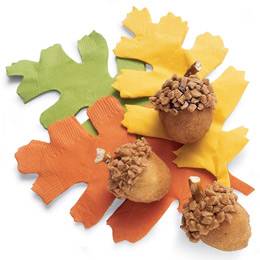 Mix together 1 cup of creamy peanut butter, ½ cup of margarine and 3 cups powdered sugar and mix well into a soft dough. Roll a 1" ball of dough into an acorn shape. Dip the top of the dough shape into melted chocolate or almond bark and press into finely chopped nuts to form the acorn cap. Break a stick pretzel in half and insert in top to create acorn stem. Set on was paper until chocolate has set. Display at each place setting with leaf cookie.
Indian Corn:
Create a dry mix of items that would resemble Indian corn with a mixture of fall colors. Use items such as: cold cereal, popcorn, nuts, candies, dried fruits, etc. Take a square (approximately 12" square for a large favor) of cellophane and place approximately 1 cup of mix in the center. Tuck cellophane around mix and fold in back if needed to wrap the mix into an oblong shape. Tie cellophane closed with tan string. Cut cornhusks (available on the Mexican food isle of grocery stores) into long strips with pointed ends. Wrap ends on corn husks around end of mix and tie with string. Wrap ends with a ribbon and tie a bow. Attach a nametag or small photograph if desired and set at each place setting.
Cornucopia: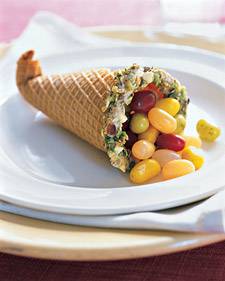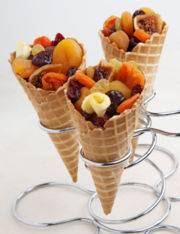 Place sugar ice cream cones in a steamer basket over hot water. Let each cone steam for a few minutes which will soften it. Carefully bend end up to form a cornucopia shape. Cone will harden quickly. Fill with a mixture of fruit shaped candies, nuts, pretzels, etc. If desired, place a ribbon around the opening of the cornucopia and attach a tiny name tag to serve as a place card.
Pilgrim Hat:

Dip large marshmallows in melted chocolate or almond bark. Set onto flat round chocolate covered cookies (chocolate covered graham rounds, fudge-striped cookies, chocolate ginger snaps, chocolate wafers, etc.). Let set until chocolate is hardened. Wrap marshmallow "hat brim" with a black ribbon. Using a rolling pin, roll out a yellow Starburst candy and cut into a square to form a "buckle". Attach to ribbon with a tiny amount of melted chocolate or icing.
Turkey: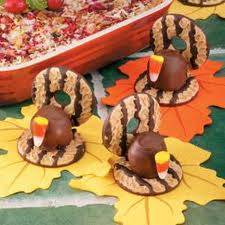 Dip the bottom of a chocolate crème drop candy into melted chocolate or almond bark. Immediately attach the candy to the bottom of a leaf shaped or round cookie (could use maple leaf crème cookies or you can use any round type cookie). Attach a candy corn point down to the top of the crème drop using melted chocolate. Attach a red hot candy to the side of the candy corn to become a "wattle". Adhere a small pretzel under the crème drop to create "feet". (Option: Instead of a crème drop you could also use a chocolate covered cherry, an unwrapped caramel, an unwrapped peanut butter cup or any other chocolate covered candy about 1" in diameter.)
Edible Indian Corn On A Stick: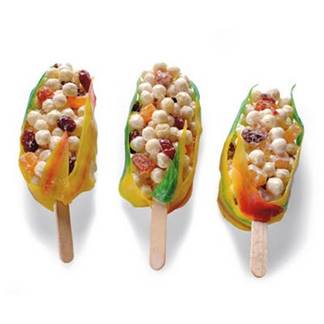 For 15 of these cute treats you will need 4 tablespoons butter, 4 cups mini marshmallows, 5 cups puffed corn cereal, 1/3 cup, assorted dried fruit pieces (papaya, raisins, apricots & craisins), popsicle sticks, and fruit leather for this fun favor. In a large pot, melt butter and mini marshmallows over low heat (about 5 minutes). Remove the mixture from the stove and use a wooden spoon to stir in puffed corn cereal and diced dried fruit. Allow the mixture to cool for about 10 minutes. Using buttered hands, shape each treat by pressing 1/3 cup of the mixture around a Popsicle stick. Add fruit leather husks to the bottom of the ear, slightly moistening them to help them stick if needed.
Thank you to Alisa Bangerter and Studio5.KSL.com for sharing many of these ideas!
---
An unbeatable value with exclusive benefits for members only.
Get a newsletter like this each week when you join the Cook'n Club.