Slow Cooker Your Feast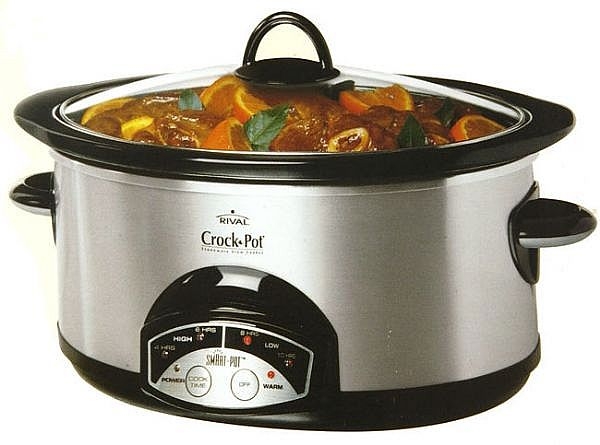 As Thanksgiving inches closer and closer the plans are all being made, invitations being extended, and grocery lists being compiled. I love Thanksgiving and find such comfort in gathering with family to share our gratitude for one another and all our abundance. What a wonderful day!
As the big day approaches many of us will find ourselves making grocery lists, menu plans, and gathering all the little details. By the weekend before Thanksgiving I am usually just starting to slip into that panicked, "What was I thinking" mode. As much as I love the holiday and love to celebrate it, the details tend to overwhelm me.
In order to make myself feel a little less crazy I turn to lists. There is one list for who will be attending, one for what I need to cook, one for what can be cooked early, and, in some particularly crazy years, that backup list of neighbors whose ovens I may be able to "borrow" on the big day.
This year my goal is to leave my poor neighbors alone! I will cook everything I need in my oven and crock pots. That being said, I do believe that borrowing slow cookers is totally okay. They are much more portable and require less frantic running back and forth across the street in an apron and oven mitts! So line those slow cookers up along the counter and get ready to cook that Thanksgiving feast slow and steady!
---
Three Ingredient Turkey Breast
Think about using different types of fruit sauces in this super easy crockpot three ingredient turkey entree recipe. Please note the different cooking times if you're using a bone-in or boneless breast.
1 frozen turkey breast, NOT thawed bone-in (about 5 pounds) or boneless (about 3 pounds)
1 16-ounce can cranberry sauce
1 envelope dry onion soup mix
For bone-in turkey, put all ingredients into 5-6 quart crockpot, cover, and cook for 2 hours on high. Then reduce heat to low and continue cooking for 4-5 hours until turkey registers 170 degrees F on instant meat thermometer. (Some sources now say that 165 degrees F is acceptable for a safe temperature).
For boneless turkey breast, follow instructions above. When you reduce the crockpot heat to low, start checking the turkey after 1-2 hours. It may only need that much time to reach 170 degrees F.
Slice turkey breast and serve with sauce. 6 servings
---
Wild Rice Stuffed Turkey Breast
This delicious crock pot turkey breast is stuffed with wild rice - using only five ingredients! Many grocery stores carry boneless turkey breasts. If you can't find one, buy one and just ask the butcher to bone one for you. She's always happy to help.
1-1/2 cups wild rice
1 onion, finely chopped
1/2 cup dried cranberries
2 apples, chopped
3 cups water (or, for a six ingredient recipe, chicken broth)
1 teaspoon dried thyme leaves
1 teaspoon salt
1/8 teaspoon pepper
1 teaspoon poultry seasoning
3-4 lb. boneless whole turkey breast, thawed if frozen
You can peel the apples or leave them unpeeled, as you wish. Chop apples coarsely and mix with rice, onion, dried cranberries, thyme, salt, pepper, and poultry seasoning; place in bottom of 4-5 quart crock pot. Pour water over, making sure all wild rice is covered with water. If turkey breast is frozen, thaw it. Place turkey on top of rice mixture.
Cover crock pot and cook on low for 7-8 hours until turkey is thoroughly cooked and reaches 160 degrees on a meat thermometer, and wild rice is tender and popped.
Note:
Make sure that the wild rice you use in this recipe has long grains and is of very high quality. Do not buy cheap rice with broken grains. That type of wild rice will
always
be mushy no matter how it is cooked.
---
Slow Cooker Stuffing
1 cup butter or margarine
2 cups chopped onion
2 cups chopped celery
1/4 cup chopped fresh parsley
12 ounces sliced mushrooms
12 cups dry bread cubes
1 teaspoon poultry seasoning
1 1/2 teaspoons dried sage
1 teaspoon dried thyme
1/2 teaspoon dried marjoram
1 1/2 teaspoons salt
1/2 teaspoon ground black pepper
4 1/2 cups chicken broth, or as needed
2 eggs, beaten
Melt butter or margarine in a skillet over medium heat. Cook onion, celery, mushroom, and parsley in butter, stirring frequently.
Spoon cooked vegetables over bread cubes in a very large mixing bowl. Season with poultry seasoning, sage, thyme, marjoram, and salt and pepper. Pour in enough broth to moisten, and mix in eggs. Transfer mixture to slow cooker, and cover.
Cook on High for 45 minutes, then reduce heat to Low, and cook for 4 to 8 hours. Serves 16.
---
Crockpot Cranberry Sauce
4 cups fresh cranberries (12 ounce bag rinsed and picked over for stems)
1 cup sugar
1/2 cup water
lime zest or orange zest
Combine the cranberries, sugar and water in the slow cooker. Cover and cook on HIGH for 2 to 2.5 hours; the cranberries will have popped open.
Stir the zest into the hot sauce. Turn off the cooker, remove the lid, and let cool in the crock to room temperature (it will be very liquidy at first, don't worry!).
When cooled (it will be thick and yummy now) store covered in the refrigerator for up to 3 weeks.
Serve chilled or at room temperature.
* If you use frozen cranberries, add 30 to 45 minutes cooking time. Serves 4-6.
---
Sweet Sweet Potatoes
2 pounds Sweet potatoes -- peel and grated
1/3 cup Brown sugar -- packed
1/4 cup Butter -- melted
1/4 cup Coconut -- flaked
1/4 cup Broken pecans -- toasted
1/4 teaspoon Cinnamon
1/4 teaspoon Coconut extract
1/4 teaspoon Vanilla
In a crockpot, combine potatoes, sugar, butter, coconut, pecans and cinnamon. Cover; cook on LOW for 6 to 8 or on HIGH for 3 to 4 hours. Stir in coconut and vanilla extracts. Serves 4.
---
Slow Cooker Mashed Potatoes
5 pounds red potatoes, cut into chunks
1 tablespoon minced garlic, or to taste
3 cubes chicken bouillon
1 (8 ounce) container sour cream
1 (8 ounce) package cream cheese, softened
1/2 cup butter
salt and pepper to taste
In a large pot of lightly salted boiling water, cook the potatoes, garlic, and bouillon until potatoes are tender but firm, about 15 minutes. Drain, reserving water. In a bowl, mash potatoes with sour cream and cream cheese, adding reserved water as needed to attain desired consistency.
Transfer the potato mixture to a slow cooker, cover, and cook on Low for 2 to 3 hours. Just before serving, stir in butter and season with salt and pepper to taste. Serves 8.
---
Crockpot Pumpkin Pie Pudding
1 can of pumpkin puree (15 oz)
1 can evaporated milk (12 oz--the big can, not the little guy!)
3/4 cup white sugar
1/2 cup Bisquick-type
2 eggs
2 T butter, melted
1 1/4 tsp cinnamon
1/2 tsp nutmeg
1/4 tsp cloves
1/8 tsp ginger
2 tsp vanilla extract
I used a 4 quart crockpot and it was the perfect size. If you only have a big one, you can use it, but be aware that the batter will be spread out more and will cook much quicker. If you insert an oven-safe dish into the crock, it will work, but the batter will be quite thick and will take a VERY long time. Plan accordingly.
Spray cooking spray into your crockpot.
Set aside.
In a mixing bowl, combine all of the ingredients, and whisk until fully blended. No need to use a hand or stand mixer, just some elbow-grease.
Pour the batter into the prepared crockpot. Cover and cook on high for 3-4 hours, or on low for about 6. Check your "pie" after 2 hours on high, and 3 hours on low, then check every 30 minutes.
When fully cooked, the pie will look just like a finished pumpkin pie. The batter will have browned and will crack in a few places. The center will have set enough for you to touch it without getting batter on your finger.
Let sit in the crockpot until room temperature, then spoon into serving dishes and top with whipped cream. Serves 8.
---
---
An unbeatable value with exclusive benefits for members only.
Get a newsletter like this each week when you join the Cook'n Club.