Make-Ahead Breakfast Pies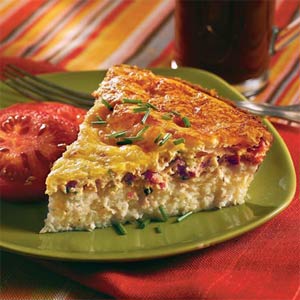 Hit the snooze button and sleep in late with the help of an appetizing make-ahead breakfast pie. Combining leftovers and other on-hand ingredients the night before gives you the chance to sleep in and still offer the family and guests a warm, hearty breakfast.
Crustless Cornflake Breakfast Pie
No need to roll out a pie crust for this one. Cornflakes add just the right crunch!
8 bacon strips, diced
1/4 cup crushed cornflakes
5 eggs, lightly beaten
1/2 cup milk
1/2 cup small curd cottage cheese
1 1/2 cups shredded Cheddar cheese
1 green onion, sliced
1/2 teaspoon salt
1/8 teaspoon pepper
2 1/2 cups frozen hash brown potatoes
In a large skillet, cook bacon over medium heat until crisp. Remove to paper towels. Drain, reserving 2 teaspoons drippings. Stir reserved drippings into cornflakes; set aside. in a bowl, combine the eggs, milk, cottage cheese, cheddar cheese, onion, salt and pepper until blended. Stir in hash browns. Pour into a greased 9-in. pie plate. Sprinkle with bacon and the cornflake mixture. Cover and refrigerate overnight.
Remove from the refrigerator 30 minutes before baking. Bake, uncovered, at 350 degrees F for 50-60 minutes or until a knife inserted near the center comes out clean. Let stand for 5-10 minutes before cutting.
Serves 6
---
Denver Omelet Pie
This recipe is great for using up any leftover honey-glazed ham.
6 eggs
1/2 teaspoon onion powder
1/2 teaspoon dried thyme
1/2 teaspoon salt
1/8 teaspoon pepper
3 cups frozen shredded hash brown potatoes
1 cup shredded Swiss cheese
1/2 cup diced fully cooked ham
1/2 cup chopped green pepper
1 medium tomato, thinly sliced
In a large bowl, beat the eggs, onion powder, thyme, salt and pepper. stir in the potatoes, cheese, ham and green pepper. Pour into a greased 9-in. pie plate. Bake at 350 degrees F for 40-45 minutes or until a knife inserted near the center comes out clean. Garnish with tomato slices.
Serves 6
---
Savory Sausage Breakfast Pizza
Who said you can't eat pizza for breakfast?
I (16 oz) package pork sausage, fully cooked and crumbled
2 (8 oz) packages refrigerated crescent roll dough
2 cups frozen shredded hash browns
1 cup chopped assorted (red, yellow, orange, or green) bell peppers
¼ cup thinly sliced green onions
2 cups (8 ounces) sharp cheddar cheese, shredded
6 eggs, lightly beaten
1/3 cup milk
1 teaspoon salt
1 teaspoon ground black pepper
¼ cup grated Parmesan cheese
Heat oven to 375° F.
Separate crescent roll dough into sixteen triangles. On two ungreased 12-inch rimmed pizza pans or large cookie sheets form round pizza shape by placing eight triangles per pan, slightly apart in circle, with tips pointing towards the center. Press dough together to form a well-sealed 12-inch circle. Turn up edges of each piece to form rim.
Sprinkle cooked sausage evenly over each crust. Top with hash browns, assorted peppers and green onions. Sprinkle with cheese. Stir together eggs, milk, salt and pepper in small bowl. Pour equally over each pizza. Sprinkle with Parmesan cheese.
Bake 15 to 20 minutes or until eggs are set and crust is golden brown.
Serves 8
Prepare just a few extra ingredients tonight during dinner prep and relax in the morning with a ready-to-bake satisfying breakfast pie.
---