Tasty Pasty Pie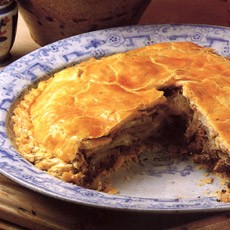 Long, long ago in a land far away, okay, okay! I am getting a little carried away, but many years ago, back when people took their lunches out to the fields or to school in an old tin pail with a handle, a robust lunch was often served consisting of a Pasty Pie.
These pies contained meats and vegetables. The meat and vegetable mixture was placed into a round pie-shape crust and generously filled. They were then folded into a semi-circle and the edges dampened with a little water, so they could be sealed by pinching or crimping to hold the mixture in place.
Pasty pies are still served in many European countries and greatly enjoyed in Australia using lamb meat. Most of the recipes I found called for rutabagas or turnips. Not being a big fan of either of these vegetables, I always use potatoes and carrots. I think most of us would prefer our meat pies served hot but diehard pasty enthusiasts will eat theirs cold with ketchup.
A few years back, we had a little café that served beef pasty pies twice a week on Mondays and Wednesdays. On Tuesdays and Thursdays, chicken pasty pies were served. Lunch was served with gravy on the side and a little cup of coleslaw. I really felt deprived when the café left. They were scrumptious! These types of pies can easily be made at home with homemade or store-bought pie crust and leftover meat and vegetables.
Actually, you can make any kind of pasty you want. Traditionally, the pies were made with coarsely ground beef, ground-up pork or lamb but I prefer chicken or turkey. Originally these pies weighed approximately two pounds. Now that's a hearty meal! Talk about super-sizing!
Really, this is a great way to use up leftovers and everyone loves getting their own little pie.
---
Traditional Pie Crust
3 cups flour
1 cup cold butter (cut into small bits)
6 Tablespoons water
1 ½ Teaspoons salt
Blend the flour, salt and shortening together. Crumble with fingers or pastry blender until the mixture looks somewhat like coarse cornmeal. Then add the very cold water and mix quickly. Do not over mix. Wrap pie crust in wax paper and refrigerate for about 20 minutes.
Preheat oven to 350 degrees. Cooking time will vary depending on the size of the pasty. If you are making one the size of a dinner plate it will take 1 hour to cook. Little pasty's take about 40 minutes. If you're using pre-cooked meat and vegetables cooking time will be about 20 to 25 minutes.
---
Beef and Pork Pasty
1 pound ground beef
1 pound ground sausage
4 carrots (chopped)
2 cups of chopped onion
2 large potatoes (peeled and diced)
½ Teaspoon pepper
½ rutabaga or turnip (optional)
2 Teaspoons Salt
Cook the meat in a little olive oil or use already-cooked, leftover meat. Add the vegetables to a medium pot and cook with water for 5 minutes, drain and mix with meat. Divide the dough into equal portions and fill with mixture. Pile it high but leave enough room on the edge of the semi-circle to be able to seal. To seal, use a little water and a pastry brush on the outer edge of the circle, using a fork to crimp the edges.
Bake pasties on a lightly buttered baking sheet and cut several slits on the top. Bake for 20 minutes and then put one Teaspoon butter in one of the slits for the last 10 minutes of cooking.
---
Chicken Pasty
1 pound (cubed) chicken
2 large potatoes (cubed)
1 medium onion (diced)
1 Teaspoon salt
½ Teaspoon pepper
¼ cup water
1 chicken bouillon cube
Dissolve bouillon cube in hot water. Add all ingredients together in a large bowl. Fill each pie crust with mixture making sure it is piled high, but leave enough room on the edges for sealing the crust together.
---
Tuna Cheese Pasty
This is quick and easy for lunch or dinner
1 7 ounce can of tuna
¾ cup of cheddar cheese
¼ cup finely chopped celery
1/3 cup sour cream or Greek yogurt
1 package refrigerator biscuits
¼ cup finely chopped onion
1½ Tablespoons butter
In a bowl, combine the tuna, sour cream, celery, onion and cheese. Pat out each biscuit into a 3 inch oval; place half the biscuit on a buttered baking sheet. Place about ? cup of mixture on biscuit. Top with another oval shaped biscuit and crimp edges with a fork. Brush tops with butter and bake at 375 degrees for 15 to 20 minutes or until golden brown.
---
---
An unbeatable value with exclusive benefits for members only.
Get a newsletter like this each week when you join the Cook'n Club.