Whole Wheat Sugar Cookie Mini-Pies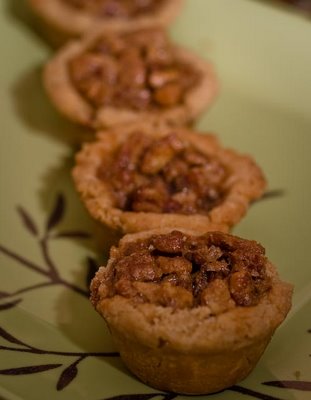 The rush of the holidays is approaching and it is more essential than ever to make time for family. Cooking together opens up opportunities for family discussion, valuable reading experience and math application, not to mention, the pleasure of enjoying yummy food and the ever-useful value of tidying up the kitchen as a family at the end.
This recipe for Whole Wheat Sugar Cookie Mini-pies will bring one and all to the kitchen. Kids and adults, alike will enjoy smashing the cookie dough and adding their own choice of favorite fillings.
---
Whole Wheat Sugar Cookie Mini-Pies
You will need:
Mini muffin pan
Non-stick cooking spray
Can of whipped cream
Whole wheat sugar cookie dough (recipe below) or any kind of sugar cookie dough
Pie filling suggestions:
Chocolate or vanilla pudding, pumpkin pie filling, any kind of berry or peach preserves, apple pie filling, cheesecake filling or mix peanut butter with a little powdered sugar to make a yummy peanut butter pie filling.
Preheat oven to 375 degrees F. Spray a mini muffin pan with non-stick cooking spray. Roll whole wheat sugar cookie dough into 1-inch balls. Use thumbs to press one ball of dough into each muffin cup of the mini muffin pan until there is room in the center for filling and the dough is pressed up around all edges to form a crust.
Place desired amount of filling into the center of each cookie dough crust. Bake for 10-12 minutes or until crust is golden brown. Allow pies to cool. Tope with whipped cream (if desired) and serve.
---
Soft Whole Wheat Sugar Cookie Dough
1 cup sugar
1 teaspoon baking powder
½ teaspoon salt
½ teaspoon baking soda
½ teaspoon nutmeg
½ cup butter
2 tablespoons milk
1 teaspoon vanilla
1 egg
2 cups whole wheat flour
In large bowl, combine first 9 ingredients and blend well. Stir in whole wheat flour.
Refrigerate for at least 1 hour.
Shape dough into 1 inch balls to use for Whole Wheat Sugar Cookie Mini-Pies
OR
To bake Whole Wheat Sugar Cookies:
place 1 inch balls on an ungreased baking sheet, 2 inches apart. Flatten dough slightly with a fork. Sprinkle with cinnamon and sugar (if desired). Bake for 8-10 minutes until light golden brown.
---
Show how thankful you are for family this holiday by making some baking time together. Happy Thanksgiving!
---
An unbeatable value with exclusive benefits for members only.
Get a newsletter like this each week when you join the Cook'n Club.