Cook'n is the best-selling recipe organizer
---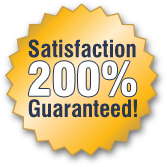 "If you are not completely satisfied with Cook'n, I will not only refund your purchase, I will go one step farther and buy you the recipe software product of your choice. So, try Cook'n today!"
---
Customer Five-Star Rating:

(367)
---
"Just a quick note to let you know how much I love your program. Not only has it enabled me to get rid of a good deal of paper but recipes are just a couple of clicks away, no more hunting." -Judy
---
"I looked and looked for a good recipe program for my compuer and I have had Cook'n for about two years and I like it better and better the more I use it! Thanks!" -Gwyn
---
"I have only had your Cook'n Recipe Organizer for just a few days and am enamored by it." -Virginia
The Cook'n Recipe Organizer is an easy-to-use program that makes recipe management and organizing using your home computer a snap.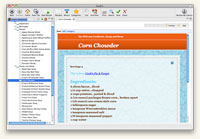 1) Recipe Manager
Easily add your own recipes
Capture hundreds of internet recipes
Create and organize cookbooks with different chapters
Search for recipes by what foods you have on hand
Easily change recipe serving sizes to automatically convert ingredient amounts
Stop wasting time trying to find a good recipe in the piles of cards or internet print-outs laying around the kitchen. Now you can organize them easily on your computer!

---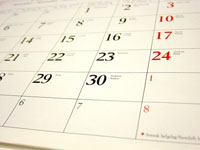 2) Menu Planner
Use your recipes to make meal menu plans
Create your own weekly, monthly, and yearly menus
Automatically generate a shopping list from your menus
Print your menus and stick them on the fridge
With Cook'n you can save time, money, and eat healthy with your very own menus from your very own recipes!

---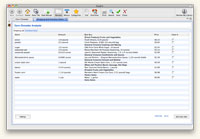 3) Grocery Shopping Assistant
Compiles your family's shopping list automatically
Organizes shopping list items by aisle
Converts to package sizes (e.g., tablespoon tomato paste to 8 oz. cans)
Choose which brands you want for your foods
Calculates your grocery cost
Stop getting overwhelmed with frequent grocery trips. Get the ingredients you need for your meals using Cook'n!

---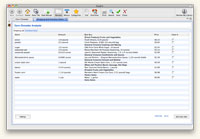 4) Personal Home Nutritionist
Analyze the nutritional elements of recipes and menus (even the ones you add!)
View standard nutritional labels for every food and recipes
Choose between brands to satisfy dietary needs
Include nutritional info on recipe and cookbook printouts
Now you can plan menus based on dietary needs and tastes. Prepare healthy, delicious meals for the entire family!

---
---
System Requirements:
1GIG RAM
300MB Hard disk space
Mac 10.6 and Higher
---