Cook'n

Grocery Shopping Lists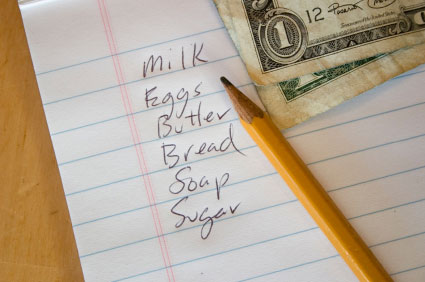 Do you ever forget to write down items you need on your shopping list or get overwhelmed trying to make the right list? Or do you spend too much on groceries because of poor planning?
If you answered " yes " to at least one of the previous questions, we have a product for you! Cook'n Recipe Organizer will help you save time, save money, and eat healthier meals with its easy-to-use grocery-shopping assistant features.
Cook'n allows you to: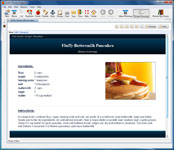 Compile your family's shopping list automatically
Cook'n automatically combines the food on your menus and makes a grocery shopping list. It even combines the totals from similar ingredients on different recipes. No more scrambling to put together a list at the last minute!
---
Organize shopping list items by aisle
When Cook'n generates a shopping list it organizes it by food categories. This feature will save you time at the store! If you want to create a monthly shopping list, Cook'n even gives you the option to exclude perishables after Week 1.
---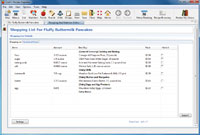 Convert to package sizes
(e.g., tablespoon tomato paste to 8 oz. cans)
A shopping list wouldn't be very helpful if it said you needed to pick up a tablespoon of salt. That's why Cook'n is designed to convert measurements into package sizes. Don't worry, if you already have the ingredient on hand, you can remove it from the list with a click of the mouse.
---
Choose which brands
you want for your foods
Cook'n is so detailed to help your shopping needs that it gives you the option to select which brands you prefer. Several popular brands are included with the program with accurate nutritonal and cost information. If you can't find your brand Cook'n will let you add it!
---
Calculate your grocery cost
Cook'n also calculates the approximate cost of your shopping list. You can print off these detailed lists for easy access while shopping.
Watch how it works!
---

---
Learn More About How Cook'n Can Help You:

Organize Recipes
Find & Capture Internet Recipes
Menu Plan
Analyze Nutrition
Share Recipes
Print Family Cookbooks
Save Money
More...
---
"I have 6 kids who seem to eat all the time, so I am using the software to help plan both my meals and snack menus. I went to the store with my custom Cook'n shopping list yesterday, and it was a GREAT trip to the store. We had a change in menu plans today and I am glad to know I can just drop and drag stuff around in the Recipe Program and still be good to go! I look forward to my streamlined menu planning. I know this software is going to help me save a LOT of time and take the drudgery out of planning meals." -Christine
---
"I was just online looking for a spray oil dispenser when I "happened" upon your DVO website. I cannot tell you enough how excited I am about your menu software. I am in the process of opening a coffee shop/cafe and one of the tasks is, of course, recording my recipes and developing a menu. Your software is the answer! Thank you so much for following your dream and offering such help to people like me!" -Sandra
---
"Cook'n has made my life SO much easier. Preparing a menu was always an unenjoyable task for me. This program takes the guess work out of meal planning and grocery shopping. I love that I can create a grocery list directly from the menu I save. I used to dread dinner time because I never new what to cook, now I look forward to it!" -Rebecca