Understanding Stir-Fry Cook Times = SUCCESS!
When it comes to a quick, filling, and tasty way to pull a meal together, there's no better method than doing a stir-fry. This is an especially smart approach to meal-making during the hotter weather. And besides being quick and filling, it's a great way to take advantage of those healthy and delicious garden ripened vegetables.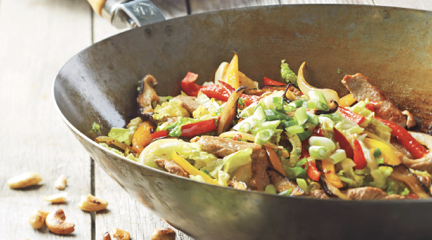 But for a successful outcome, it's important to understand cook times of your various ingredients. Some vegetables take longer to cook in the stir-fry process than others. With this fact in mind, here's a breakdown of which veggies are fast cooking and which are slow.
You might want to keep this handy reference in your Cook'n Recipe Organizer. I've put it into a chapter titled "Cook'n HOW-TOs."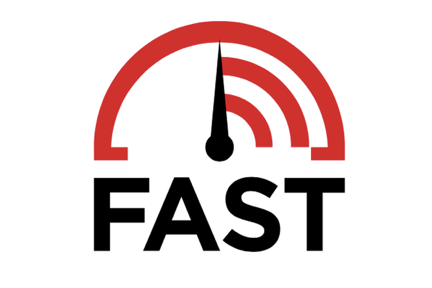 FAST COOKING:

Spinach
Green onions
Nappa cabbage
Snow peas
Leafy greens
Zucchini
Corn
Water chestnuts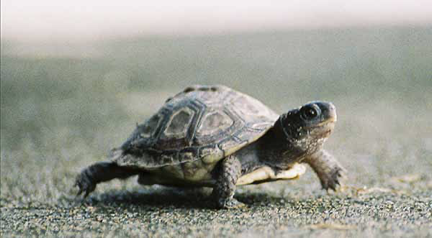 1-5 MINUTES:

Onions
Sweet peppers
Mushrooms
Asparagus
Bok choy
Carrots
Celery
Garlic
Edamame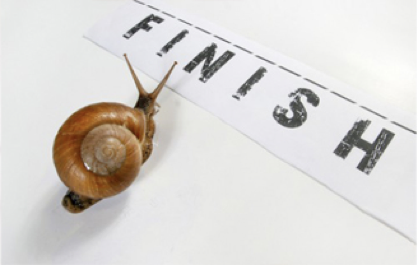 LONG COOKING (more than 5 minutes):

Hard squash
Green or yellow beans
Broccoli
Broccoli rabe
Cauliflower
Hard cabbage varieties—green or purple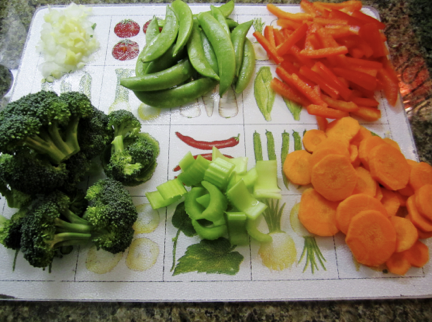 Finally, a few savvy stir-fry tips: Once the heat is on, things move quickly, so plan ahead by prepping your veggies ahead of time and having your liquids measured before you start.
I refrigerate my diced and sliced veggies in water in individual cups with lids—for up to 2 days. This way I can put a stir-fry together in no time flat. This is a great way to "clean out the fridge" and deal with leftovers as well. (And I use the water the veggies were sitting in as a soup base later on.)
When prepping, slice everything for maximum surface area. The goal is to expose as much surface area as possible. Whenever you can, slice your vegetables thinly and on a sharp diagonal. All your aromatics (garlic, ginger, lemon grass, and green onions) should be finely chopped. And if including meat, always slice it against the grain to increase tenderness. The thing to remember with your slicing: the greater surface, the more contact with the heat your ingredients will have and that increases their flavor.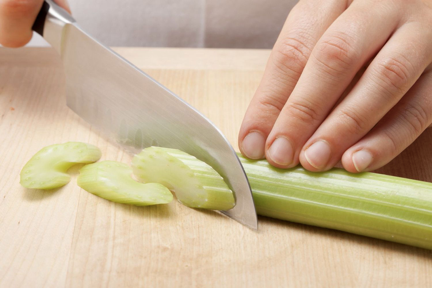 Regarding cooking, there's one exception to using high heat, and that's with your aromatics. Cook them first, at a lower heat. If added to a wok or pan on high heat, they will burn quickly and taint the flavor of the stir-fry. Aromatics are only used to flavor the oil, so be careful with them. Heat the oil over medium heat and cook them slow on low heat. This gentle technique protects their delicate oils and ensures they'll add to, rather than detract from the overall taste of the dish. Make sure to spoon them out of the pan before increasing the heat. (They can be added again at the end if desired.)
Stir the veggies often and be ready to thicken your fry sauce quickly as well. Then just prior to serving over a bed of noodles or rice, add a fresh element (herbs, sprouts, or fresh citrus wedges). This fresh touch makes a big difference in not just overall taste, but presentation as well.
One last thought and a traditional recipe for practice: Don't eliminate the possibility of a stir-fry meal just because you don't have a wok. Cast iron pans are more than suitable for this meal-making approach!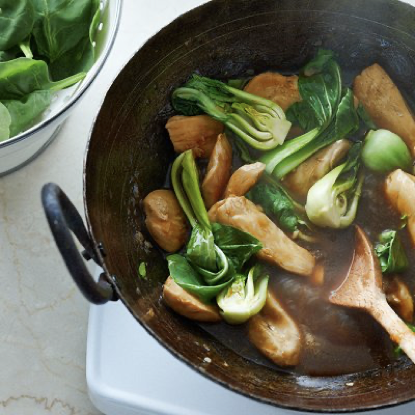 Ginger Chicken Stir-Fry with Greens
Ingredients:
4
baby
bok choy
3
skinless, boneless
chicken breasts
1/2
cup
teriyaki sauce
3
tablespoons
cornstarch
1
teaspoon
greated, fresh
ginger
1
cup
garlic
1
tablespoon
olive oil
1
cup
chicken broth
preferably low-sodium
4
cups
lightly packed
(or 3½ cups shredded fresh kale, collards, or Swiss chard)
Directions:
1. SLICE baby bok choy in half lengthwise.
2. Cut chicken into bite-size strips.
3. In a bowl, stir teriyaki with cornstarch until dissolved.
4. Add garlic and ginger.
5. HEAT oil in a large frying pan or wok over medium-high heat.
6. Add chicken and stir-fry until no longer pink, about 3 min.
7. Add broth, teriyaki mixture and bok choy (or other greens). Pan will be full, but greens wilt quickly.
8. Stir constantly until chicken is cooked through, 3 to 4 minutes.
9. Stir in spinach and serve over noodles or rice.

Recipe formatted with the Cook'n Recipe Software from DVO Enterprises.
Add Recipe to Cook'n
Sources:
www.splendidtable.org
www.theverge.com
www.swannodette.github.io
www.bethanyrockey.com
www.pinchpurrfect.wordpress.com
www.blog.liegherr.com
www.chatelaine.com

Alice Osborne
Weekly Newsletter Contributor since 2006
Email the author! alice@dvo.com