Have An Awesome Independence Day Even If You're Stuck At Home!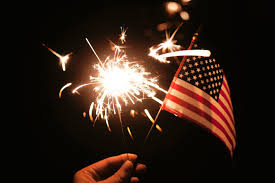 Independence Day is one of my favorite holidays. I love this country. Recently, it's been a little chaotic- but I love the Constitution, our Founding Fathers, and what this country stands for. Despite the chaos that 2020 has been, it's still worth celebrating!
However, this year might look a little different for some of us. Bigger festivities are definitely being put on hold, and even some of our bigger family get-togethers may not be happening this year. You can still find simple ways to enjoy the spirit of the holiday all day long, whether you're at a big family BBQ or not!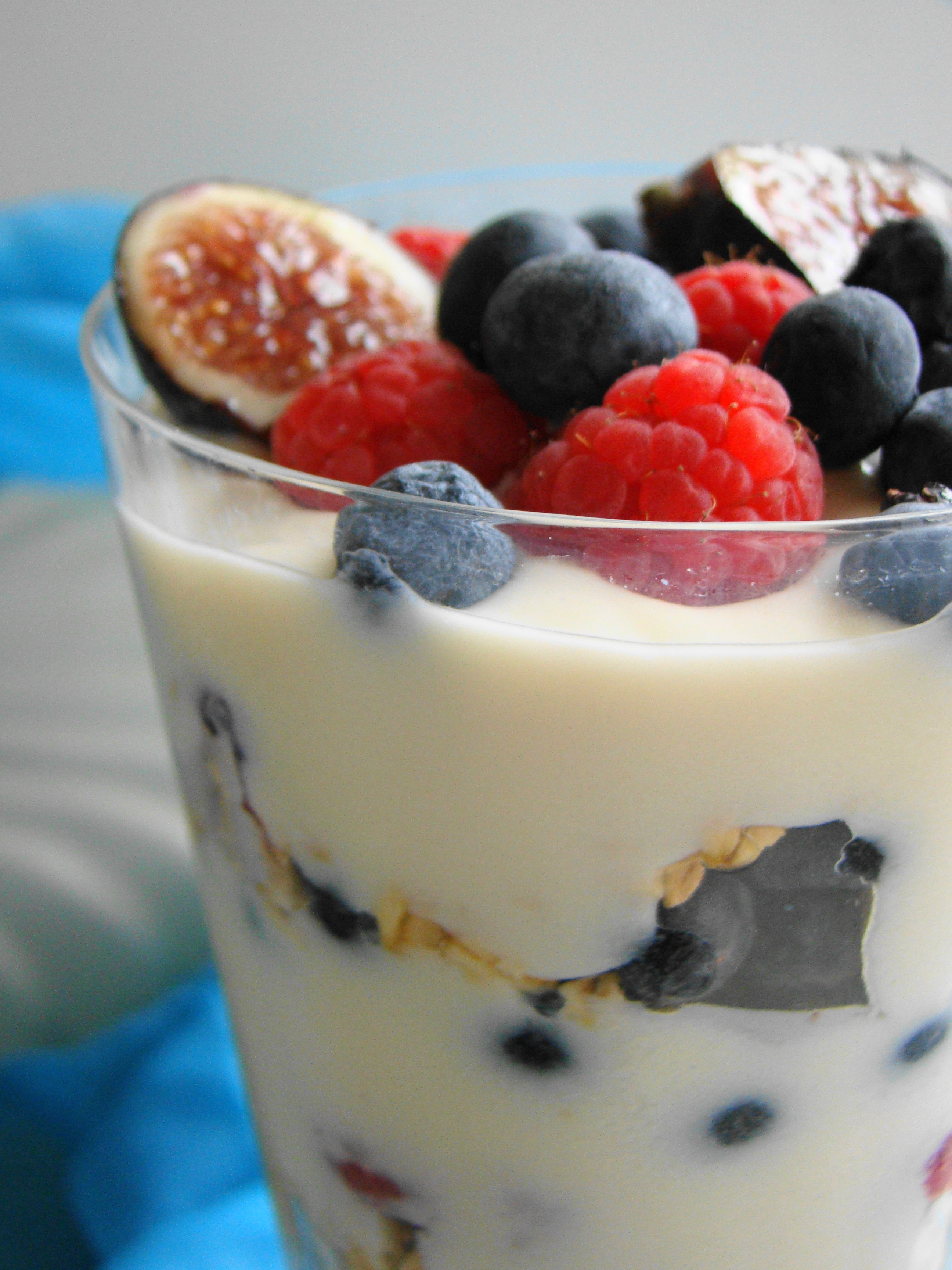 Put together a patriotic breakfast.
I never think about breakfast, because we're usually off to a parade or a day of swimming, but this year we'll probably have breakfast at home- which means I can get creative! Berries are such an easy way to make anything festive for Independence Day. Serve waffles with sliced strawberries and blueberries. Make toast, cover with red jelly, and use blueberries and banana slices to create a flag. Make yogurt parfaits with berries for a light and healthy breakfast. Or, if you're looking for something truly decadent, make this overnight blueberry French toast and serve with a strawberry sauce! (Or just with blueberry sauce and serve sliced strawberries on the side).
Blueberry French Toast
Serving size:
10
Calories per serving:

487




Ingredients:
12
slices
white bread
, crusts removed
2
(8-ounce) packages
cream cheese
1
cup
fresh or frozen
blueberries
12
eggs
1 3/4 or 1 1/2
cups
milk
3/4
cup
maple syrup
or honey
Sauce
1
cup
sugar
2
tablespoons
cornstarch
1
cup
water
1
cup
fresh or frozen
blueberries
(2 cups is better ;) )
1
tablespoon
butter
Directions:
Cut bread into 1 inch cubes. Place 1/2 in a greased 9x13 inch pan. Cut cream cheese into 1 inch cubes; place over bread. Top with blueberries and remaining bread. In a large bowl, beat eggs. Add milk and syrup (or honey); mix well and pour over bread mixture. Cover and chill 8 hours or overnight. Remove from fridge 30 minutes before baking. Cover and bake at 375 for 30 minutes. Uncover and bake 25 to 30 minutes more or until golden brown and center is set.
In a saucepan, combine sugar and cornstarch. Add water; bring to a boil over medium heat. Boil 3 minutes, stirring constantly. Stir in blueberries; reduce heat. Simmer 8 to 10 minutes or until blueberries have burst. Stir in butter until melted. Serve over French toast.

Recipe formatted with the Cook'n Recipe Software from DVO Enterprises.
Add Recipe to Cook'n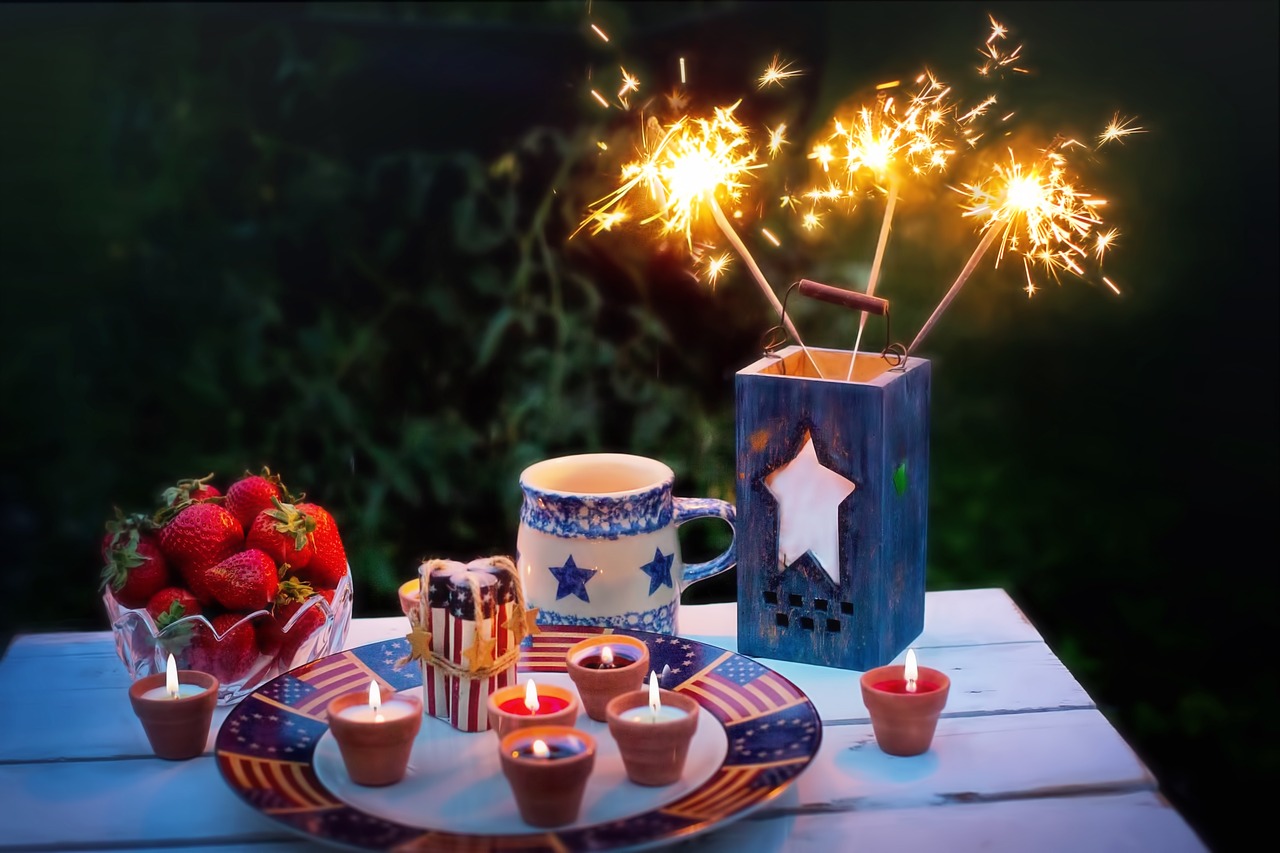 Decorate.
If you're not usually home, but find that this year you're going to be, go all out and decorate! It's amazing what a simple banner and a few balloons can do to lift spirits and make things feel celebratory! If you have young kids or grandkids around, let them help decorate a banner- they'll love seeing their artwork on display for this special holiday! You can keep it simple, but if you have the time/money/resources, let this be the year where you splurge a little and get some fun decor that you can use in the future as well!
M&M's.
These are one of my favorite ways to turn anything into something more festive. Cookies, brownies, cake decor- you can use your favorite recipe and throw in a few red, white and blue M&M's and boom! It's patriotic. You can put them in glass jars with tea lights and put them on the mantle. You can sprinkle them on the table as confetti. They're a basic and simple way to make things festive.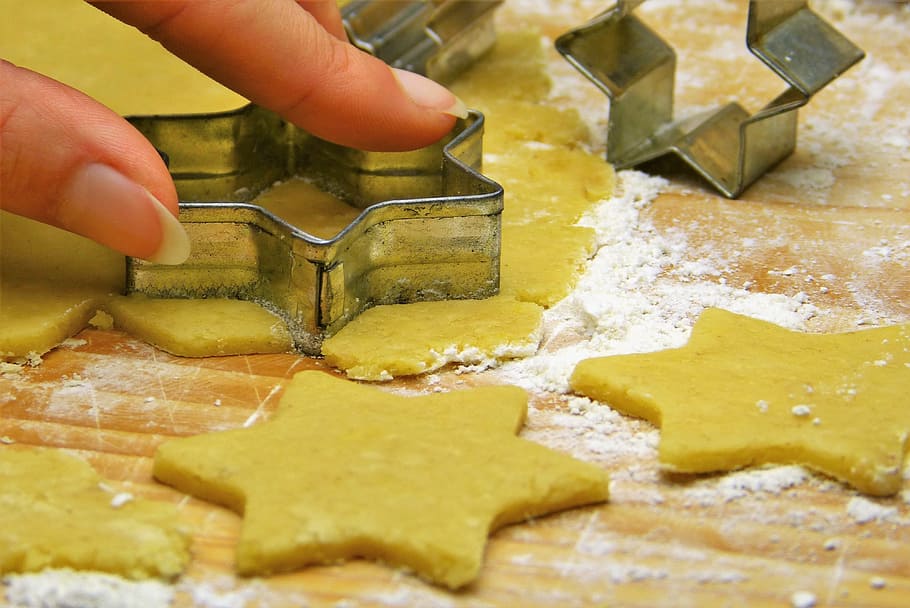 Star everything!
If you have a star-shaped cookie cutter, you can do all kinds of things. Star watermelon bites. Star cheese slices. Star sandwiches. Star quesadillas. Star sugar cookies. The sky's the limit! And it's just another way to add a little extra fun to your day.
Wear red, white and blue.
Last year on Independence Day, I had a 1 month old baby on oxygen, which kind of limited our options of activities. I ended up staying home most of the day, but I painted my nails in a very patriotic fashion and decked myself and my baby out in red, white and blue clothes. And I'll admit- even though I didn't really go anywhere, I felt cute, festive, and fabulous!
Buy your own fireworks!
Growing up, we never went to Stadium of Fire or big firework shows. We always bought a few fireworks from the grocery store and did our own thing. And you know what? I loved it! The 4th of July was and still is one of my favorite holidays. If you've never done your own fireworks at home before, give it a shot! You may end up loving it even more than the big shows ;).
While this year may look different than past Independence Days, depending on where you live, you can still make this a fun and fabulous year- one to remember for sure!
What are your 4th of July plans? I'd love to hear them!
Sources:
https://commons.wikimedia.org/wiki/File:Vegan_Parfait_(4980058204).jpg
https://www.needpix.com/photo/1003091/fourth-of-july-4th-of-july-sparklers-candles-patriotic-july-4th-fourth-independence
https://www.wallpaperflare.com/person-holding-gray-star-cookie-cutter-dough-cut-out-bake-wallpaper-uirol
https://www.goodfreephotos.com/holidays/4th-of-july-independence-day/fireworks-and-american-flag-4th-of-july.jpg.php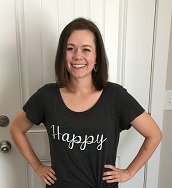 Camille Hoffmann
Weekly Newsletter Contributor since 2014
Email the author! camille@dvo.com