LEFTOVER Steak'an Oxymoron?
Grilling, barbecuing…'tis the season. And we all know steaks are a favorite choice for this cooking method. With that thought in mind, I thought it would be helpful to discuss what we can do with leftover steak.
Leftover steak. That's sort of an oxymoron, I know. But in the off-chance you
do
have some steak leftover after your next grilling adventure, here are some superb ideas on what to do with this versatile meat. Maybe there are one or two you haven't thought of: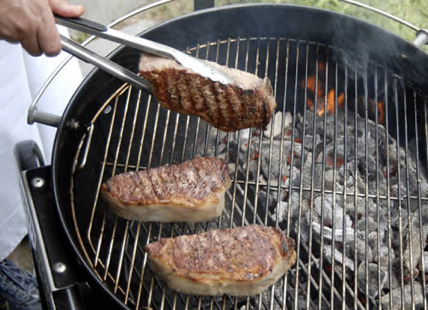 Steak pot pie with veggies
Shepherd's pie
Beef stroganoff
Beef stew
Steak fajitas
Steak and potatoes with fried eggs
Barbecued pizza
Mushroom and steak marsala
Bean and beef burritos
Stir fry
Nachos with diced steak
Steak and cheese stuffed peppers
Steak-based chef's salad
Steak tacos
Sweet and Sour Steak over rice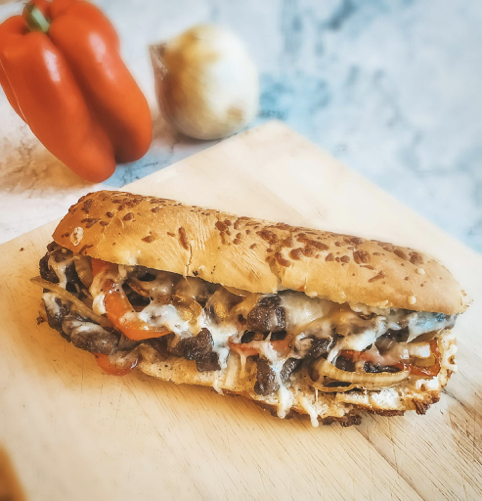 But one of our very favorite ways to use leftover steak is the magnificent Philly Cheesesteak! According to America's Test Kitchen, Philly steak shops use three things to achieve their beloved sandwich's hashed, browned, crispy meat: a meat slicer, a griddle, and prohibitively expensive rib eye.
However, the Test Kitchen cooks came up with a simple and economical way to mimic the thinly shaved slivers of rib eye usually obtained with a meat slicer. They found that when partially frozen, sirloin steak makes for easy slicing, and its flavor was nearest to rib eye (but without the sticker shock).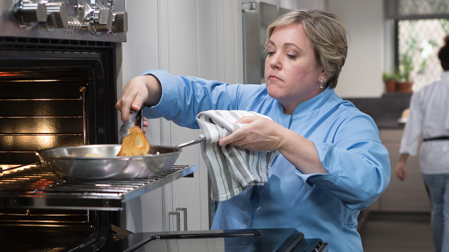 To best approximate the wide griddle typically used in typical Philadelphia cheesesteak restaurants, the Test Kitchen cooked the meat in two batches, letting any excess moisture drain off before giving it a final sear. Finally, to bind it all together, they let slices of American cheese melt into the meat, along with a bit of grated Parmesan to boost its flavor.
So with the idea that you'd be using leftover steak from your latest barbecue, just know that the cooking/searing part of the process can be skipped. The trick will be thinly slicing the steak you have left. I think I would do this following the Test Kitchen Cooks' advice, and freeze the leftovers. Then, when ready to make the sandwiches, I'd let the steak partially unthaw and slice as thin as possible.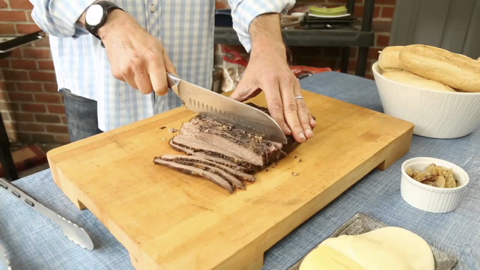 Following is a recipe that has won rave reviews with many of my neighbors, recently passed on to me. I'll be trying it in the next week—assuming we have any leftover steak from our barbecue, that is!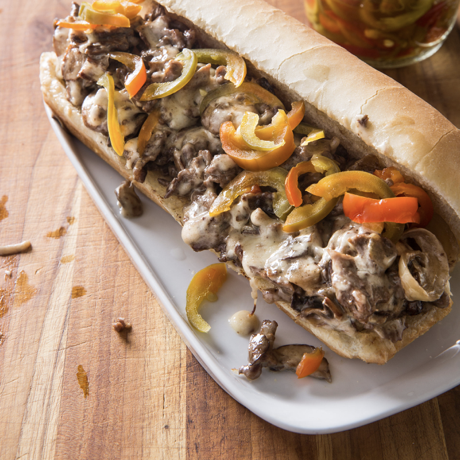 5-Star Philly Cheesesteak Sandwich
Ingredients:
2
fresh
italian rolls
or 2 Kaiser rolls, split in half crosswise
1
white onion
thinly sliced
1/2
large
green bell pepper
thinly sliced
1
teaspoon
minced
garlic
1/2
teaspoon
salt
1/4
teaspoon
ground
black pepper
1/2
pound
cooked
beef sirloin steaks
very, very thinly sliced
1/3
pound
provolone cheese
thinly sliced
ketchup
for topping, optional
pepperoncini pepper
for accompaniment
olive oil
Directions:
Heat a cast-iron skillet or griddle over medium-high heat. When hot add the oil, onions and bell peppers, and cook, stirring, until caramelized, about 6 minutes. Add the garlic, salt, and pepper, and cook, stirring, for 30 seconds. Push off to 1 side of the griddle.
Add the meat to the hot pan and cook, stirring and breaking up with the back of 2 metal spatulas, cooking until heated through, about 1 minute. Mix in the sauteed vegetables. Top with cheese slices and melt.
Spoon the cheesy meat mixture into the warm buns and serve immediately with condiments of choice.

Recipe formatted with the Cook'n Recipe Software from DVO Enterprises.
Add Recipe to Cook'n
Sources:
www.lobels.com
www.momlifefoodtravel.com
www.americastestkitchen.com
www.youtube.com

Alice Osborne
Weekly Newsletter Contributor since 2006
Email the author! alice@dvo.com