Slow-Cooker Brown Sugar Cheesecake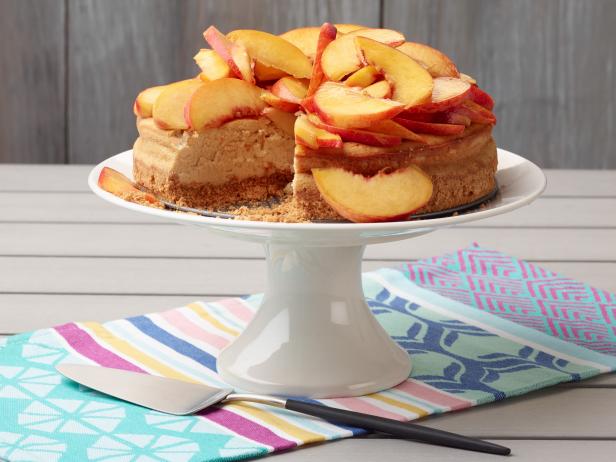 Slow-Cooker Brown Sugar Cheesecake
The moist environment of a slow cooker works double duty on cheesecake: it prevents cracks from forming and helps achieve a smooth and creamy texture. We loved the dessert topped with ripe summer peaches, but berries work well here too.
Prep time:
Cook time:
Yield:
Serving size:
8
Calories per serving:

262




Ingredients:
12
graham
crackers
, broken in half
5
tablespoons
unsalted
butter
, melted
2 -8
ounces
packages
cream cheese
, at room temperature
1
cup
plus 1 tablespoon lightly packed light
brown sugar
3/4
cup
sour cream
2
teaspoons
pure
vanilla extract
pinch fine
salt
3
large
eggs
, at room temperature
3
small ripe
peaches
, pitted and cut in to 1/4-inch wedges
Directions:
Loosely roll a large piece of aluminum foil (about 20-inches long) into a 1-inch cylinder. Form a ring with the foil, about 7 inches in diameter. Fill a 6-quart slow cooker with 1/2 inch of water and place the foil ring in the bottom.
Place the graham crackers in the bowl of a food processor and process until finely ground. Add 4 tablespoons of the melted butter and pulse to combine; the mixture should look like wet sand. Brush the inside of an 8-inch springform pan with the remaining 1 tablespoon melted butter. Press the crumb mixture into the bottom of the pan, and one-third of the way up the sides. Use the bottom of a round drinking glass to help press the crumb mixture into the pan.
Wipe out the food processor, then add the cream cheese, 1 cup of the brown sugar, the sour cream, vanilla and salt, and blend until very smooth, scraping down the sides of the bowl as needed. Add the eggs, pulsing until smooth and uniform. Pour the filling into the crust.
Gently place the cheesecake on the foil ring in the slow cooker. Drape a double layer of paper towels over the opening of the slow cooker and place the lid over the paper towels (the ends of the paper towels should come out from under the lid). Cook on low heat until the cheesecake is just set, but still jiggles slightly when the pan is moved, 4 hours.
Turn off the heat and remove the lid. Wipe out the inside of the lid and replace the paper towels with new paper towels, and cover the slow cooker again. Cool the cake in the slow cooker, 2 to 3 hours.
Remove the cheesecake, cover with plastic wrap and refrigerate until chilled, at least 3 hours and up to 3 days.
One hour before serving, place the peaches in a mixing bowl with the remaining 1 tablespoon brown sugar. Toss to combine and macerate for at least 1 hour, stirring occasionally.
Run a small knife around the edge of the cheesecake and remove the outer ring of the pan. Spoon the peaches, along with any of the juices, over the cheesecake to serve.
Source:
foodnetwork.com
Add Recipe to Cook'n
---