TOP 5 Favorite Herbs and a GREAT Pesto Recipe
While exploring the great cooking site, the Kitchn (www.kitchn.com), I ran across this intriguing article on scrambled eggs. We all know they're equal parts simple and comforting, which is why they're a staple just about any time of day. But is there really anything so newsy to say about them that they merit an entire article?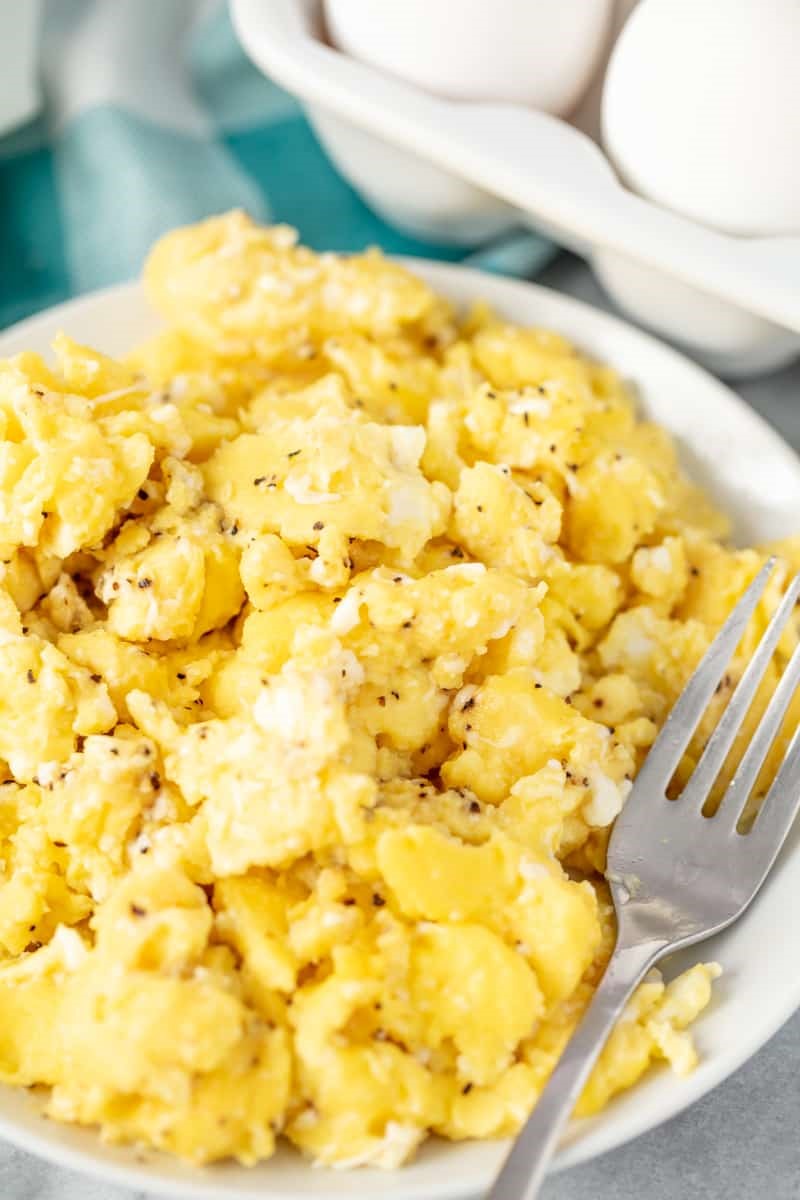 Oh yes. The folks at the Kitchn explained, "While enjoying them plain and simple is sometimes all you need, other times it's fun to shake things up a bit. Their little upgrades jazz up the homey classic just enough to make your scrambled eggs feel a little more special." Yup, an entire article was needed. In a nutshell, here are their five scrambled egg hacks that I've never tried (and maybe you haven't, either), but definitely will!
1. Add a splash of soy sauce. Don't most of us season our scrambled eggs with salt? Next time, the Kitchn says we should try soy sauce instead. It provides the seasoning your eggs need and boosts their savory flavor. Add a splash as you're whisking the eggs -- and skip the salt altogether.
2. Reach for something creamy. Ricotta, sour cream, creme fraiche, and even yogurt work wonders in scrambled eggs by adding richness and tang. While you can whisk a spoonful into the eggs before scrambling them, the Kitchn pros' preferred method is to fold in a big dollop right after they take the eggs off the stove. While most of it will melt right in, you'll be left with a few creamy streaks that make each bite a little different.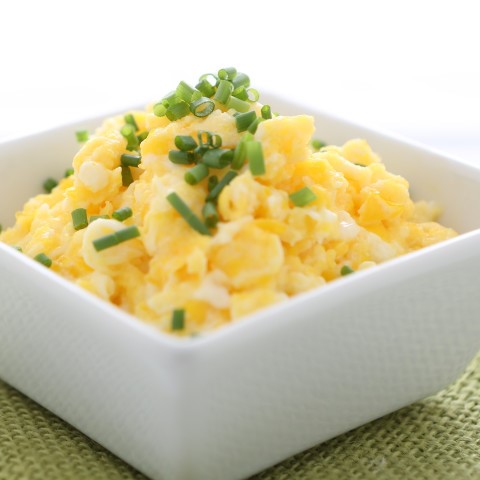 3. Stir in corn. Whether frozen or fresh, this works. It may seem like an odd combination, but corn lends a pop of sweetness and texture to each bite of scrambled eggs. Frozen corn can be added directly into the skillet of eggs and will defrost quickly from the heat of the pan. Fresh kernels benefit from a quick saute first, and then you can add the eggs to the same pan. Since fresh corn season is just about here, let's look at the Kitchn's recipe for eggs and corn: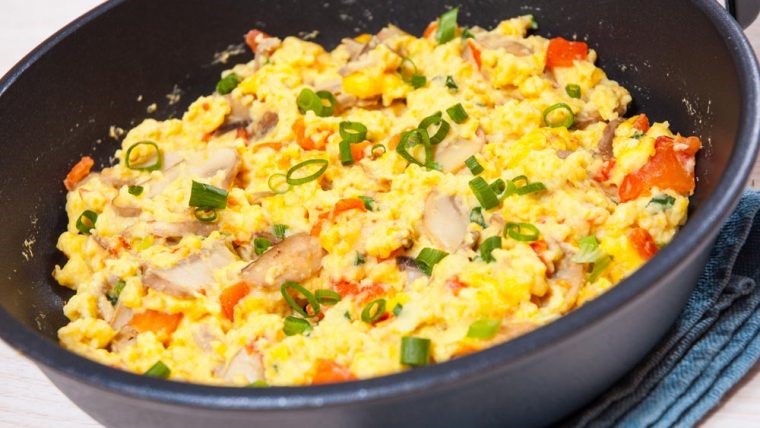 Scrambled Eggs with Fresh Corn, Goat Cheese, and Tomatoes
Prep time:
Cook time:
Yield:
Serving size:
1
Calories per serving:

561.875




Ingredients:
4
slices
(thick)
tomatoes
(1/4- to 1/2-inch thick)
extra virgin
olive oil
salt
to taste
pepper
to taste
1
ear
(medium)
corn
with husk still on
1/2
tablespoon
unsalted butter
4
large
eggs
beaten
2
ounces
goat cheese
2
green onions
thinly sliced (optional)
Directions:
Set your oven's broiler on high with a rack a few inches below the broiler element. Drizzle the tomato slices with a bit of olive oil, coating both sides, and season with salt and pepper. Put them on a baking sheet and broil in the oven for 8 to 10 minutes, until beginning to caramelize on top.
While the tomatoes are cooking, microwave the corn (in its husk) for 3 minutes on high. Remove from the microwave and let cool for a few minutes, then strip off the husk and cut the kernels from the cob.
Heat the butter in a frying pan over medium heat. Add the corn, season with salt and pepper, and cook for 1 minute. Add the eggs and scramble -- this shouldn't take more than a minute, although if you like your eggs creamy, you may want to lower the heat and cook them more slowly. Once the eggs are scrambled to your liking, turn off the heat and crumble in the goat cheese and add sliced onions, if using.
Use a spatula to transfer the tomato slices to a plate, then top with the eggs. Season with more salt and pepper to taste.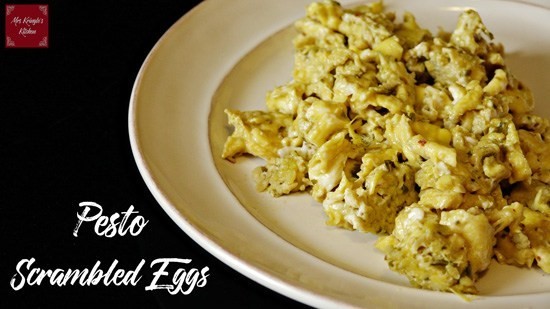 Sources:
www.mrskringleskitchen.com
www.wozupi.com
www.bigoven.com
www.thestayathomechef.com

Alice Osborne
Weekly Newsletter Contributor since 2006
Email the author! alice@dvo.com