The Parsnip: Health-wise and Taste-wise, It's a Winner!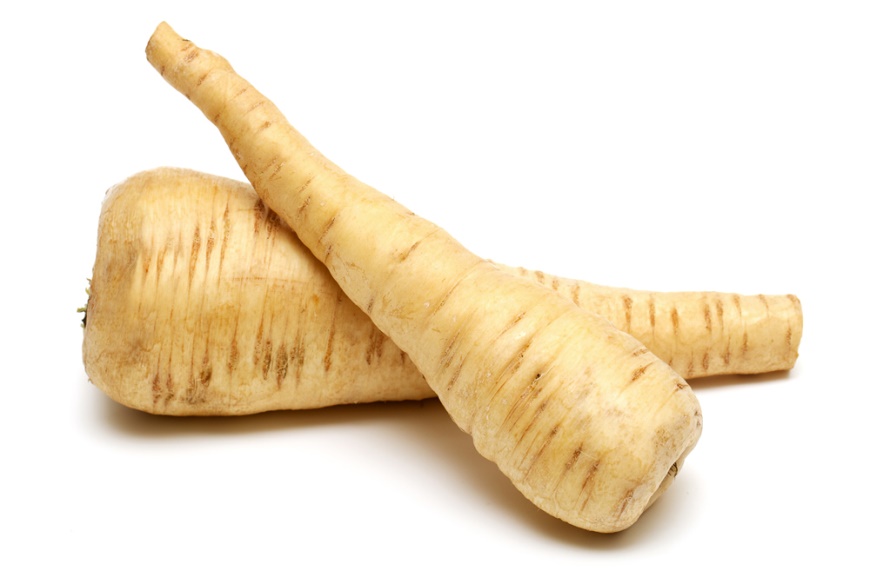 Parsnips contain a wide variety of vitamins, minerals and nutrients, including dietary fiber, folate, potassium, and vitamin C. According to the Harvard School of Public Health, the main health benefit of including fresh produce like parsnips in your diet on a regular basis is that the nutrients consumed can significantly reduce your risk of a number of serious medical problems:
Diabetes

High cholesterol

Heart disease

Stroke

Cancers

Osteoarthritis

Age-related vision and hearing losses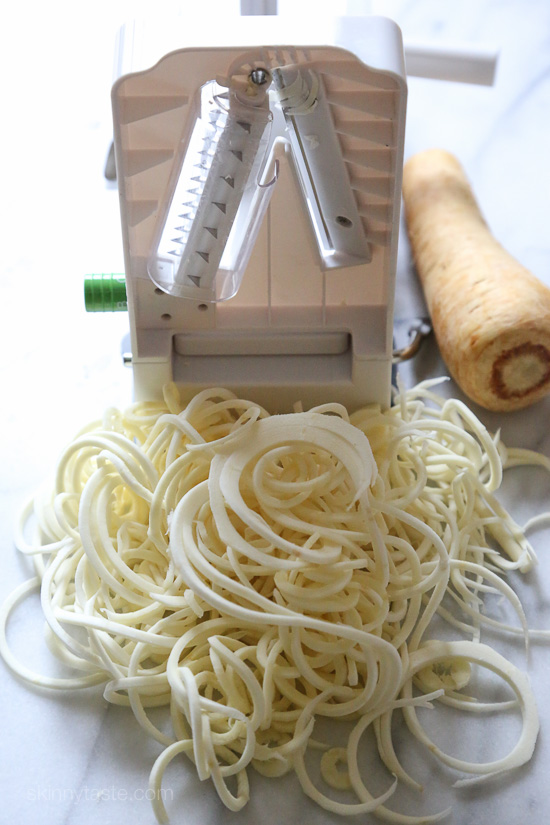 This health-powerhouse belongs to the same plant family as celery, parsley and carrots. In season between November and April, parsnips resemble carrots in taste and texture and are primarily eaten cooked, though they can be shredded thin and eaten raw. (A spiralizer could do a beautiful job on this vegetable!)
The best cooking technique to maximize their health benefits is roasting or steaming.
They're tasty on their own. You can just add some butter and herbs (such as chervil, parsley, and chives) and they'll sparkle. Or consider roasting them with potatoes, carrots, and Brussels sprouts, seasoned with rosemary and salt and pepper to taste.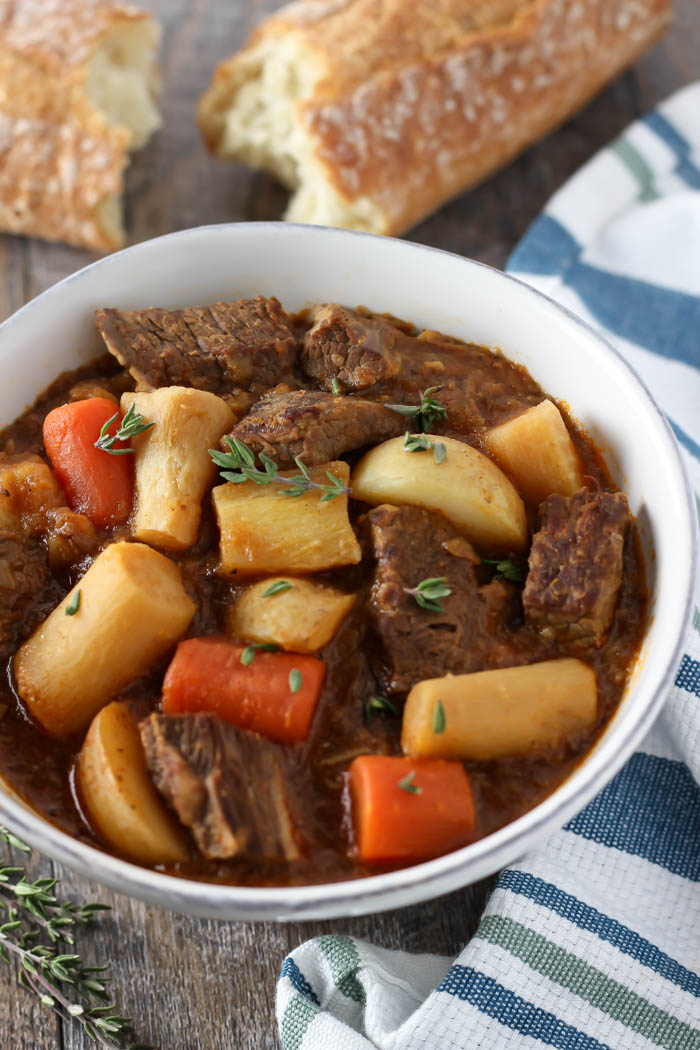 And this vegetable is an excellent addition to winter beef stew pot. Along that same line, you could add it to chicken stew or potato chowder, as well. I added some finely chopped parsnip to a batch of homemade chili, just to see if it would work. It did—wonderfully well.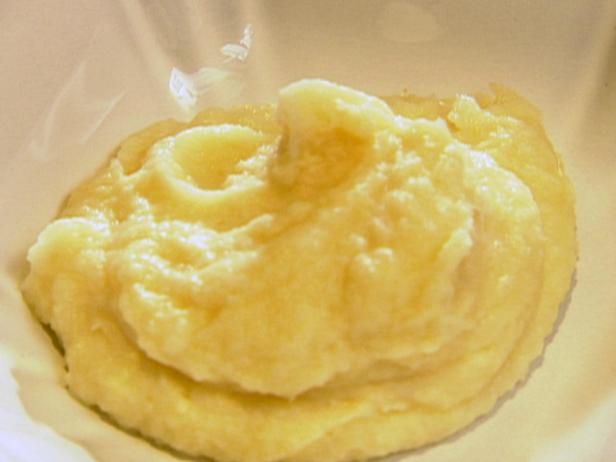 An easy and elegant side dish that Aunt Annie used to make for holiday meals was her parsnip puree. I watched her make this. All she did was steam about a pound of parsnips until soft. She then placed them in her blender along with some salt, fresh cream, a little thyme, 1 small head of garlic, some pepper to taste, and butter (maybe ½ a cup). It was divine. If you didn't want to use this as a side dish, you could use it as a dip for fresh vegetables and whole grain crackers. I asked for her recipe and she laughed. "Who needs a recipe to puree parsnips?" she said.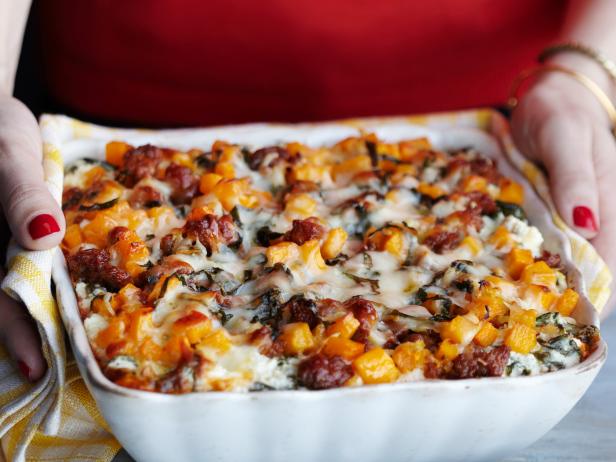 OK, some things are just instinctual. Let's move on then, to another very seasonal and healthy idea for this health-packed vegetable. How does using it in lasagna sound? I found this recipe on the Cooking Channel a while ago and was in awe. Butternut squash and parsnips are paired with sausage and spinach for a true crowd pleaser.
The nutrition in this dish is remarkable; it can be made ahead and is filling without being a diet-blaster. It's a bit work-intensive, so save this for a weekend meal, perhaps. But whether it's this lasagna, pureed parsnips, or steamed or roasted, do give this remarkable vegetable a try this winter. Health-wise and taste-wise, it's a winner!
LASAGNA WITH BUTTERNUT SQUASH AND PARSNIPS
1 tablespoon extra-virgin olive oil, plus more as needed
1 pound hot Italian sausage, casings removed
1 large yellow onion, chopped
3 garlic cloves, minced
One 1 1/2-pound butternut squash, cut into 1/2-inch dice (about 2 1/2 cups)
3/4 cup shredded parsnip
Kosher salt, to taste
Cracked black pepper, to taste
2 (15-ounce containers) part-skim ricotta cheese
2 large eggs
1 (10-ounce package) frozen chopped spinach, thawed and squeezed dry
2 cups shredded mozzarella cheese
1 cup shredded Parmesan cheese
1 cup fresh basil leaves, torn
6 cups tomato sauce (store-bought or homemade)
1 (8-ounce package) no-boil lasagna noodles
Preheat the oven to 400 degrees F.

In a large skillet set over medium-high heat, heat the oil. Add the sausage and cook, breaking it up with a wooden spoon, until browned throughout, about 5 minutes. Using a slotted spoon, transfer the sausage to a paper towel-lined plate.

Add the onion and garlic to the pan, adding extra oil, if needed. Cook, stirring, for 1 minute. Add the butternut squash and parsnips and cook until the vegetables are tender, 8 to 10 minutes. If the squash and parsnips start to stick to the pan, add 1 tablespoon water. Season to taste with salt and pepper. Remove the pan from the heat and pour off any excess liquid. Stir in the reserved cooked sausage.

In a medium bowl, whisk together the ricotta, eggs, spinach, 1 teaspoon salt, and 1/2 teaspoon pepper.

In a separate bowl, combine the mozzarella, Parmesan, and basil.

Spread one-third of the tomato sauce in the bottom of a 9-by-13-inch baking dish. Arrange a layer of lasagna noodles on top. Evenly distribute one-third of the ricotta mixture over the noodles, followed by one-third of the vegetable-sausage mixture. Then sprinkle with one-third of the shredded cheese mixture. Repeat to make two more layers, ending with the shredded cheese mixture on top. (The assembled lasagna can be kept tightly covered in foil in the refrigerator up to 1 day before baking.)

Cover the dish with foil and bake for 30 minutes. Remove the foil and bake until the top is golden brown, about 15 minutes. Let cool for at least 10 minutes before serving.

Veggie Lasagna: Prepare the lasagna recipe without the Italian sausage. Cut 1 medium eggplant and 1 medium zucchini into 1/2-inch dice. After the butternut squash and parsnips have been cooking for 5 minutes, stir in the eggplant and zucchini. Continue cooking for 5 minutes or until the vegetables are tender.
Add Recipe to Cook'n
Sources:
www.ao.com
www.skinnytaste.com
www.passthechallah.com
www.cookingchanneltv.com

Alice Osborne
Weekly Newsletter Contributor since 2006
Email the author! alice@dvo.com