One Life-Changing, Food-Prepping Treasure!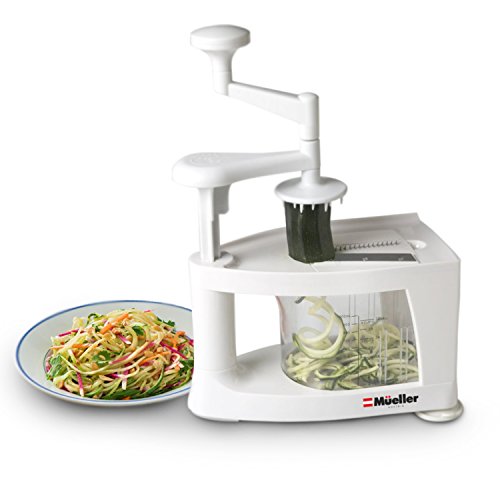 A few years ago I wrote about a wonderful kitchen tool called the spiralizer. I'm writing about it again because this is one easy and beautiful way to serve up some BEAUTIFUL side dishes for your upcoming holiday meals.
You know this has got to be one super tool, for me to devote kitchen cupboard space to it. So trust me, it's worth the space cost. This little gizmo is super fun to use, not to mention a clever way to get veggie-haters to reconsider their stand on the subject.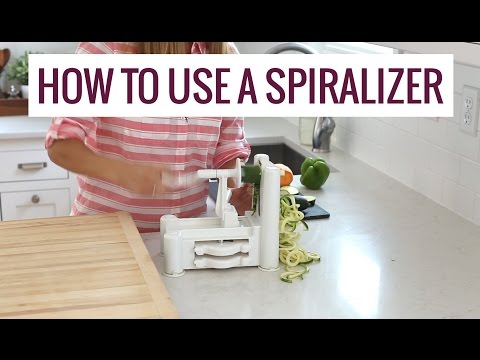 Before we talk about all the things you can make with this treasure, take a look at this HOW-TO video for some good information. Lindsay, of the wonderful site,
Pinch of Yum,
discusses the one spiralizer you should never-ever-ever buy plus two spiralizers she considers winners. If you've never seen a spiralizer in action before, you're in for a treat.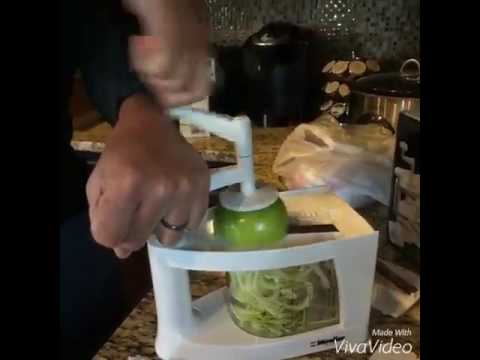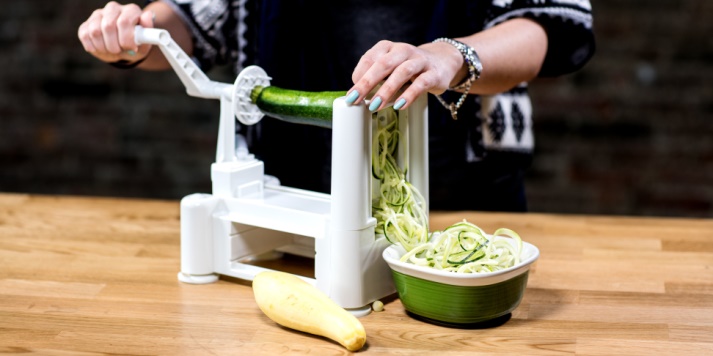 To recap, the two brands that she used were the Müeller and the Paderno. Lindsay says though, that if she had to recommend one for a beginner, it would be the Müeller – it was just really easy to use. That said, though, she likes the Paderno especially for how neatly it stacks together for storage.
Now consider the many veggies that the spiralizer can work on: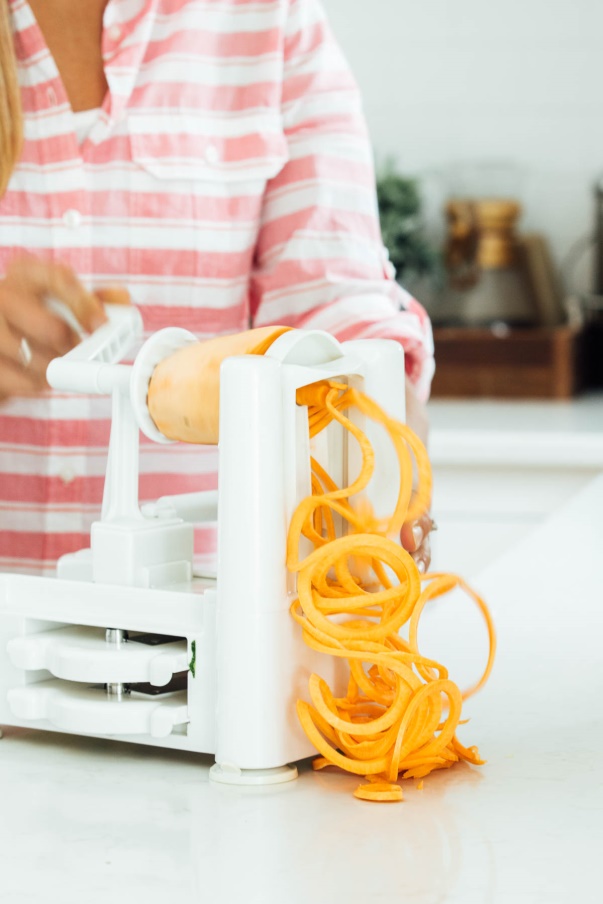 SWEET POTATOES. We've all had sweet potatoes fries, but how about tossing your sweet potato spirals in olive oil and a little salt and baking them?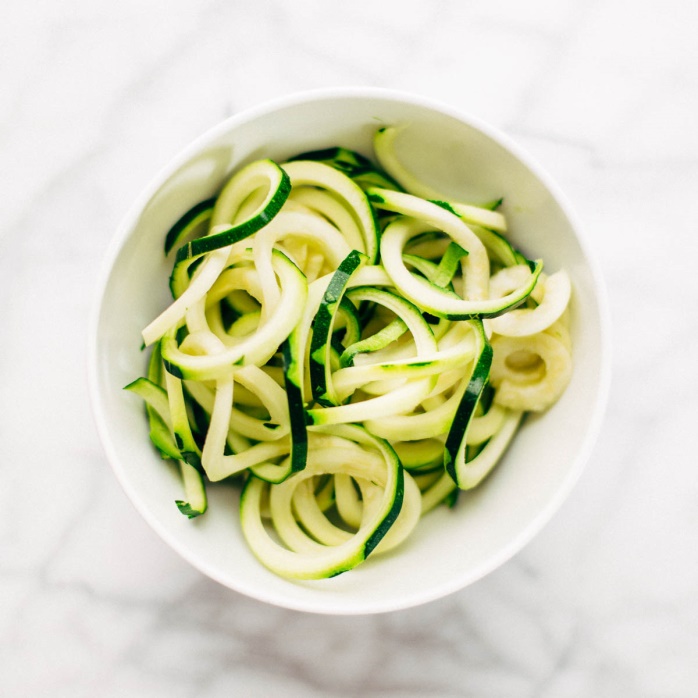 ZUCCHINI Spirals make terrific "noodles" (either raw or lightly steamed) for your marinara sauce.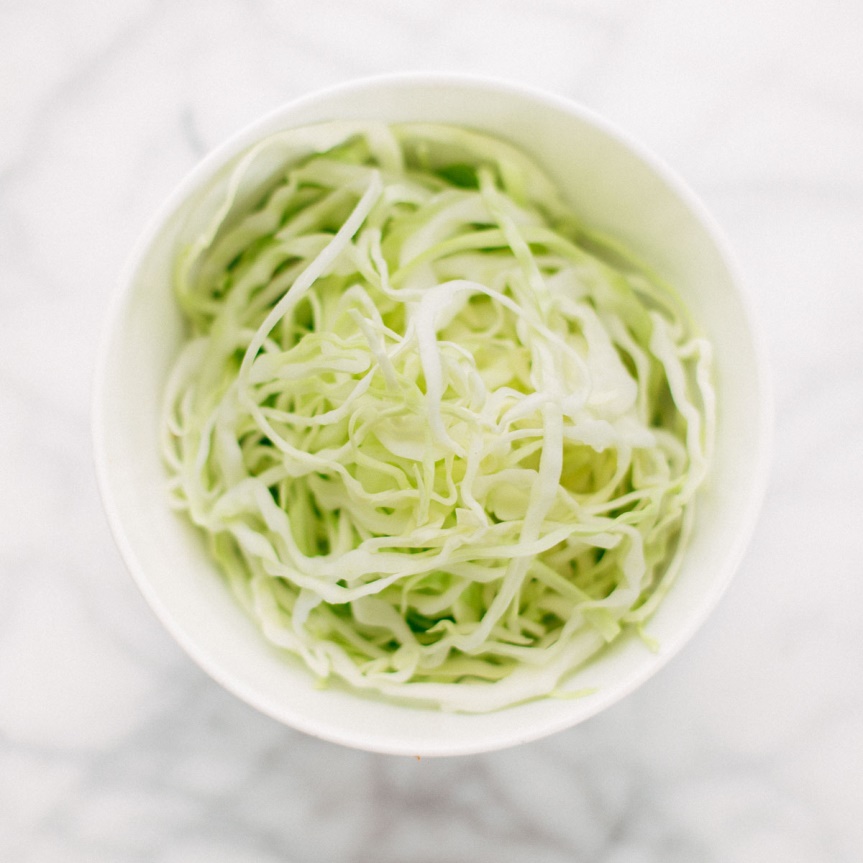 Even CABBAGE can be spiralized. I like to combine this with spiralized zucchini and steam them together along with slivered almonds. A little butter on top and you've got a scrumptious side dish.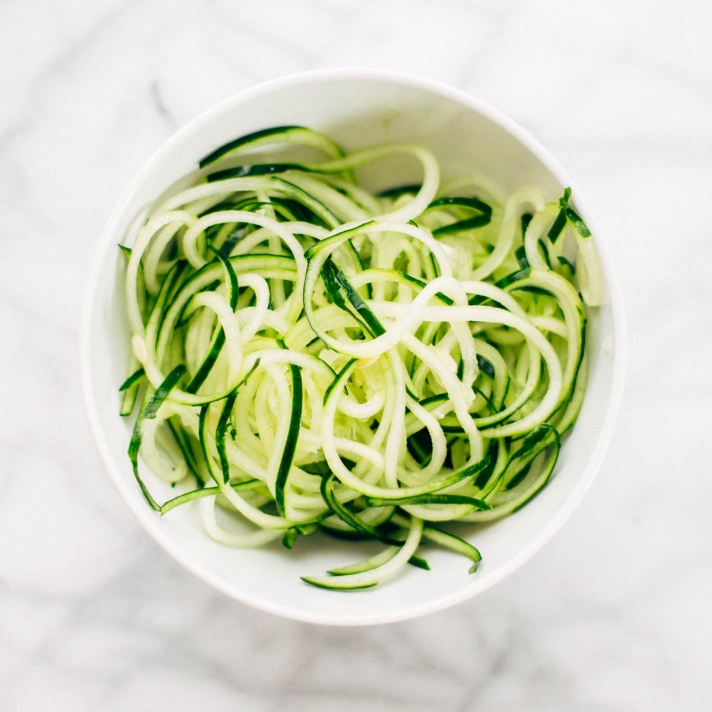 Then there's CUCUMBER. The only issue with cucumbers is the water. Spiralize it normally and then just let it sit for a while to drain out the water and you'll be in fresh salad heaven. (You'll be in awe over how pretty they are when nestled in amongst the lettuces, and cherry tomatoes!)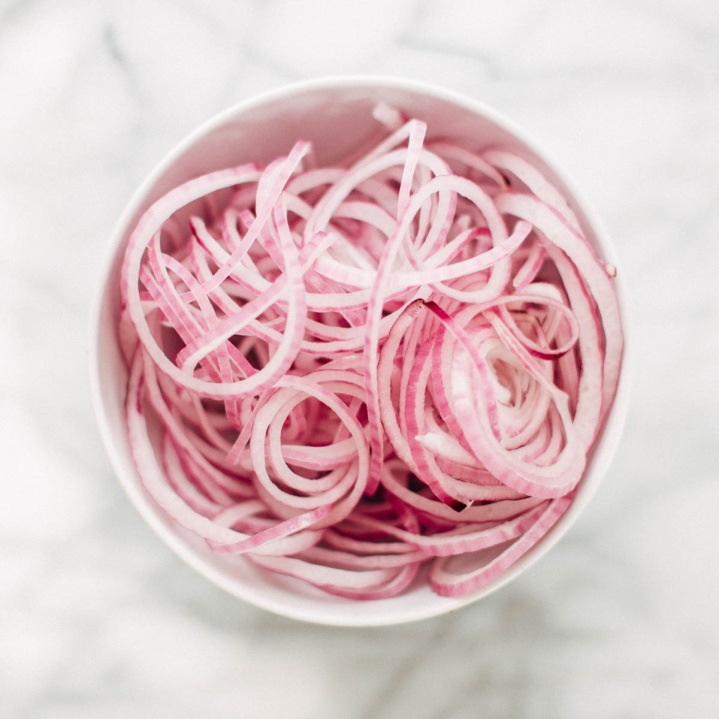 ONIONS are lovely when spiralized. They look spectacular when added to stir fry as spirals. And they're very easy to spiralize. Just use a flat blade since the onions are already layered by nature, and two seconds later, you'll have a pile of thinly sliced rings that are perfect for a whole variety of uses.
And BELL PEPPERS also work, although they're a little tricky. But if you cut off the top and place the open end on the edge of the flat blade, you should be able to attach the bottom side to the handle and spiral, spiral, spiral!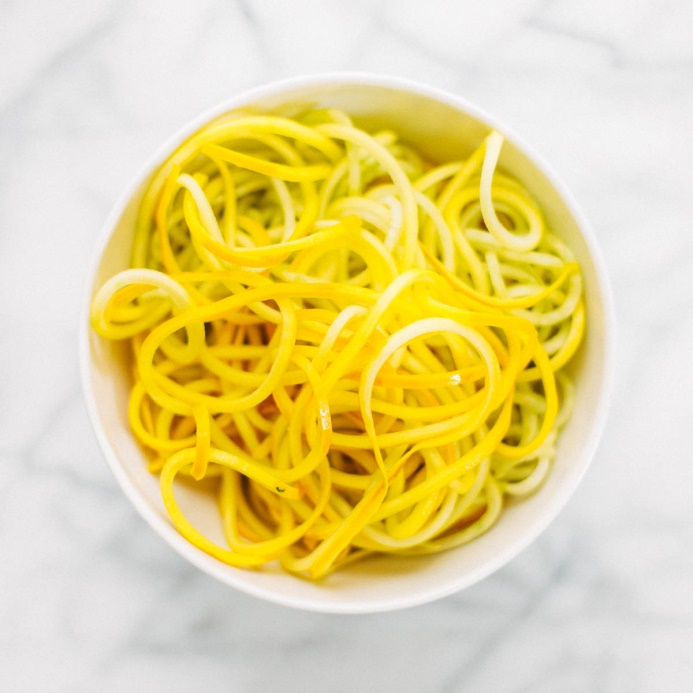 Another beautiful spiraled veggie is YELLOW SQUASH. Just like the regular zucchini, this guy plays nice with the spiralizer! It's easy to make it into thick or thin noodles. So why not combine the zucchini, cabbage and these yellow squash spirals into a gorgeous steamed vegetable side dish? Oh my.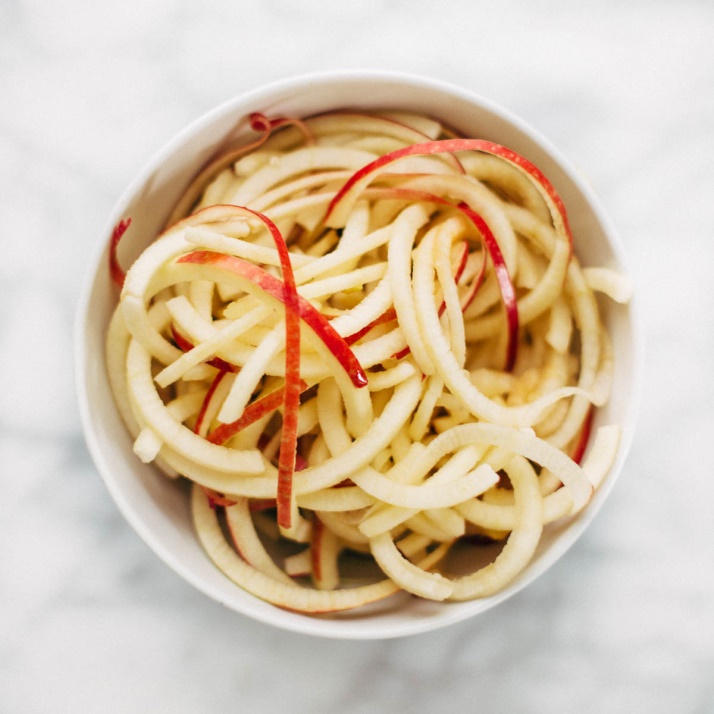 Finally, APPLES. They're a bit of a challenge because of the core. So cut off the top, cut off the bottom, and stick the middle part (the core, which you don't want) right on the core anchor of the spiralizer. Core = gone. Boom! I recently made an apple crisp using spirals instead of slices and the results were amazing. I don't want to overstate what we had here, but I don't think I'll ever use slices in a crisp again.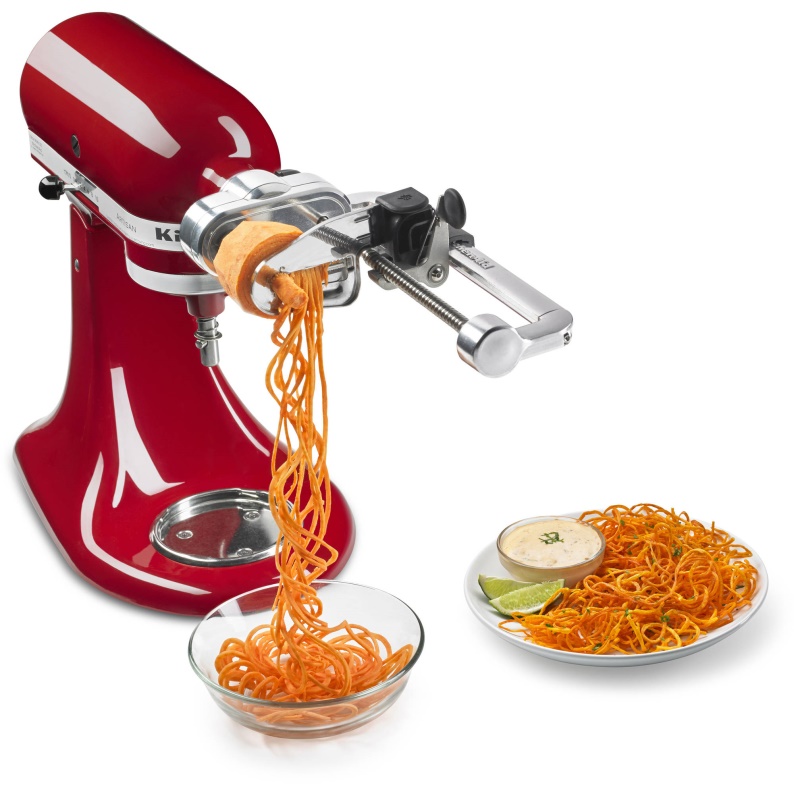 Just a note in closing, if you have a Kitchenaid mixer, a spiralizer attachment is available. This may be what you'd want to do rather than buy an entirely separate tool. Do take a serious look at the spiralizer, though. This is one life-changing food prepping treasure!
Sources:
www.boomsbeat.com
www.pinchofyum.com
www.youtube.com
www.ovens.reviewed.com
www.walmart.com

Alice Osborne
Weekly Newsletter Contributor since 2006
Email the author! alice@dvo.com