How to Make Your Own Ginger Ale
How to Make Your Own Ginger Ale
Ginger is so good for you. It's been used in Chinese medicine for thousands of years because it helps with digestive disorders, reduces fevers and coughs, and stimulates the circulatory system.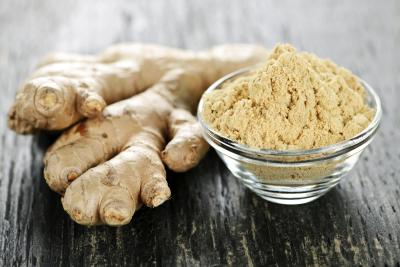 I'll toss a small chunk into my morning green smoothie at least twice a week. I learned the hard way, though, to make sure I was including only a small chunk—ginger has a strong taste and can easily take over the flavor of what it accompanies.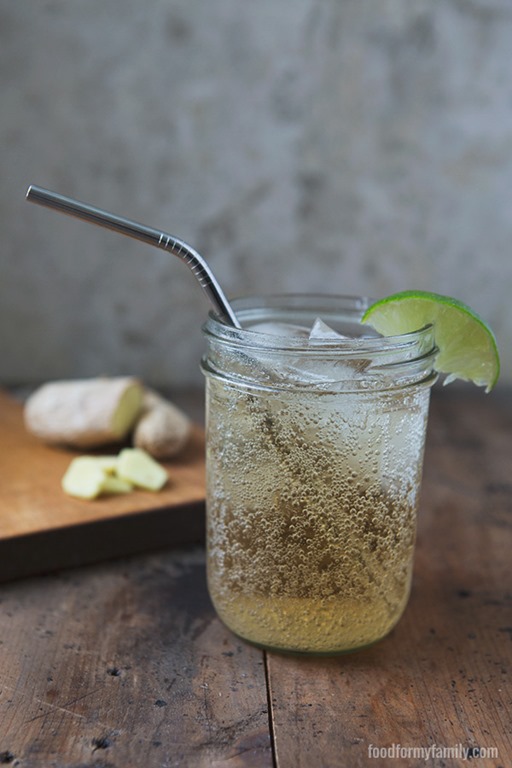 We have a ginger history in our family. My aunts and uncles liked to gather at our house on balmy summer nights and sit out on the porch sipping ice cold water, lemonade, or ginger ale. I never understood why they enjoyed ginger ale so much. I thought it had a funky taste and I didn't appreciate the overly-enthusiastic way the bubbles behaved in a glass. I thought it was something only old men and my aunt from Montana drank.
That is to say, until I discovered a brand sweetened with organic cane sugar. It had a completely different taste; it was mild and the bubbles didn't seem to be so annoyingly hyperactive. The downside to this natural brand was, of course, the unfortunately high price.
You probably know where I'm going with this one – straight down the DIY highway. A while back I found a terrific recipe for do-it-yourself ginger ale that's just as good as that store bought pricey stuff.
And this homemade ginger ale contains no high fructose corn syrup, artificial flavors, artificial food colorings, or other mystery ingredients like store-bought brands. You can play around with the ingredients to make it more citrus-y or more ginger-y, as well.
You begin by making a ginger syrup, which can be stored in the refrigerator for a few weeks. When ready for a delicious drink of natural ginger ale, just add the syrup to chilled sparkling water or club soda. It's easy and instant—no fermenting as other recipes require.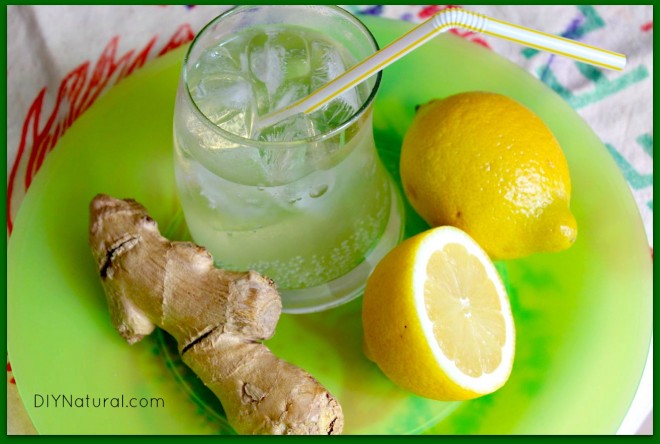 NATURAL GINGER ALE
1½ organic lemons
1 cup finely chopped fresh ginger (peel before chopping)
1¼ cups organic cane sugar
2½ cups filtered water
Natural, unflavored sparkling water or club soda
MAKE GINGER SYRUP
Juice lemons, reserving one thick slice from the middle. Add lemon juice, lemon slice, chopped ginger, sugar, and water to a pot. Stir to combine. Bring mixture to a boil, then decrease heat to a simmer. Simmer gently for 15 minutes.
Using a strainer or cheesecloth to catch solids, pour liquid mixture into a large glass measuring cup. Make note of the amount of liquid you have. Return liquid to pot and continue simmering for 20-25 minutes, or until liquid has been reduced by half. Allow syrup to cool and transfer to a glass jar with a lid. Refrigerate until ready to mix drinks.
MAKE SODA
Add about 2 tablespoons of syrup (to taste) to 1 cup of seltzer water or club soda and stir gently. Add ice, if desired, and enjoy immediately!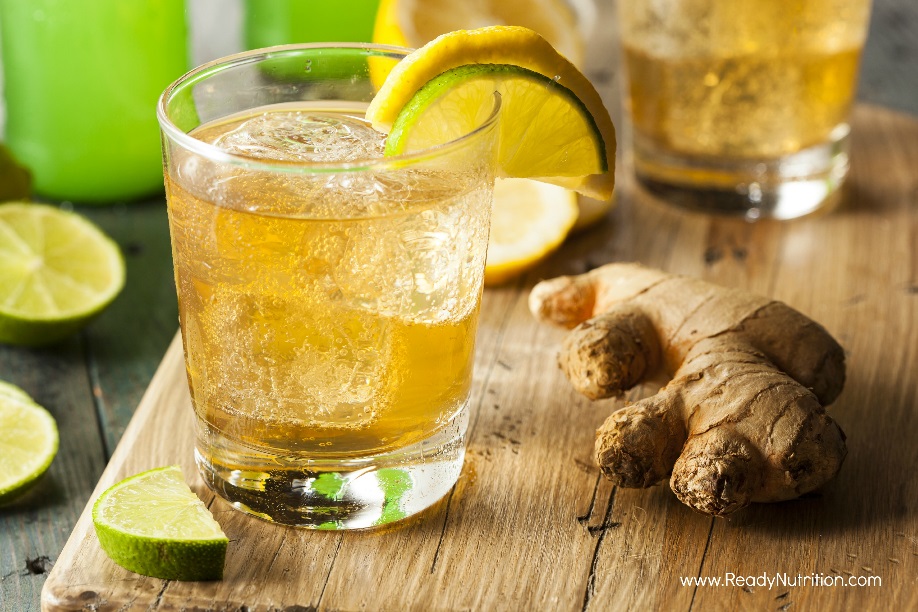 Suggestions: Don't hesitate to play around with the ingredients a little to make a ginger ale that suits your taste preferences. Here are some suggestions:
Since ginger adds a spicy kick to things, start timid when adding your syrup to your sparkling water or club soda. Taste as you go and slowly increase the amount of syrup until you've reached the kick you want.
Try adding a smidge of pure vanilla extract to the finished syrup to boost the aromatic personality of your soda.
While the recipe doesn't call for sugar substitutes, you could certainly experiment with stevia or zylitol (they have no after taste).
Finally, add more lemon juice if you prefer more citrus and less ginger flavor.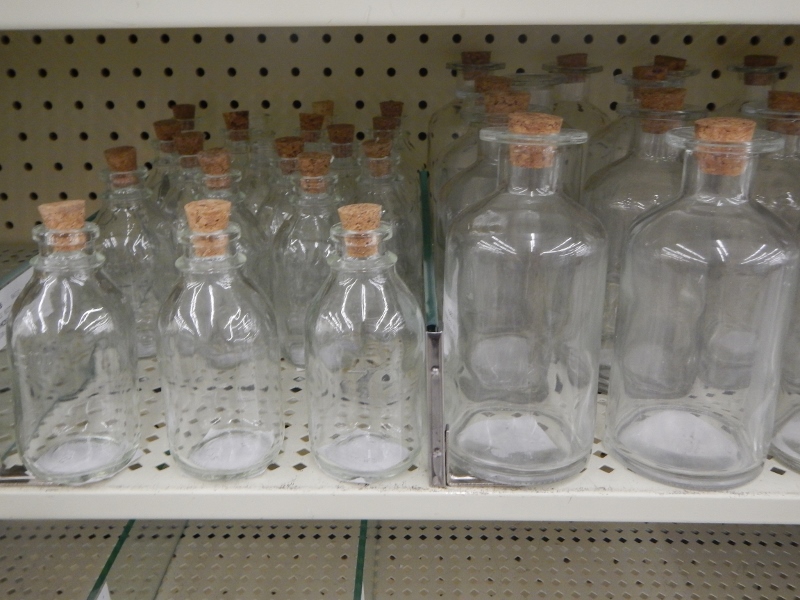 And one last thought: This drink is so good and so easy to make, that you might want to consider making ginger syrup to give as gifts (along with bottle of sparkling water or club soda). Hobby shops, such as Hobby Lobby, are offering very pretty glass bottles now, so this syrup could be packaged nicely. Who wouldn't want to receive natural and delicious ginger ale (think about it…Christmas is coming!)?
Add Recipe to Cook'n
Sources:
www.livestrong.com
www.kitchenstewardship.com
www.diynatural.com
www.readynutrition.com
www.thecouponproject.com

Alice Osborne
Weekly Newsletter Contributor since 2006
Email the author! alice@dvo.com