Not Your Everyday Barbecue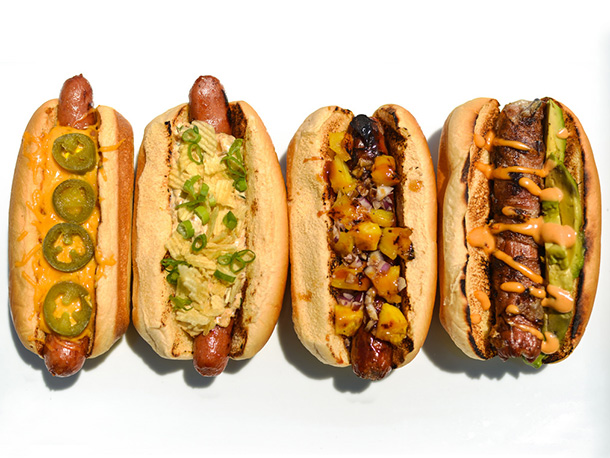 Memorial Day will be here before we know it, and it's time to pull out the barbecues and start grilling up the good stuff! It never quite feels like summer until we have a good old-fashioned barbecue. Something about grilled hot dogs, steaks, and hamburgers just shouts summer to me.
Hot dogs are an old classic, but not everyone is a fan of this American basic. Personally, I am not a picky hot dog connoisseur- give me a basic hot dog with ketchup and mustard, and I'm a happy woman. Of course, a little pickle relish doesn't hurt either;). But I know a lot of people who could easily pass up a hot dog and not think twice.
My husband is one of these- he will not eat anything except the Hebrew National hotdogs. They are a kosher hot dog so I guess they are a little more "real" than a typical hot dog; my husband will not even touch other hot dogs anymore. Granted, they are pretty good, but I'm still ok with a basic hot dog;).
There really are a lot of options for hot dogs besides the basic ketchup, mustard and relish. Here are a few ideas you can use for your family's Memorial Day barbecue, or any other occasion or a hot dog may be welcomed :).
*Chili and Cheese- for those who love thick, meaty foods- not my personal favorite, but I know several people who love this combo!
*Chili and Cheese with Greens- amp things up a little bit by adding cilantro, lime, green onions, or jalapenos (and then a nice dollop of sour cream to complete it;) )
*Caramelized Onions- I could eat these plain, but on a hot dog?! That can only be delicious. Especially if you paired it with barbecue sauce- so much goodness on one bun! One suggestion was to pair it with swiss cheese and thyme. Definitely not your everyday hot dog!
*Buffalo Dog- chop up celery and carrots and toss them in hot sauce; lather your hot dog with the mixture and top with blue cheese crumbles.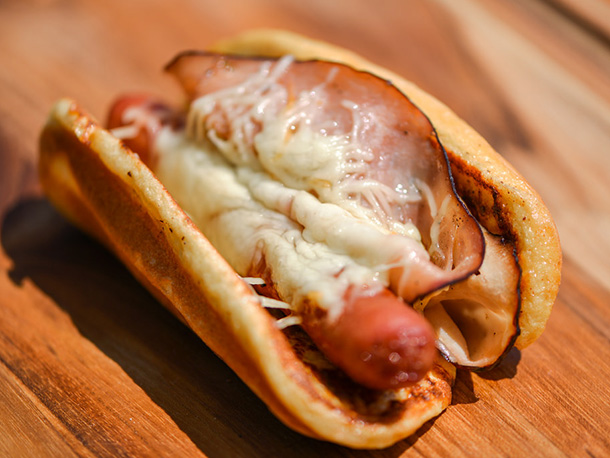 *The Monte Cristo- ham, turkey, swiss cheese, and maple syrup. Not exactly my taste, but I know some people who would go nuts for this!
*Pesto Dog- pesto and mayo, chopped tomatoes and basil, topped with parmesan. Definitely for Italian food lovers!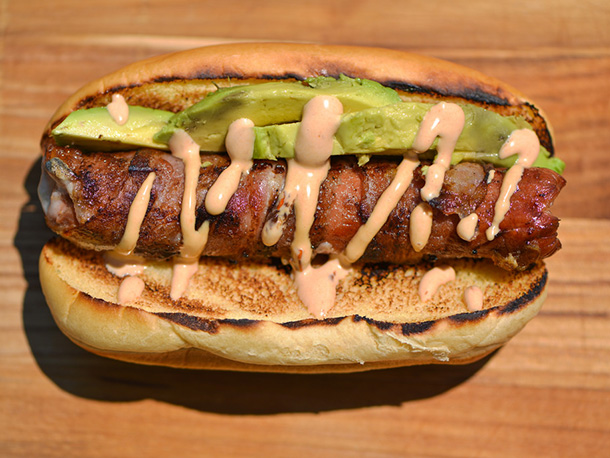 *The Bacon-Jack Dog- a hot dog filled with Monterey jack cheese, wrapped in bacon, toasted, and topped with avocado and chipotle mayo. I could definitely be ok with this one!!
*Hummus- top the hot dog with hummus, roasted red peppers, and paprika; maybe I would feel a little healthier eating a hot dog if I used this combination;).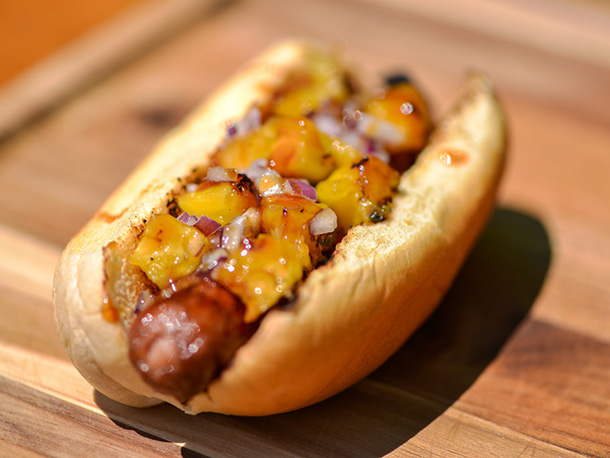 *The Tiki Dog- a hot dog wrapped in bacon, covered in teriyaki sauce, red onions, and pineapple. I have no words to describe how much I want this right now.
*Deli Dog- top it with egg salad, pickle relish and pepper- can't see how this would be a bad idea!
*Seattle Dog- cream cheese, grilled onions, and jalapenos- I'm pretty sure everything is better with cream cheese ;)
If you didn't already get a heart attack from reading these ideas, then I'm sure you have to be drooling by now;). I am so excited to try some of these ideas. What are your favorite hot dog toppings, and do you have any other creative creations you could add to the list? I know I have barely scratched the surface- I would love to hear your thoughts! Share in the comments below!
Sources:
www.seriouseats.com/2014/05/8-great-hot-dog-topping-ideas.html
www.rachaelraymag.com/recipes/dinner-recipes/hot-dogs/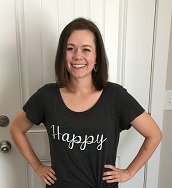 Camille Hoffmann
Weekly Newsletter Contributor since 2014
Email the author! camille@dvo.com