SCRUMPTIOUS Things to Do With Pudding
A friend sent me an article the other day that she said she found in a magazine at the thrift store. Knowing I write about food, she thought I'd love it. Oh was she right. This article, "10 Surprising Things to Do with Pudding," opened up a whole new world of dessert possibilities at our house.
OK, so even if you won't publicly admit it, you know you love pudding now just as much as you did when you were 6. Doesn't everyone love pudding? As the article stated, a bowl of pudding by itself is wonderful, but the stuff is kind of magical and can be used in all kinds of tasty recipes. For instance, take a look at just a few things you can do with pudding: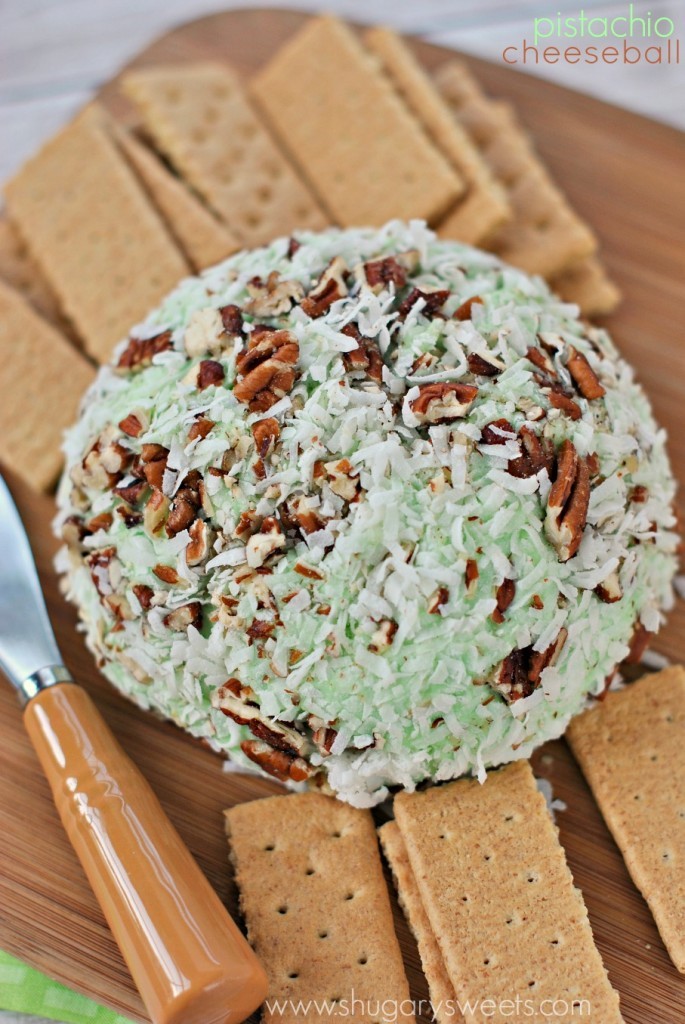 Pistachio Cheese Ball.
The article gives credit for this enticing treat to the site, www.shugarysweets.com. The suggestion is to cover graham crackers in it, but I intend to slather it over Lorna Doones as well. And don't you think any flavor of pudding will work with this? Wouldn't lemon be amazing?
PISTACHIO CHEEESE BALL
8 oz cream cheese, softened
1/4 cup unsalted butter, softened
1 pkg (3.4oz) instant pistachio pudding mix
1 1/2 cup powdered sugar
2 Tbsp milk
1/2 cup sweetened, shredded coconut
1/2 cup pecans, chopped
In a large mixing bowl, beat cream cheese, butter, pistachio pudding mix, powdered sugar and milk on high for 4-5 minutes. Line a 4 cup bowl with plastic wrap. Place half the coconut and half the pecans in the bottom of the bowl. Mix with fingertips. Add cheeseball mixture (it will be very sticky). Roll around in the pecans and coconut, top with remaining coconut and pecans until cheeseball is covered. Fold plastic wrap around cheeseball and refrigerate until ready to serve. ENJOY with graham crackers.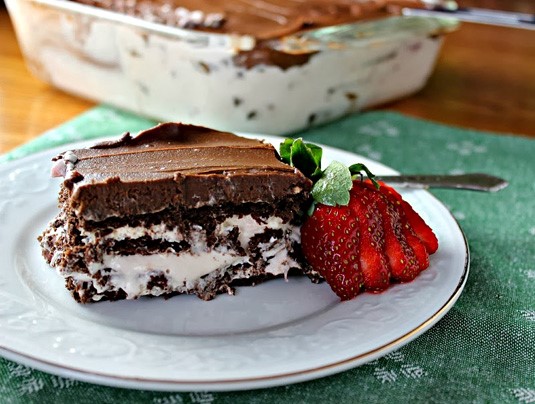 Chocolate-Strawberry Éclair Cake.
A chocolate éclair in cake form? Yes, please. And I bet this tastes as good as it looks. This recipe comes from a neat site,
Renee's Kitchen Adventures
, and Renee says, "Chocolate-Strawberry Eclair Cake is super easy! Creamy layers of strawberry-kissed pudding layered between chocolate grahams and topped with a thick, fudgy icing. It's the perfect ending to a great meal! There is no baking required and just a few simple ingredients are needed. You will need to plan a little ahead for the dessert course, as this no bake dessert does need time to set up in the fridge."
CHOCOLATE STRAWBERRY ÉCLAIR CAKE
12 whole chocolate graham crackers
2 TBS chocolate syrup, divided
1 (1 ounce) box of sugar free, fat free white chocolate pudding mix
1 cup 1% milk
1 (8 ounce). package of frozen sweetened strawberries, thawed*
1 cup whipped cream, sweetened
For the frosting:
2 ounces unsweetened baking chocolate, melted
3 tablespoons unsalted butter, melted
2 teaspoons light corn syrup
1 teaspoon pure vanilla extract
1 1/2 cups powdered sugar
2 tablespoons 1% milk
In a large mixing bowl, combine the pudding mix with 1 cup milk. Whisk until thickened. Mix in the thawed strawberries and the liquid that is with them into the pudding. Fold in the whipped cream. Spray an 8" x 8" glass baking dish with a light coating of cooking spray. Arrange 3 whole graham cracker rectangles plus half of one to cover bottom of dish. Drizzle the crackers with 1 tablespoon of chocolate syrup. Spread 1/2 of the pudding mixture on top of the chocolate syrup and crackers. Arrange another layer of graham crackers on top of the pudding. Drizzle with the remainder of the chocolate syrup. Top with the rest of the pudding mixture.
Arrange a final layer of crackers on top of the pudding mixture.
For the frosting: In a small bowl, combine the melted chocolate, melted butter, corn syrup, and vanilla extract. Stir in the powdered sugar. Add in enough milk so the frosting can spread easily. Cover the top layer of graham crackers with the frosting. Refrigerate for at least 4 hours or overnight (the crackers need time to soften up and get "cake like"). Cut into 9 pieces and serve cold.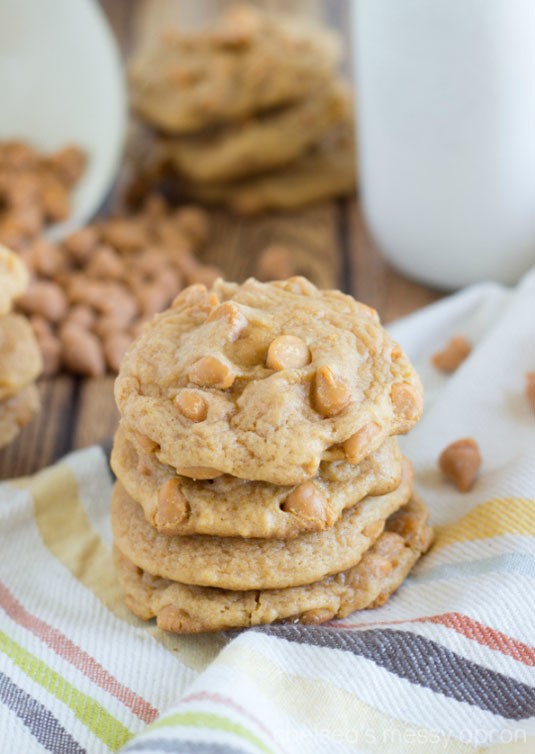 Softest Ever Butterscotch Cookies.
Chelsea's Messy Apron shared this recipe with the article writer. And I can certainly see why the author chose to include this in her text. We've already tried these and they are intensely sweet but wonderful. We needed to wash them down with lots of cold milk. When I make them again I will only use 1/8 cup of each of the sugars, I think.
SOFTEST EVER BUTTERSCOTCH COOKIES
1/2 cup butter, at room temperature (not melted!)
1/4 cup light brown sugar, packed
1/4 cup white sugar
1 large egg, at room temperature
1 teaspoon vanilla extract
1/4 cup butterscotch pudding mix, dry
1 and 1/4 cup all-purpose flour
1/2 teaspoon baking soda
1/2 teaspoon cornstarch
1/4 teaspoon salt
1 cup butterscotch chips
Preheat the oven to 350 degrees F. Cream together the butter and both sugars until creamy or about 2-3 minutes. Beat in the egg and vanilla extract. In a separate bowl, combine the pudding mix, flour, baking soda, cornstarch, and salt. Stir and then slowly combine the dry and wet ingredients. Fold in the butterscotch chips. Using a cookie scoop, scoop large bits of dough onto a cookie sheet. Bake for about 8-10 minutes. By slightly under-baking the cookies, they will remain very soft and chewy. So pull them out slightly under-baked and allow to cool on the cookie sheet for a few minutes before transferring to a wire rack.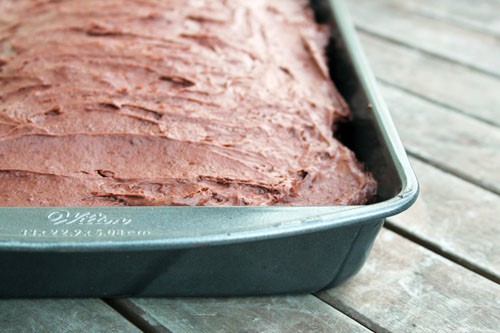 Finally, Quick and Easy Pudding Frosting.
Nothing could be quicker or easier, and this could well become your "go-to" frosting recipe moving forward. All this frosting is made from is a small box of instant pudding (chocolate and white chocolate are good choices, the author says) and ½ pint of cream. That's it!
The idea comes from the site www.thisweekfordinner.com. The author and cook, Jane Maynard, says "The stuff thickens up incredibly fast if you beat it with a hand mixer. I'm thinking whisking by hand is the way to go! But, if it does whip up too thick, it could easily be a great filler for a layer cake!"
Sources:
www.shugarysweets.com
www.reneeskitchenadventures.com
www.chelseasmessyapron.com
www.thisweekfordinner.com

Alice Osborne
Weekly Newsletter Contributor since 2006
Email the author! alice@dvo.com
---