A Veggie that Tastes Like Candy!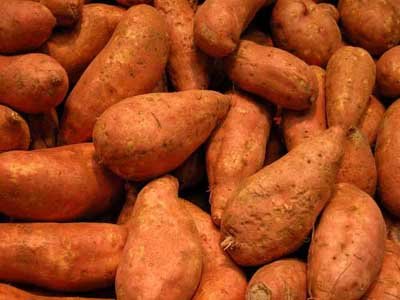 All growing up I never had the desire to eat a sweet potato- I thought they looked funny and since they were colorful like a vegetable they must taste horrible, right? I thought I'd be better off sticking to my simple Russet potato. Well, one day I grew up and realized- sweet potatoes are amazing!! I don't know why I did not discover these earlier in my life- so many wasted years…. Oh well. Seriously, I can cook them and eat them plain- I don't think they even need any seasonings or added flavor- though they certainly are delicious with added goodness as well;). And I'm pretty sure sweet potato fries are my addiction.
Sweet potatoes are awesome because they are not just a sweeter, more colorful version of an average potato, but they are actually really good for you. Finally! A food that is healthy and tastes like dessert? Heaven on earth;).
Sweet potatoes are full of beta-carotene, which changes to Vitamin A in our bodies. It also has tons of vitamin C. With one medium-sized sweet potato, you can take a serious chunk out of your daily vitamin needs. Here's a quick break down of your daily vitamin intake needs that a medium sweet potato would take care of:
Vitamin A: over 100%
Vitamin C: 37%
Vitamin B-6: 16%
Pantothenic acid: 10%
Potassium: 15%
Manganese: 28%
These are just the significant chunks of vitamins. Sweet potatoes also contain calcium, iron, Vitamin E, zinc, riboflavin, phosphorus and a few other nutrients. With all those vitamins, they are one packed little potato to say the least! (As if I needed another excuse to eat them!)
Nutritional value is not the only wonderful thing about sweet potatoes. They are also exceptionally versatile. As I said before, I love them just plain- but they can also be combined with so many other flavors that result in tastiness! Whether you are craving something savory or something sweet, you can create some kind of appetizing concoction using sweet potatoes. If you are craving something sweet, you can add toasted marshmallows, cinnamon, nutmeg, brown sugar, pecans, honey, sweetened condensed milk or toasted coconut. If you're in a more savory mood, try cumin, garlic, salt and pepper, cheese, or your favorite dressing.
I have a delicious recipe for sweet potatoes I thought I'd share with you. Granted, once you add all the butter and sugar it's no longer so healthy… but you can feel a little better eating it because it's got some nutrients, right? ;). Besides, it tastes so good who cares? ;) It's also a fairly easy recipe- and it's great because it can be made the night before! (I love recipes that allow that kind of flexibility!). Check it out below!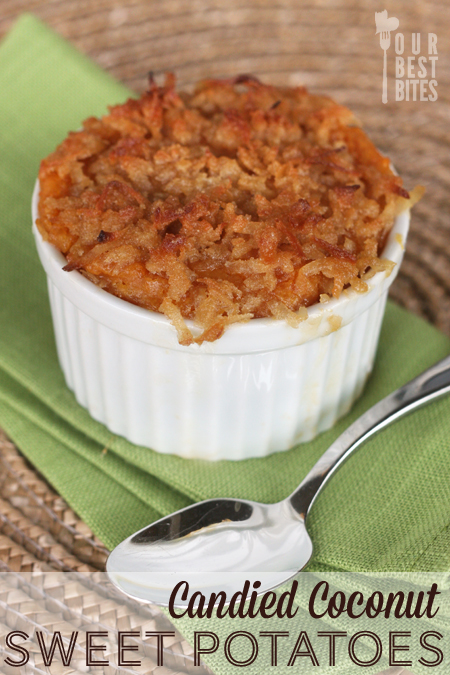 Candied Coconut Sweet Potatoes
These sweet potatoes are amazing! The crunchy praline topping alone will guarantee you rock-star status for years to come.
Ingredients:
4

cups

mashed

sweet potatoes

(about 4 medium sweet potatoes)

6

tablespoons

sugar

6

tablespoons

butter

, softened or melted

2

eggs

, beaten

1/2

(14-ounce) can

sweetened condensed milk

1

teaspoon

vanilla extract

TOPPING

1

cup

brown sugar

1 1/2

cups

, sweetened

coconut

flakes

6

tablespoons

melted

butter
Directions:
1. Preheat oven to 400 degrees F. Prick sweet potatoes with a fork and place them on a foil-lined baking sheet in the oven. Bake 45-60 minutes or until tender.
2. Once potatoes have cooled enough to handle, slice them in half lengthwise and scoop the insides into a mixing bowl.
3. Preheat oven to 350 degrees F.
4. Add sugar, butter, eggs, sweetened condensed milk, and vanilla to potatoes in the mixing bowl. Mix with an electric mixer until the desired consistency is reached. You can make it smooth or leave chunks of sweet potatoes in the mixture. Spread mixture evenly in a lightly greased 9x13-inch pan or in individual serving dishes, and set aside.
5. For the topping: Combine brown sugar and coconut and then add melted butter and mix gently. Sprinkle mixture evenly over sweet potatoes.
6. Bake 40-50 minutes, or less, depending on the size dish you use. The top should be browned and bubbly.

Tip: This dish can be made completely 1 day ahead of time. Cover tightly with foil and refrigerate. Add 10-15 minutes to the baking time.
Add Recipe to Cook'n
What's your favorite way to eat a sweet potato? I seriously love these things and would love some new ideas! Share your ideas in the comments below!
Sources:
http://www.whfoods.com/genpage.php?tname=foodspice&dbid=64#healthbenefits
http://altmedicine.about.com/cs/herbsvitaminsa1/a/BetaCarotene.htm
http://www.medicalnewstoday.com/articles/281438.php
http://static.ddmcdn.com/gif/sweet-potatoes-2.jpg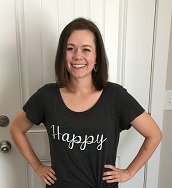 Camille Hoffmann
Weekly Newsletter Contributor since 2014
Email the author! camille@dvo.com
---