Fall and Winter: Perfect Time to Gather!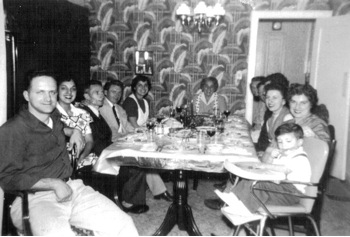 Do you like to gather family and friends in for a good meal? We do too, and we've found that the fall and winter are perfect times for this. Most of the yard- and garden-work is over and it's getting darker sooner, so there's more time, more energy, and more inclination for some mealtime entertaining.
And besides the delight of combining good company with a great meal, isn't it fun to set a lovely table? This might be one of my favorite parts to gathering folks in.
That said, though, it's still smart to keep things simple, don't you think? We can get so carried away with Martha Stewartizing things that stress takes over and we miss the fun in what we're wanting to do. So with simplicity in mind (and understanding that the food and the people are your real focus), here are a few tips to setting up a beautiful eating space, done simply yet with flair. If you're looking to do some fall and winter gatherings these ideas might come in handy:
First, centerpieces: If you will be sitting at the table, make sure the centerpiece is low enough to see over and that any candles are in a safe spot. A good way to tell if the centerpiece is too tall is to measure its height with your elbow on the table and your hand pointed upward. If it is higher this, come up with a shorter version.
While flowers are a common choice for centerpieces, consider a basket or bowl of produce in season. Fall is so perfect for this approach because there are so many colorful choices now. Everything from fresh bell peppers, orange and cream-colored squashes, shiny bright apples, even glossy concord grapes will work well.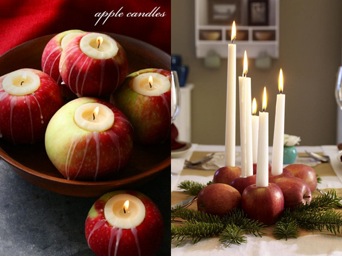 We do a harvest dinner each fall using cored apples as candle holders and a hollowed out pumpkin as a punchbowl. (Pumpkin has a neutral flavor and doesn't interfere with what's place inside it.) I arrange freshly fallen leaves from our trees amongst the candles and all around the pumpkin. This is pretty and easy to pull off.
My neighbor has a gorgeous crystal bowl that she fills with pinecones. She places small pine branches amongst the pinecones and this is what she uses for a December gathering. It also smells nice.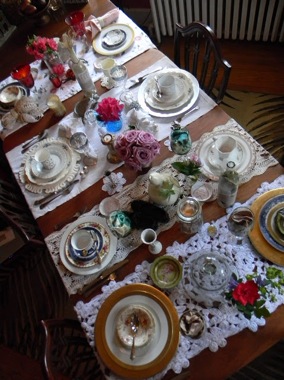 Next, table settings:
Don't feel you need to match all of your pieces of china, silver, and glassware. This is an issue only you will care about. In fact, many restaurants today mix and match patterns of dinnerware at the same table on purpose. This approach creates a warm and relaxed atmosphere that guests love.
Napkins are a necessary part of table setting. Some folks like to use paper napkins; they open each napkin, pinch the middle, and stick it with the point down into each glass. This instantly dresses up the table (cloth napkins work for this, too).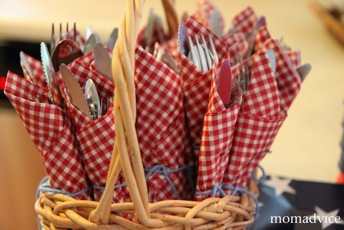 Some like to roll the silverware up in the napkins, which is really nice if your meal is a buffet. To do this, fold each napkin into a triangle with the point facing you. Lay the silverware across the point. Begin to roll the point around the silverware; halfway up, fold in the two sides neatly. Continue rolling until you have a nice, tight rolled-up napkin. We see this more and more in restaurants now.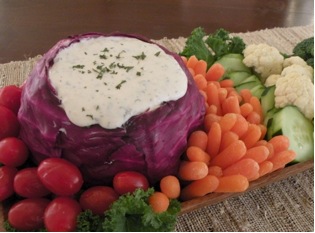 It's also fun to use interesting food items as dip bowls. For example, carved-out purple cabbage, bell peppers, round breads, mini pumpkins, round squashes, and fresh pineapples all make snazzy displays as well as practical containers.
And finally, there's the tried-and-true paper plate approach. This is really smart if the gathering is big (who wants to do dishes later?). And there are such pretty choices now, with matching napkins and cups. We keep a variety of patterns on hand that we find on sale. They always come in handy.
Entertaining is the perfect time to share special time with family and friends, but unfortunately too many people feel that hosting events is a hassle, so they miss out. But fall and winter are the perfect time to gather, so whether you do a buffet or standard sit-down meal, just keep things simple, think outside the box (or bowl), and have fun with this!
Sources:
www.ileoni.typepad.com
www.wearelovely.com
www.ideasbychaya.blogspot.com
www.momadvice.com
www.caramelpotatoes.com

Alice Osborne
Weekly Newsletter Contributor since 2006
Email the author! alice@dvo.com