I Bet You Can't Eat Just One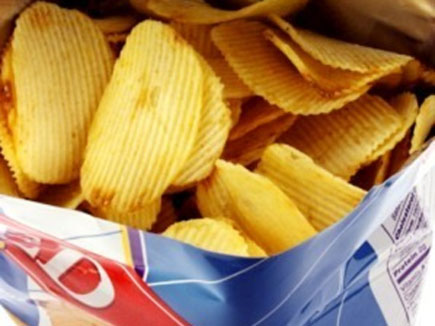 "Betcha Can't Eat Just One" is one of the most well-known slogans/catchphrases. For those of you who don't know it's referencing Lay's potato chips, saying that they are so tasty you can't eat just one. Lay's is correct; unless you have amazing will power, it's the last chip, or you don't like potato chips, it's physically impossible to eat just one. So what is it about these crispy potatoes that makes them so irresistible? I can't answer that scientifically, although I could try, but I'd wager that part of the reason people love chips is because they are greasy and taste great. You might be wondering why I've chosen to write about potato chips when there are so many other things to write about, well it's summer and that means it's time for picnics, barbecues, and camping. All of these things have one thing in common, besides being awesome, you can find potato chips at them. Potato chips make a great accompaniment to any meal really and they require no clean up! So in honor of this glorious snack food I've provided you with a brief history of the chip and then some very interesting flavors!
The History of the Potato Chip:
Would believe me if I told you that the reason we have potato chips today is because some chef was trying to get revenge? No? Well you should. Apparently there was a man named George Crum who was a chef at a Saratoga Springs, New York resort. Fried potatoes (kind of like French fries) were really popular at that time, and George made an order for a customer. The customer said that the potatoes were cut to thick and refused to eat them. So Mr. Crum cut the potatoes thinner and returned them to the customer. The customer was still unsatisfied and Mr. Crum was getting angry. So George decided he would cut the potatoes so thin that they would turn crispy and then put lots of salt on them. He was shocked when the customer loved them! Other customers then began requesting these thin potato crisps and the restaurant started serving them as "Saratoga Chips."
Eventually George opened his own restaurant and served potato chips there.
Chips became available in grocery stores in 1895 thanks to a man named William Tappenden. William made the chips on his stove and would deliver the chips to the stores via his horse-drawn wagon. When the order's increased he converted his barn into one of the first potato chip factories.
The early 1900's saw an increase in the popularity of the potato chip. Many of the popular brands of chips today, were started back then. Herman Lay helped popularize potato chips, he peddled the potato chips to Southern grocers out of the back of his car. Lay's Brand Potato Chips became the first successfully marketed national brand!
That's just a brief history of the potato chip! Who would have known that revenge could taste so sweet?
So we've mentioned the history, and talked about one brand, but there are so many brands of potato chips it's hard to talk about them all. It seems that all of them like to come up with crazy flavors of chips though. Here's a list of some of the more unique flavors available. Would you try any of them?
Bloody Mary
Prawn Cocktail
Honey-Glazed Ham
Hotdog
Hot Chili Squid
Octopus
Onion Rings n' Ketchup Doritos
Seaweed Pringles
Beef and Onion
Roast Chicken
Smokey Bacon
Roast Beef and Peppercorn Sauce
Teriyaki Mayonnaise
Worcestershire Sauce
Baked Bacon and Cheese with Seaweed Chips
Fries and Gravy
Italian Red Meats
Spicy Ketchup
Blueberry Flavored
Kiwi Flavored
Curry
Hot and Sour Fish Soup
Mango Flavored
Lychee Flavored
Peking Duck
Mexican Tomato Chicken
Cajun Squirrel
Lamb & Mint
Chesapeake Crab
Tuna Salad
Dill Pickle
Cuttlefish
Ketchup
Chili & Chocolate
Pesto
Chardonnay
Paprika
Spaghetti Bolognese
Salmon Teriyaki
Is it just me or will people turn anything into a flavor? I think there's an actual competition to help come up with new flavors! Are there any flavors that must be tried? What's your favorite way to eat potato chips, let us know!
Sources:
http://travel.usatoday.com/deals/inside/story/2012-05-17/15-crazy-potato-chip-flavors-around-the-world/55023614/1
http://blog.yummly.com/blog/2013/09/10-truly-bizarre-potato-chip-flavors-around-the-world/
http://www.bbcamerica.com/anglophenia/2013/04/british-crisps/
http://www.kitchenproject.com/history/AmericanHeritageRecipes/PotatoChip.htm
http://www.sfa.org/news.php?id=60
http://www.snopes.com/business/origins/chips.asp
http://inventors.about.com/od/foodrelatedinventions/a/potato_chips.htm
http://www.howstuffworks.com/question579.htm
http://www.chathamjournal.com/weekly/moxiepix/a4463.jpg

Whitney Saupan
Weekly Newsletter Contributor since 2013
Email the author! whitney@dvo.com