It's Time to Save Some Time
The great outdoors is calling—it's time to go camping, and that means it's time to save some time. In food preparation that is.
Here's my typical camping scenario: Our crew always wants lots of cookies on hand when we're at the campsite. They make the best between-meal munchers and they pack quickly when the guys want to take a snack on their afternoon fly fishing jaunts.
So I've learned to stock our freezer with plenty of cookie assortments so I'm not hastily baking up cookies just prior to a campout. However, I've learned a trick that's not just increased my efficiency (freezers are famous for that), but one that's saved me lots of time as well.
I line my cookie sheets with foil and I bake my batch of dough all at once. No more dropping one cookie dough ball at a time and baking a dozen cookies at a time. Here's the process:
1. Line a cookie sheet with foil. (Depending on the recipe you use, you may want to grease this. Chocolate chip cookies, for instance, don't need a greased surface, but an oatmeal-raisin cookie might.)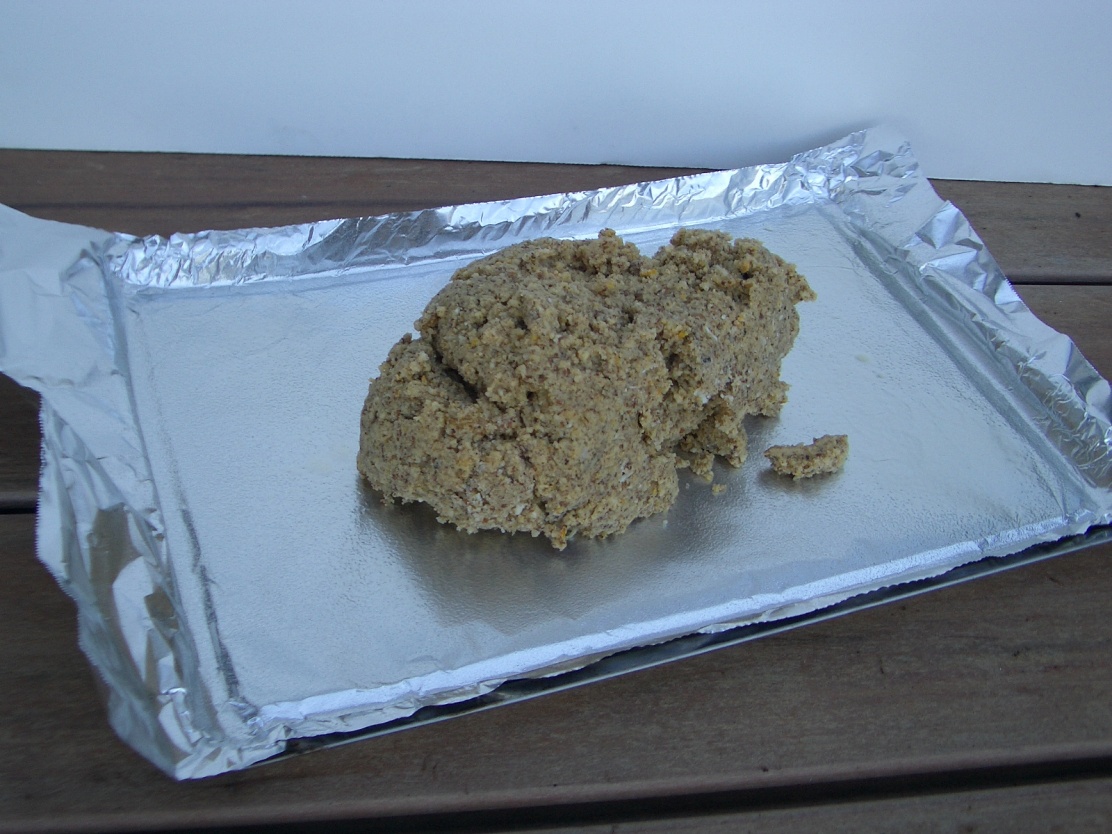 2. Drop your prepared batch of dough onto the center of the sheet. This photo shows my whole grain oatmeal-coconut cookie dough. With moistened or buttered fingers, spread the dough from side to side and corner to corner; flatten dough until the layer is spread evenly. Bake in a preheated oven according to recipe directions.
You'll likely need a little extra baking time to compensate for the density of the dough surface. This process usually takes me 15 to 20 minutes for the entire batch to bake this way. But watch your sheet and test as it's baking—a toothpick inserted into the middle of the cookie sheet will tell you if it's ready or not.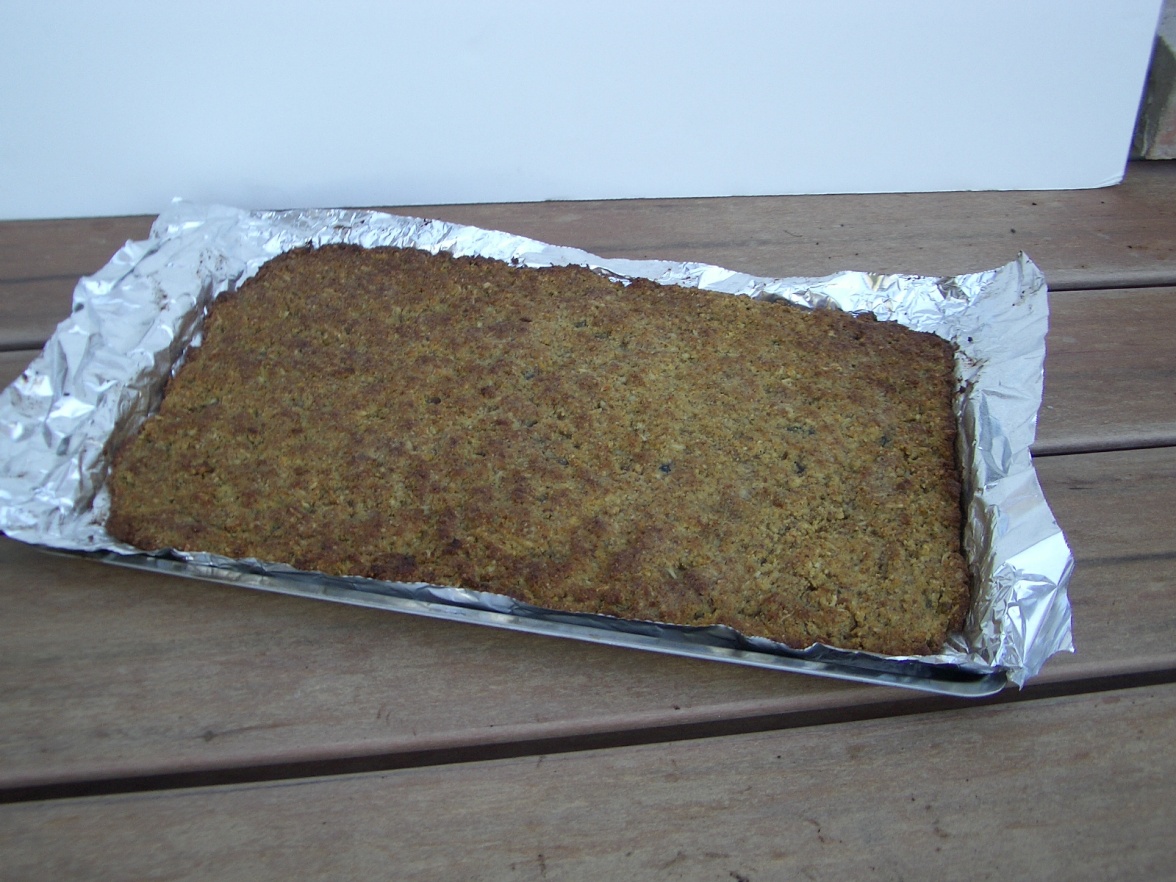 3. When finished baking, remove the sheet from the oven and gently slide the foil layer from the baking pan onto a large cutting board.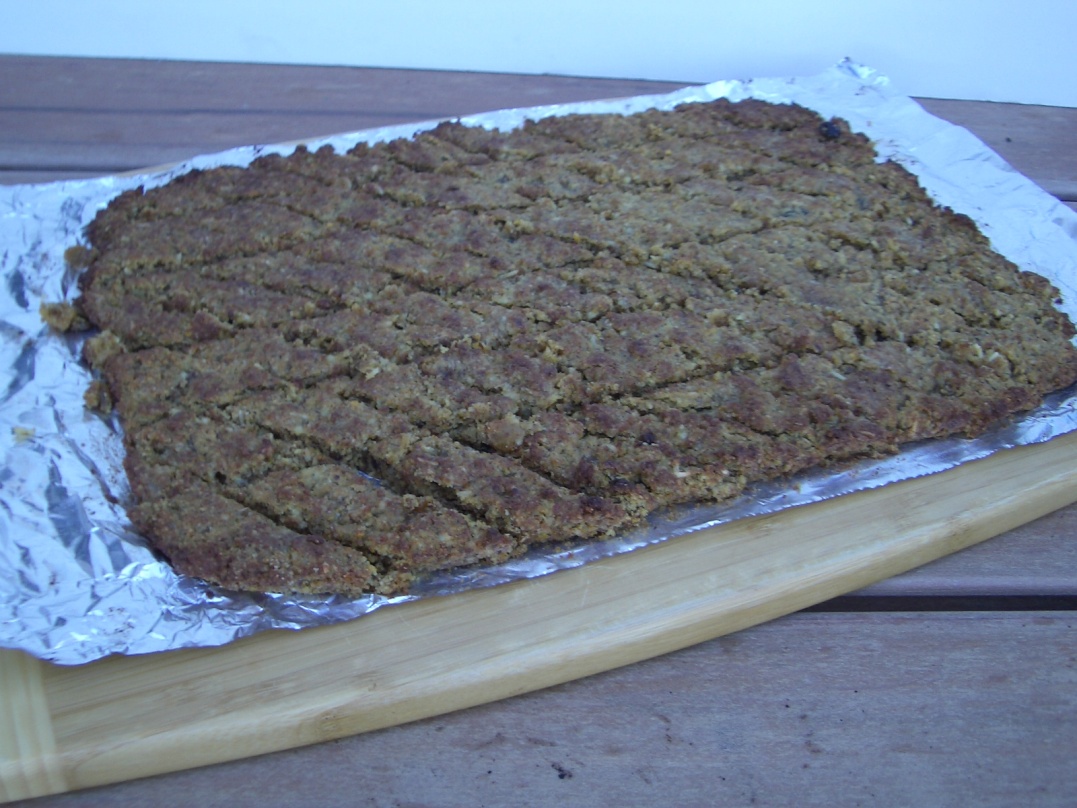 4. Peel the foil sides away from the cookie sheet. While the cookie is still warm, use a large chef's knife to slice the cookie. As the photo shows, I like to cut on the diagonal—the result is a fun and unique shape. When finished cutting, I gently slide the foil of cut cookies onto a cooling rack. And voila, a batch of cookies baked, start to finish in less than 30 minutes (this includes the time it took to whip up the cookie dough).
This method works well on every cookie recipe I've ever used—chocolate chip (which when baked this way yields a thin Blonde Brownie-type cookie), all oatmeal type cookies, sugar and Snickerdoodle cookies, even rolled cookies.
For rolled cookies I just spread the dough over the foil by topping the dough with plastic wrap and rolling it to all sides of the sheet with my rolling pin. I remove the plastic and bake. Then immediately after removing the sheet from the oven I use either a drinking glass or cookie cutter and quickly cut the cookies while still on the hot cookie sheet. I gently slide the foil sheet to a cooling rack. Once cooled, it's easy to break excess cookie away from the cookie shape. This method makes baking rolled holiday cookies an absolute breeze.
If you've never tried this approach when baking cookies, you might want to give it a go. The weather's warm, the outdoors is calling, and it's time to save time!

Alice Osborne
Weekly Newsletter Contributor since 2006
Email the author! alice@dvo.com