Muffins PACKED with Nutrients
I love two get two in one. The phrase, I believe, is "hitting two birds with one stone" but that sounds a bit morbid when talking about muffins so we'll just stick to the "two in one" phrase. I love to get two good things out of one.
The good things?
Okay, there are actually more that one. These muffins are moist as can be. They are flavorful and go well with any jam, but are great without the jam, too. However, the best part is that although they have their sugars, they have a LOAD of bran in them, too. So, when I eat this muffin, I know at least something good is coming from it all. Flavorful and nutritious, they are literally one of my favorites. Crazy, huh? Who knew a bran muffin would hit the top of any list?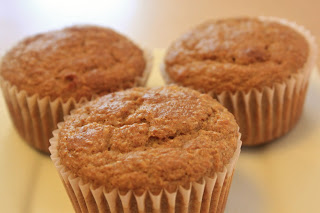 What is bran?
It's the outside layer, the good part, of grains. This includes all grains: oats, corn, wheat, rice, etc. When the bran is left with the grain, it is considered a whole grain. Bran is packed with nutrients.
What's the big kahuna with bran?
It is stuffed with potassium, fiber, protein, and many other nutrients. Fiber does its job by absorbing water, expanding, and filling you up quicker. And, by speeding up the digestive tract, it can help in preventing colon cancer. Bran contains proteins as well to help build your muscles after a workout. Bran is also a pro biotic, battling that bacteria in the body, including those who want to create ulcers. Some say that bran reduces risk of heart disease and helps in controlling weight. I'm sure bran is not foolproof (just because you eat it doesn't mean you aren't immune to disease), but I believe that it is healthy and would definitely help in preventing them. The food you decide to eat is important to your health. Bran's got your back. And this recipe has a whopping total of 6 cups!
Ways to Eat a Bran Muffin
Cold (it's great this way)
Warm (it's just as great if not better this way)
Butter (melted or not)
Honey butter
Apricot Jam
Strawberry Jam
Mixed Berry Jam
With a Side of Fruit
Syrup
Just plain!
Tip for moisture:
While the muffin is still warm (hot, but cool enough to grab without burning yourself), place it in a Ziploc bag. The steam will stay in the bag to moisten the muffins, rather than evaporating and putting to waste the liquid it could provide! Do not stack the muffins on top of each other in the bag, as this will lead to a sticky situation. A single layer of muffins is perfect.
I have had these growing up with my family. We have them every 6 months when we watch my church's general conference, but we definitely eat them more than that! Make it a tradition or make it once, bran muffins are sure to be loved (even the young kids like them.) I'd say they're for ages 1 and up!
Sources:
http://www.wisegeek.com/what-are-the-health-promoting-properties-of-bran.htm
http://health.howstuffworks.com/wellness/food-nutrition/natural-foods/natural-weight-loss-food-bran-cereals-ga.htm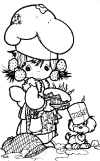 Sydney Hill
Weekly Newsletter Contributor since 2012
Email the author! sydney@dvo.com
---
Recipe
Bran Muffins
Prep time:
Cook time:
Yield:
4.5 dozen
Serving size:

27


Calories per serving:

271




Ingredients:
2 cups

boiling

water
2 cups

All-Bran

wheat bran cereal
4 cups
buttermilk
4
eggs
3 cups
sugar
3 teaspoons
baking soda
1 teaspoon
salt
1 cup
canola oil
5 cups
flour
2 cups
bran
2 cups

bran flakes

cereal
Directions:
Pour the 2 cups boiling water over the 2 cups All-Bran. Add the buttermilk, eggs, sugar, soda, salt, and oil. Stir and mix well. Add flour, bran, and cereal; fold in quickly but gently. Do not overstir. FIll the muffin cups, not very full, about 2/3 of the way. Bake at 400 degrees for 16-18 minutes. in greased and floured muffin tins (or use paper). Store, covered, in fridge up to 1 week.

Recipe formatted with the Cook'n Recipe Software from DVO Enterprises.
Add Recipe to Cook'n