Dessert MAGIC with Basic Shortbread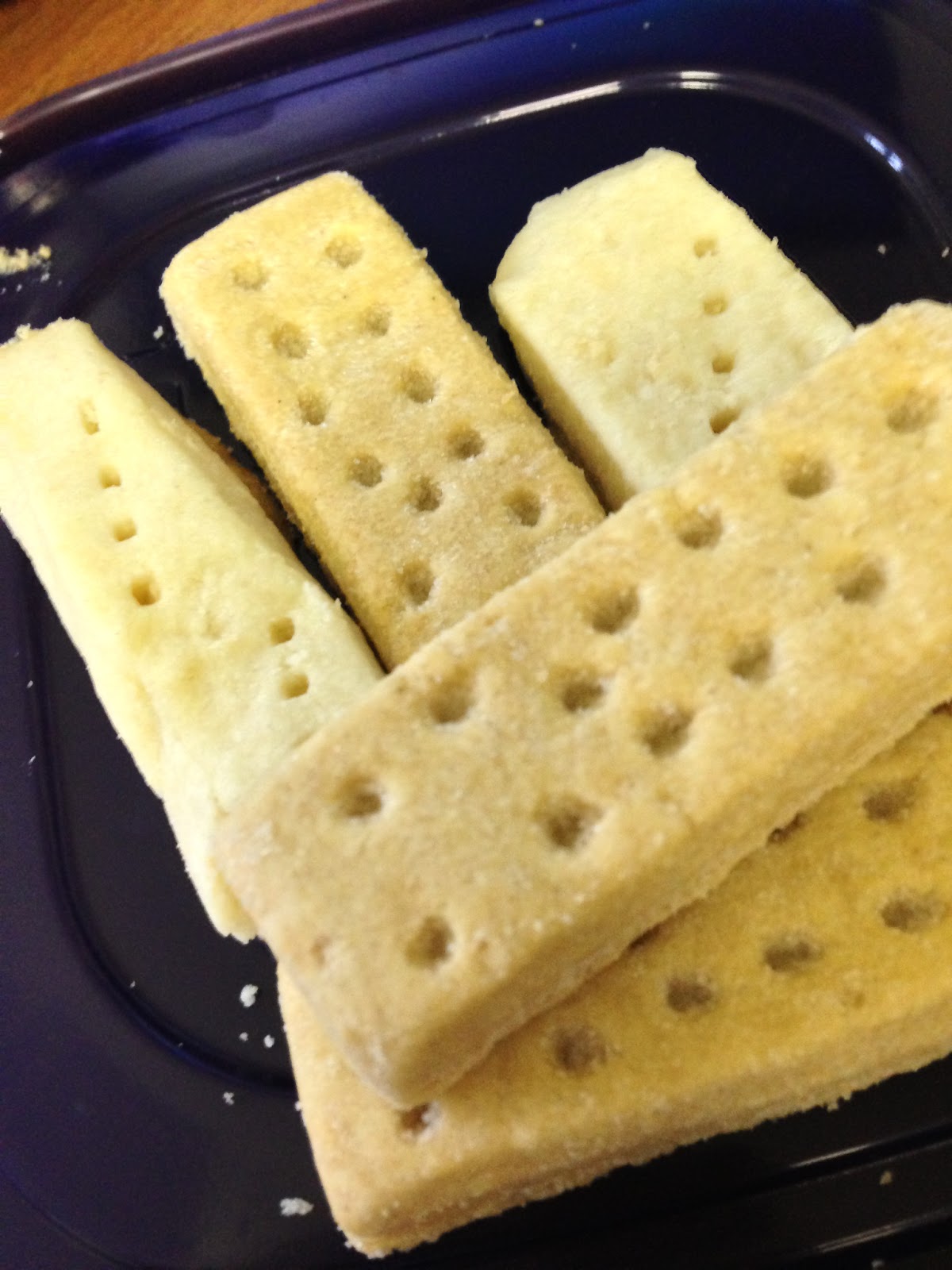 If you ever want to make a quick and EASY treat as a special snack or dessert, consider basic Scottish Shortbread. This is right up there with dunking graham crackers in milk before we go to bed! The Food Network deserves the credit for this recipe, and it's been a winner every time I've made it. This is even better than the Walker's Shortbread you find in the red plaid boxes or tins.
This is such a versatile recipe that I've used it as the base for my fruit pizza, the bottom layer for my pudding dessert, and crumbled as toppings for fruit crisps. And speaking of crumbling, we also like to crumble a few shortbread cookies over our ice cream, and honestly, there really isn't anything better than dunking these jewels in a glass of milk.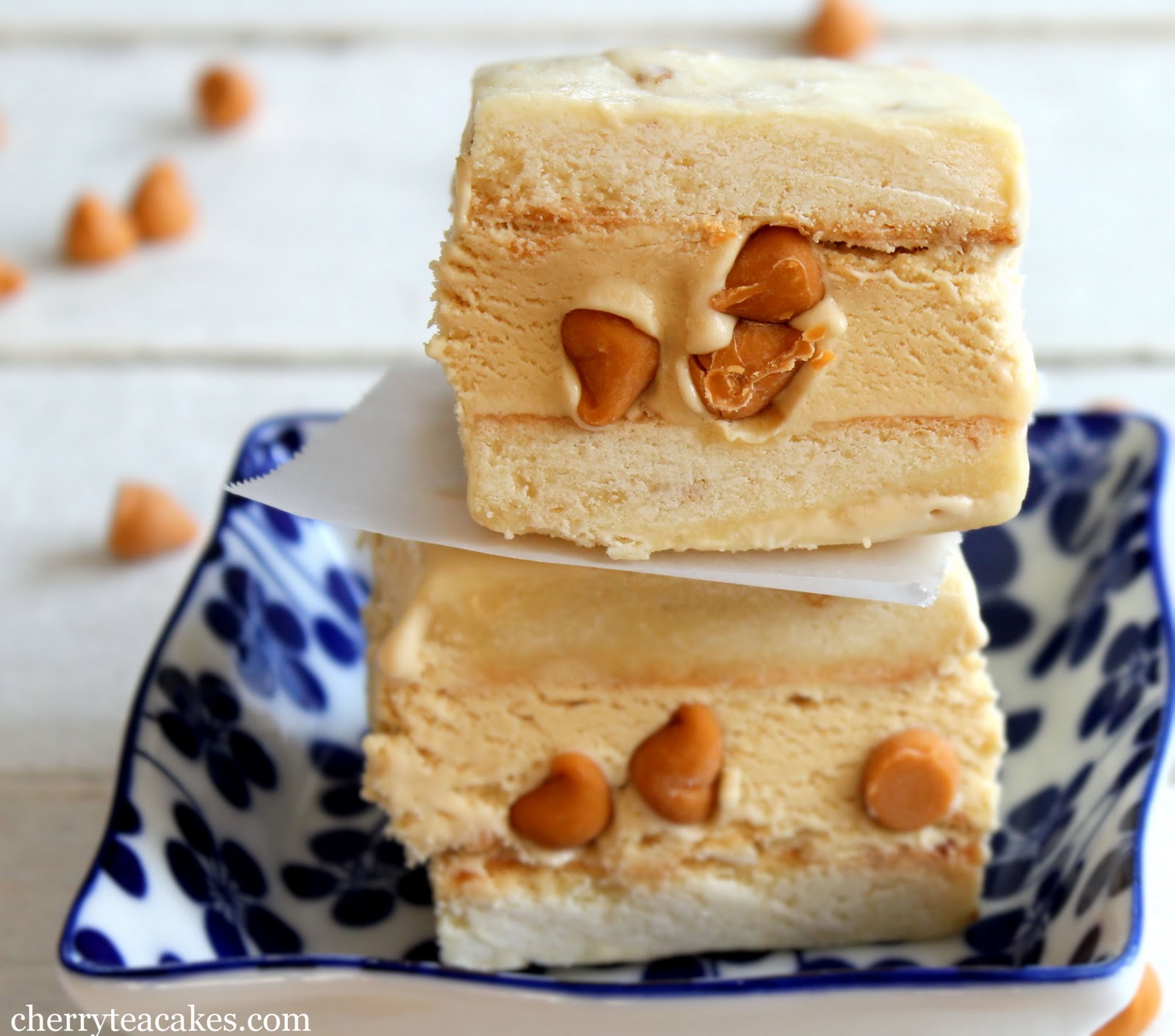 We've also made our own version of ice cream sandwiches with our shortbread cookies. They're perfect for this because of how thick and dense they are. My neighbor came up with the idea of combining shortbread cookie crumbs with some leftover chocolate fudge icing. She rolled the mixture into balls and then rolled the balls in more shortbread cookie crumbs for a delicious cookie ball.
And we like to crumble the cookies and layer them in parfait glasses with whipped cream, cherry pie filling, and vanilla pudding. This is not just incredibly good, it's a fast and really pretty last-minute dessert.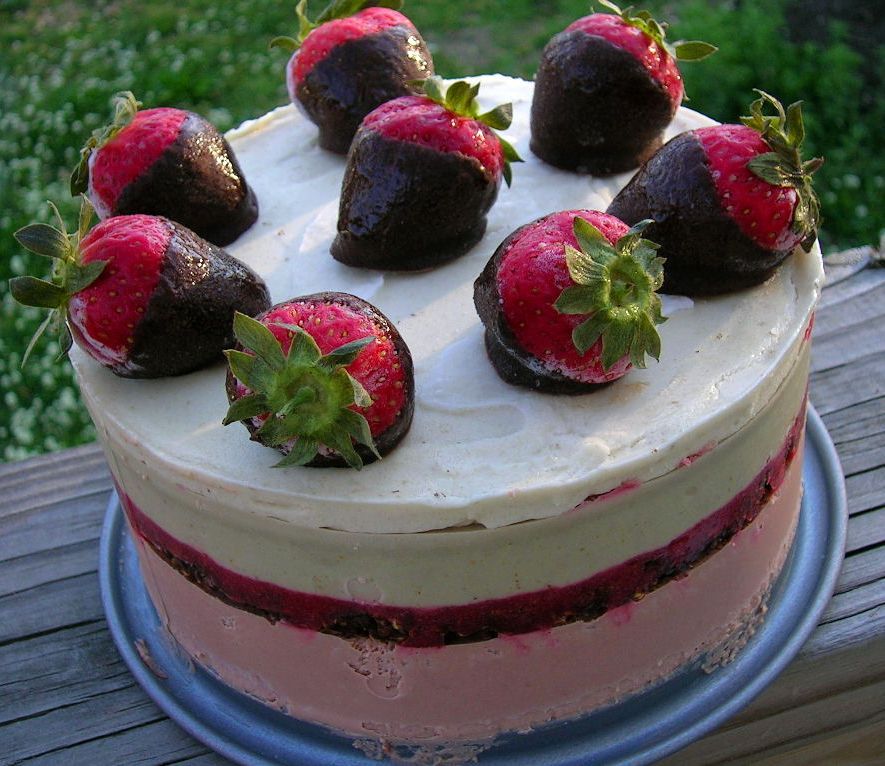 Finally, one more use for shortbread cookies: If you have a spring form pan, you can make an impressive and easy ice cream "cake" with them. Strawberry season prompted us to make this layered "cake." One thing you'll notice, and the picture shows this, the ice cream melts a little down into the cookie crumbs and covers them on the sides. So you don't really see them until you cut into the cake. Here's what to do:
1. Crumble your cookies and place them on the bottom of the pan (butter it first). You'll want about 1/4-inch of crumbs spread evenly over the surface.
2. This works best with fairly soft ice cream flavors-soft enough to actually pour from a Pyrex measuring cup. Spread your first flavor over the crumbs.
3. Freeze for about 15 minutes, or until this layer is set.
4. When set, add another 1/4-inch of shortbread cookie crumbs.
5. Then "pour" another flavor of ice cream over the top of this layer.
6. Again, freeze this until the ice cream is set.
7. Continue the process until you've filled the pan.
8. Finish with a final sprinkling of cookie crumbs.
9. And return the "cake" to the freezer to completely freeze through.
10. This "cake" can't linger, so time your cutting and serving well so your layers don't melt.
0l>

Now here's a little history on the subject: Shortbread originated in Scotland (hence the name, Scottish Shortbread). Because of its climate, Scotland's national grain has traditionally been the oat. So you will often find recipes using ground oats in addition to the standard all-purpose flour to create thick slabs of shortbread with crumbly/crunchy texture and a delightfully nutty, buttery flavor. Over time the recipe has evolved to include cornstarch, powdered sugar, and less or no oats.

It seems every culture or nation has its version of this basic cookie recipe. My Swedish ancestors called theirs Grundrecept For Mordegskakor - a fancy-dancy name for a basic butter cookie recipe. Whatever you call it or wherever you find it, the truth still rings out: Food tastes better made with butter and love!
Sources:
www.dreamtiming.blogspot.com
www.cherryteacakes.com
www.animalfriendlyeating.blogspot.com
www.foodnetwork.com



Alice Osborne
Weekly Newsletter Contributor since 2006
Email the author! alice@dvo.com

---




Recipe

Homemade Scottish Shortbread

4 ingredients only create this magical traditional cookie!

Yield: 24 cookies




Ingredients:

2

cups

butter

softened

1 2/3

cups

sugar

plus more for sprinkling

4

cups

all-purpose

flour

1 1/3

cups

cornstarch

Directions:

Preheat the oven to 350° F. Line a baking sheet with parchment paper.
Cream the butter and sugar until fluffy. In a separate bowl, mix the flour and cornstarch. Slowly add the flour mixture to the butter and sugar, and mix until blended. Roll out the dough to 1-inch thickness. Bake for 30 minutes or until lightly brown. Remove from the oven and sprinkle with sugar on top while still warm. Cut into lengths, approximately 1 by 3-inches. Can be stored in an airtight container for up to 1 week.






Add Recipe to Cook'n





---