Want to Improve Your Health and Cooking in One Step? Turn to GHEE
8 Delicious Uses
For thousands of years world cultures have been using an ingredient called GHEE because it is excellent for health and has lots of cooking benefits. In fact, I consider ghee, a form of clarified butter, an essential powerfood! One of my favorite sites, www.Care2.com, explains why—let's look at cooking and taste first: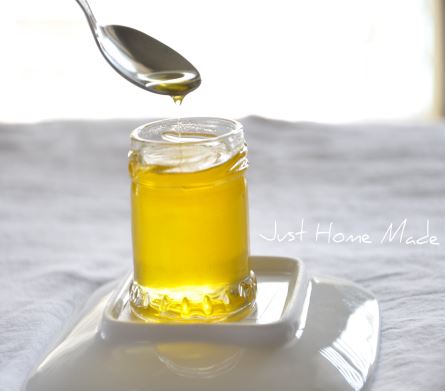 High smoke point (250 °C  482 °F). You can cook and fry with ghee and it doesn't break down into free radicals like so many other oils.
Doesn't spoil easily. It doesn't need refrigeration (some ghee lasts up to 100 years).
Adds a nutty buttery taste without causing dairy allergies. Ghee is made from butter but the milk solids and impurities have been removed; most lactose- or casein-intolerant people have no issue with ghee.
Now the high health and nutrition factors:
Rich in oil soluble vitamins, A D and E.
Rich in K2 and CLA (Conjugated Linoleic Acid) – an antioxidant with anti-viral properties if it is sourced from grass fed cows.
And how about energy and weight management?
Nutritionally rich like coconut oil. Ghee is rich in medium chain fatty acids which are absorbed directly to the liver (like carbs) and burnt as energy, so athletes use ghee religiously. Information from www.coconutresearch.org  explains what coconut oil does for the body:
✔ It stimulates the thyroid 
✔ It kills off excess candida
✔ It lowers cholesterol
✔ It aids weight loss
✔ It keeps diabetes in check
✔ It reduces heart disease
✔ It helps nutrient absorption
✔ It strengthens the immune system
✔ It is a superior skin-care ingredient
✔ It nourishes the brain
✔ It protects from illness and speeds recovery when sickness does strike.
Encourages weight loss like coconut oil. The energy from its medium chain fatty acids can be used to burn other fats in the system and lose weight.
Strengthens digestion and the immune system. Ghee is rich in butyric acid, a short chain fatty acid. Beneficial intestinal bacteria convert fiber into butyric acid and then use that for energy and intestinal wall support.  A healthy body therefore makes it own form of ghee, but you can aid that greatly by deliberately consuming it.
And a big WOW: Ghee is anti-inflammatory and anti-cancer! Researchers are using oral butyrate supplements and butyrate enemas to treat inflammatory bowel diseases such as Crohn's and ulcerative colitis. Ghee, as mentioned above, is loaded with butyric acid!
Convinced? Then let's make and store ghee. It is made the same as clarified butter but heated longer. The site, www.realfoodforlife.com, gives good instructions. You need:
1. 1-2 pounds grass-fed, organic unsalted butter. (Regular unsalted butter works, even salted butter will do, but it's harder to work with and the final product won't be as good.)
2. Medium saucepan
3. Stirring spoon
4. Fine sieve and/or cheesecloth
5. Glass container with tight lid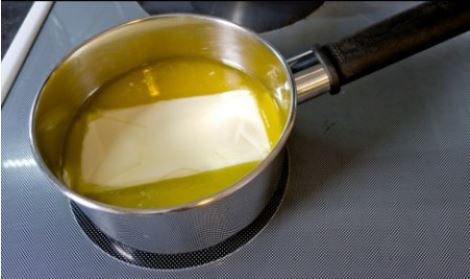 Place butter in pan; melt over medium heat. (Cutting butter into smaller pieces hastens this process.)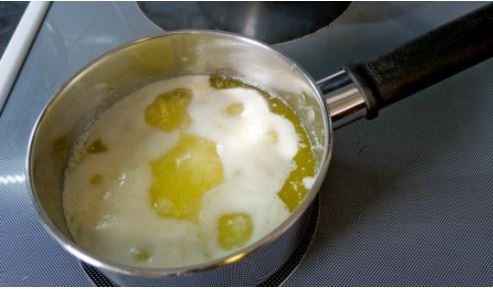 A foam will rise to the top. At this point turn heat down to medium low. Bubbles will continue to increase in size (scoop bubbles with a strainer spoon to see the liquid better).
Solids sink to the bottom and collect on pan sides. Gently scrape these off so don't burn. (Note: The bubbling can be accompanied with a crackling sound.)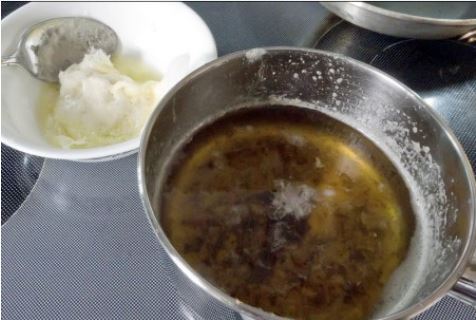 When close to finished, the bubbles slow down. When all water is boiled off, the oil heats up rapidly so be careful not to burn it. When done, the ghee becomes a clear golden yellow liquid and the milk solids separate and settle in the bottom of the pan; they are light brown in color.  If they are too dark, it has been cooked too much.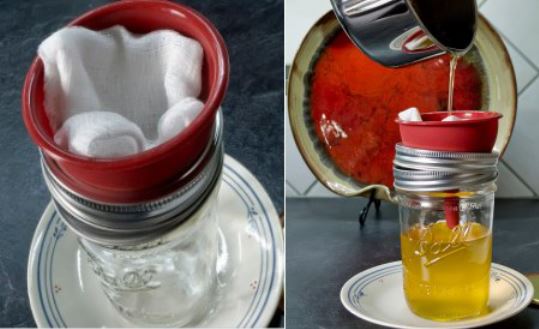 Let mixture cool for 20 minutes then run it through a double layer of cheesecloth. Let ghee cool completely before sealing the lid (to avoid condensation on the lid and jar).
The two things that will degrade ghee are water and sunlight. So always store ghee in the dark, in a container with a good seal. It is best NOT to store ghee in the refrigerator if you are using it often, however, because when you open it up to the warm air, water will condense on the ghee and cause oxidation.
Ghee will last 2-3 months if you keep it in an airtight container, and when kept in a refrigerator, without opening, ghee can last up to a year. Use it like you would melted butter and enjoy improved health and wonderful cooking benefits!
Sources:
www.justhomemade.net
www.realfoodforlife.com
(photos by Larry Jacobson)


Alice Osborne
Weekly Newsletter Contributor since 2006
Email the author! alice@dvo.com




---




Recipe

---