MANY Ways With Packaged Pesto!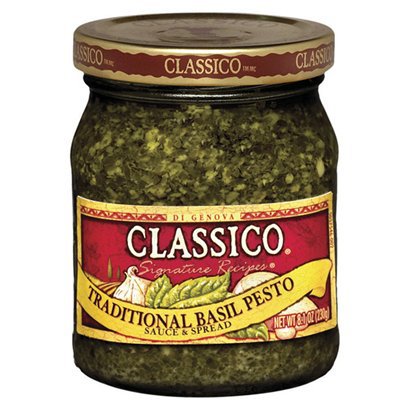 Here's some ideas you'll put me in your will for! Did you know packaged pesto sauce (jar, plastic tube, etc.) has oodles of uses? Purchased pesto is one of the best convenience foods on the market. It's made of basil leaves, olive oil, Parmesan cheese, garlic, and pine nuts; that's all. It can be used in so many ways and can dress up a recipe in seconds.
This is such a versatile sauce and can make your meal prep so easy-especially when you're in hurry. For instance:
---

Quick-as-a-Wink Homemade Tomato Soup. From gourmet cookbook author and cook extraordinaire, Jeanne Wolfley, comes this idea. Puree a quart of bottled tomatoes (or a large can of whole tomatoes), some packaged pesto, salt, pepper, and garlic (all to taste) in your blender. In large saucepan heat through. This is one fast and scrumptious tomato soup, and much healthier than Campbell's or any other canned product—no chemicals, preservatives, or other mystery ingredients involved!

Along this same line, I love to add a dollop or two of packaged pesto into all my soups. Hamburger soup is a sensation with this addition, as is beef stew. Who knew a touch of pesto could turn ho-hum mainstays into something extra special?

And how about as a garnish to baked potatoes? Slice open your baker, add some packaged pesto and sprinkle generously with grated cheese and dig in. My mouth is watering even as we speak.

I make a savory herb roll—similar to a cinnamon roll, but with pesto instead. I roll out my dough into a rectangle, spread generously with packaged pesto, roll up, cut for rolls as usual and bake. Served hot with lots of butter and you have an amazing addition to dinner.

Now keep an open mind for this one: I blend a ripe avocado, 3 large tablespoons of pesto, and a little extra virgin olive oil to make one of the best salad dressings I've ever had. SO good!

Then there's tossing steamed fresh green beans with pesto. We discovered this by accident and it's our favorite way to serve them.

Tuna, white beans, and pesto is amazing. Cook 1 sliced garlic clove in a skillet with 3 tablespoons olive oil, 1 minute. Stir in 1/4 teaspoon red pepper flakes, 1 can each drained tuna and white beans, and 1/4 cup pesto. You can serve this over pasta, over noodles, or eat alone. It's wonderful.

Pesto egg salad is one of the best ever. Whisk 1/4 cup mayonnaise, 2 tablespoons each pesto and olive oil, and 1 tablespoon lemon juice. Fold in 8 chopped hard-boiled eggs, 1 cup chopped celery and 2 tablespoons minced red onion.

Pesto grilled cheese sandwiches are a show-stopper. Just brush 2 slices rustic bread with pesto, then sandwich with sliced cheddar or provolone. Butter the outside of the bread and cook in a skillet over medium heat until golden. This is a family favorite.

Finally of course, is how quickly packaged pesto makes creating a pasta dish. Any pasta, fettucine, orzo, linguine, rotini, penne, etc. While the pasta is cooking we make our salad and set the table. Pasta's done and we drain it and toss it with pesto to taste (we like a LOT). Dinner in a flash!
---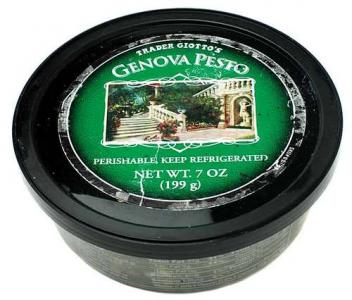 If you haven't tried experimenting with packaged pesto, now's the time. You'll love the flavor combinations you come up with, the easy meal-making it provides, and how quickly you can get dinner on the table.
---
Sources:
www.target.com
www.sodahead.com
www.cooktj.com
---


Alice Osborne
Weekly Newsletter Contributer since 2006