Tips for the Tailgating Rookie!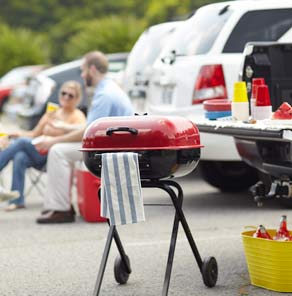 Tailgating can be a sport unto itself. There's nothing like getting geared up to see your favorite team play. Whether you're just getting started on your tailgating adventures, or consider yourself a tailgating pro, there are a few tips and ideas that will help make the festivities more fun for you and your family and friends.
If you're new to tailgating, here are some tips from none other than Home Depot. They say to start by keeping the festivities focused on food. From there, look to these essentials to get the pre-game party started. You'll find that all of the items fit in the trunk for easy transport.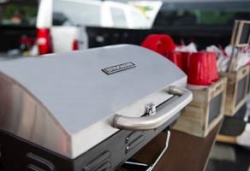 You'll want a reliable portable grill—it's essential: Food cooked on the grill makes for satisfaction and is the standard way to feed a tailgating crowd. The latest portable grills look and feel small, but can pack more than 150 square inches of cooking space. Make sure to bring enough charcoal, as most small portable grills tend to use this kind of fuel.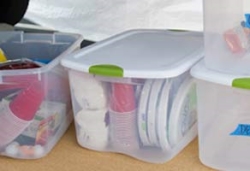 Get organized with clear plastic bins: Pack a medium plastic bin with everything you need to enjoy your food and drinks. Include hand sanitizer, plates, cups, plastic utensils, paper towels or napkins, and heavy-duty trash bags to toss everything in when you're finished. These bins stack well and you can see at a glance what's in them, so you know which one to pull out when. Stay a step ahead of the next game by replenishing those items you've used soon after returning home.
Bring a pop-up canopy: A pop-up canopy makes sure that come rain or shine, you're ready. A standard 10 foot x 10 foot canopy offers 100 square feet of space. Look for canopies that have weather-resistant, UV-blocking covers and anchors to keep your temporary tailgating home in place.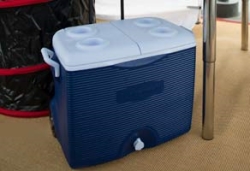 Have a wheeled cooler on hand: Wheeled coolers make toting to and from your car a snap. A standard 45-quart cooler will fit easily in your trunk and it's easy to pull it to your tailgating space. Consider "upcycling" larger containers like empty 2-liter bottles, fill with water and freeze them for use as ice "bricks." You may also want to consider buying a separate bag of ice that's for use in cups, rather than filling cups with the ice that's freely floating inside the cooler. [This is Home Depot's suggestion. Do people really do that?]
Have lots of folding chairs on hand: For the easiest transport to and from the car, and to save space, pack folding chairs that come with their own bag. Folding chairs emblazoned with your favorite team's logo is the coolest, right?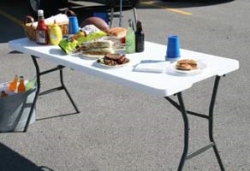 Folding tables: Consider adding a folding table to your setup to accommodate the additional food. A longer table allows you to separate it into zones for easy access to plates, cups and utensils, side dishes and condiments, and cooked food. With two tables, your options expand even more. Use one for food prep, and the other for eating. Make place settings in advance by tying together plasticware and a napkin with a ribbon in your team's colors.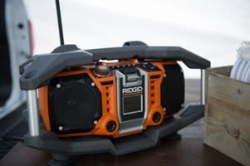 Don't forget the portable speakers and radios: For the hours before the game kicks off, bring a portable wireless speaker to keep you and your guests entertained. If it's enabled with Bluetooth technology, you'll be able to stream and control your music from any Bluetooth-enabled wireless device, like your phone, tablet, or PC. Another option is to bring along a heavy-duty radio and MP3 player built for jobsites. You can be sure it will stand up to the occasional spill when you're at the tailgating site. Make sure to keep your devices charged up and ready to go with an on-the-go charger, or extra batteries.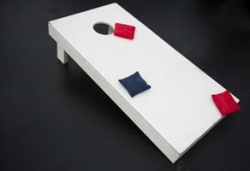 Tailgating Games are great if there are children involved in the party: Whether you want to go the DIY route, or show your team spirit with a pre-made cornhole toss with your team's logo, getting in a few friendly games can add another layer of fun when you are tailgating. You can build your own cornhole toss game, or try your hand at making a ladder ball toss game or tailgating game table. Consider bringing a bucket of sidewalk chalk for the kids, or a set of pails into which they can toss a small ball.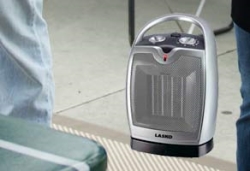 Portable heaters are a great option for those late fall games: It's bound to be cool on a few game nights. In addition to wearing extra layers, consider a portable heater to keep you and your guests warm. With a generator on hand, you can plug in your electric heater. Other portable heaters run on propane, and depending on the size of your heater, require a can or tank of propane like you'd use with a grill.
---
---


Alice Osborne
Weekly Newsletter Contributer since 2006