How to Dinner Party
on the Cheap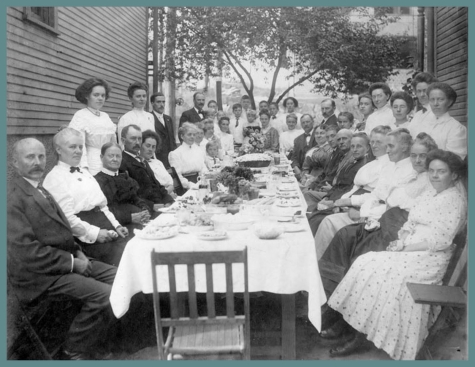 Did you know there's a website called askmen.com? I didn't, but found it when I was researching the idea of hosting a CHEAP dinner party. I love entertaining, but now that we're living on social (in)security, and I'm only working part time, I need ideas on doing things inexpensively, so I checked this site out.
I wasn't disappointed. The author of the article, James Raiswell, had some ideas for me:
First, pick your date and get organized by creating a guest list. Consider inviting guests who otherwise wouldn't associate with one another. A properly planned guest list filled with interesting people will enhance the experience for everyone, and the diversity may serve to hide any of the corners that you've cut regarding the food or décor.
Sending invitations (hard copy, not e-vites) adds class to any gathering, and it's not necessary to buy fancy, heavyweight cards with gold-embossed printing. Here's one that was made from a template found on the Internet and printed on card stock at home (or an office supply store can do your print job for you). Just remember to handwrite names and addresses on the envelopes to make them feel personal.
Create a delicious meal with items that are on sale. Chicken on sale? How about serving Salsa Chicken on Rice? This is chicken breasts cooked in the slow cooker in a jar of salsa or picante sauce. When ready to serve, shred the chicken breasts, add 2 cups or so of sour cream, maybe some diced green chilis, serve over cooked rice and top with shredded cheese. Pair this dish with a crisp tossed salad, crusty roll, and dessert, and you have a nice entertaining menu that's affordable and easy.
And you can really get ahead of the game and deliver an air of sophistication without spending too much money by shopping the dollar store—the party planner's best friend. Cheap decorating supplies abound! Several designers I read suggest dressing up your event by selecting decorations that are monochromatic (same color family) and rich in color. (Streamers with matching paper napkins, for example.)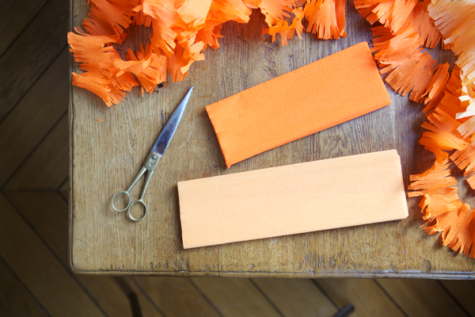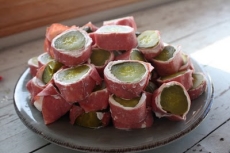 When guests arrive, offer them munchies. The old veggie-and-dip or chips-and-salsa options are solid standbys and great party starters. They get people mingling and snacking, and they're usually well-liked by everyone. I also serve dill pickle roll ups—paper-thin slices of ham or smoked turkey spread with cream cheese and wrapped around baby dills, then cut in 1/2-inch slices. This is very affordable when getting the ingredients are on sale.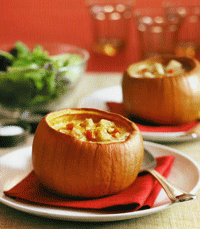 One of my favorite dinner party meals for fall and winter entertaining is hearty soup in a pumpkin (whether individual pumpkins or a large one substituting for a soup tureen) served with homemade crusty breads, cheeses, veggie sticks, and fresh fruit pie and ice cream for dessert. It's not all that sophisticated, but delicious, a little unusual, and easy to decorate around.
While there's no earth-shattering new news here, the one thing I liked about this article was the validation I got: it's OK to do things simply and inexpensively—even better actually. The bottom line is getting together with people you like and showing them you like them by serving them a great meal. They'll sense your care and effort and you may even spark a trend—we need to get together more, and you taking the lead may be just the inspiration others need to follow suit. Happy dining and let's raise a glass to gathering in!
---
Sources:
www.frommaggiesfarm.blogspot.com
www.listtemplatesz.org
www.bedifferentactnormal.com
www.epicurean.com
www.etsy.com
---


Alice Osborne
Weekly Newsletter Contributer since 2006