An EASY and Fun Breakfast Idea
Have you heard of Egg in a Basket, Egg in a Frame, Egg in a Nest, or Egg in a Hole? I ran onto this classic breakfast dish in one of Aunt Annie's saved Cook's Country magazines, and I was hooked.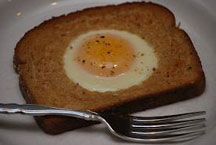 According to the article on the subject, no matter what you call it, an egg fried in the cut-out center of a piece of toast makes a delicious and attractive breakfast dish.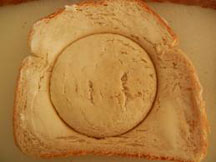 The procedure is to cut circles (or holes) out of bread slices, fry the slices in butter in a skillet, then crack one egg into each hole, cook, and flip the toast to cook the second side.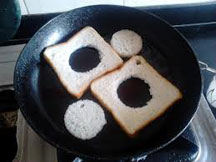 Without a griddle, though, you can't really make more than two at a time. So the cooks at America's Test Kitchen decided to figure out how to do at least 6 slices at a time.
And after some trial and error, they figured it out. Here are their tips and instructions: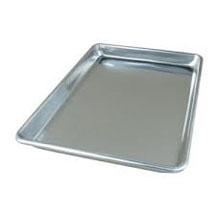 To make 6 Eggs in a Basket (sounds better than Eggs in a Hole, don't you think?), you need two heavy bottomed rimmed baking sheets. (Their tip: Doubling up on baking sheets before adding the eggs helps ensure even cooking.) The Test Kitchen pros recommend Wear-Ever Half Size Heavy Duty Sheet Pans (13 gauge) by Vollrath.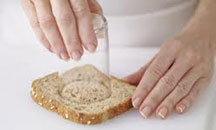 You'll want to cut holes in the middle of 6 slices of bread with either a biscuit cutter or a sturdy drinking glass. Adjust oven racks to the lowest and top positions. Place one baking sheet on the lowest rack, and heat the oven to 500 degrees F. Spread 3 tablespoons of butter on one side of the 6 slices of bread. Cut out and remove circles from center of each piece of bread.
Remove hot baking sheet from oven and melt remaining 3 tablespoons of butter on it, tilting the sheet to distribute the butter evenly. Place the bread circles down the center of the sheet and the bread slices on either side of the circles, buttered side up, in a single layer. Return the sheet to the lowest oven rack and bake until the bread is golden brown, 3 to 5 minutes, flipping bread and rotating sheet halfway through baking.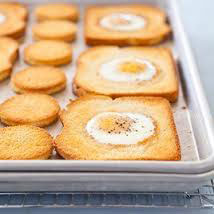 Remove the sheet from the oven and set the hot baking sheet inside the second baking sheet (room temperature baking sheet). Crack 1 egg into each bread hole. Season each with salt and pepper. Place both baking sheets on top oven rack until whites are barely set, 4 to 6 minutes, rotating sheets halfway through the baking.
Place the sheets on a wire rack and let sit until white are completely set, about 2 minutes. Serve immediately.

The one last tip the Test Kitchen Cooks offered was to avoid a runny mess by being sure to used toasted bread. They said, "Don't be tempted to save a little time and skip the toasting step. If you crack the eggs into untoasted bread on a cold sheet pan, you'll have problems - undertoasted bread and messy, overcooked whites that leak out underneath the bread. Yuk."
We can embellish with grated cheeses, perhaps a little finely diced fresh tomato, or some sprinkles of fresh chopped basil. Let your imagination run with this EASY and fun breakfast idea!
Sources:
www.mystoryinrecipes.blogspot.com
www.gcsauciertastethefood.blospot.com
www.en.paperblog.com
www.webstaurant.com
www.kraftrecipes.com
www.cookscountry.com