GRATIN: A Delicious Way to Have Your Veggies!
The advice is still the same, yet being given louder and more often: For a strong immune system, to maintain a healthy weight, and to manage blood sugar, eat more vegetables.
Good thing veggies are so versatile - eaten raw, steamed, sauteed, pureed, or baked - they're pretty easy to work with and their versatility staves off the boredom that could easily accompany this category of food.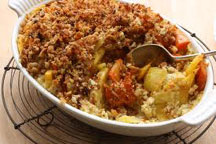 It's the baked aspect I want to look at here - baked gratins, to be exact. A gratin makes it easy to put food on the table in no time at all. Many of the ingredients are already cooked when the dish is assembled, as a matter of fact.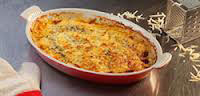 A gratin is a style of casserole, referring to the crusty surface that forms on the sides and top as it bakes. It can be prepared many ways, also. It may or may not be topped with grated cheese or buttered bread crumbs. The vegetables can be ensconced in a custardy base like a crustless quiche or embedded in a seasoned white sauce. Or they can be baked without a sauce. The various toppings are what form the crusty gratin surface.
Precooking vegetables for a gratin accentuates and reserves flavors, textures, and colors. It also ensures that baking time for the assembled dish will be brief. For eggplant, sweet peppers, and summer squash, a preliminary browning in a hot broiler does double duty: It evaporates excess moisture, guaranteeing that the finished gratin won't be watery, and by carmelizing the cut surfaces, it also enriches the flavor.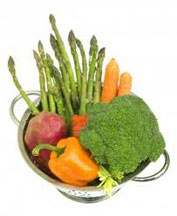 Be sure to choose vegetables that are firm enough not to lose their shape when shredded or thinly sliced; also those that won't exude a lot of excess water. Prime candidates include: artichoke hearts, asparagus, broccoli, carrots, cauliflower, celery and celery root, endive, parsnips, potatoes, rutabagas, summer squash, and turnips. Leftover meat, fish, and poultry can quickly and easily be recycled into gratins (with or without the vegetables).
And how about the top? Gratin toppings should be long on crunch and flavor. Sprinkle them with buttered bread crumbs or use finely chopped nuts for a change of pace. Parmesan, Cheddar, and Gruyere cheese all melt well and brown even better.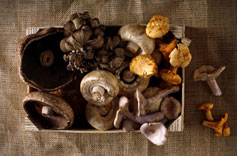 Now let's talk about a specific vegetable that makes an amazing gratin: Mushrooms are among the most popular vegetables for gratins. When you buy them, make sure they are firm and blemish free with no sign of slipperiness or shriveling. It's best to store them just as they are when purchased, with a little soil still clinging to the stems. Simply wrap them loosely in paper toweling and refrigerate in an aerated plastic bag for no more than 3 or 4 days. Leave packaged mushrooms in their tray, but discard the plastic wrap and cover with paper toweling instead.
Most mushrooms need nothing more than a quick wipe with damp paper toweling. If they need washing, rinse briefly under cool water and pat dry on paper toweling. You'll rinse away flavor if you soak mushrooms.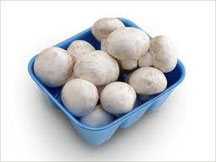 And more mushroom advice: Their yield varies depending on the variety and whether or not the stem is used. When mushrooms are served as a vegetable, figure on 1/2 to 3/4 pound per person if both caps and steps are eaten, and 1 pound if only the caps are used. Since they are about 90% water, fresh mushrooms may shrink as much as 40% during cooking. As a rule of thumb, 1 pound of chopped or sliced raw mushrooms equals 5 to 6 cups loosely packed mushrooms.
Whatever your favorite - crimini, enoki, oyster, portobello, shiitake or white button - all mushrooms are loaded with essential nutrients. Many varieties of mushrooms contain good-for-your-bladder selenium and produce vitamin D when exposed to sunlight. Oyster mushrooms are a good source or iron. Plus, all mushrooms are low in calories: Six medium white mushrooms, for example, have just 22 calories.
Sold? Good, then because this dish is so good for us, and when made with mushrooms, even better, here's a can't-fail recipe you might want to try:
---
Mushroom Gratin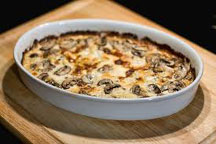 Healthiness wrapped up into a tasty dish - that's a gratin for you!
Ingredients:
4 tablespoons

butter

divided
1

medium white

onion

diced
3 cloves

garlic

minced and divided
2

large

shallots

chopped
1 pound

fresh

mushrooms

trimmed and thinly sliced
8 ounces

Portobello or other variety

mushrooms

trimmed and thinly sliced
1 teaspoon
salt
1/4 teaspoon
pepper
1/2 cup

fine dry

bread crumbs

(Panko crumbs work well also)
1/2 cup

grated

Parmesan cheese
1/4 cup

chopped

parsley
Directions:
Preheat oven to 400 degrees F. In 10-inch skillet over low heat, melt 1 tablespoon of the butter. Add onion, 2 teaspoons of the garlic, and shallots and saute until lightly browned - about 5 minutes. Remove to a small bowl and set aside.
Saute mushrooms in 2 more tablespoons of the butter, in 2 batches if necessary, until juices cook out and evaporate - about 5 minutes. Ad salt, pepper, and reserved onion mixture and spoon into an ungreased 10-inch oval gratin dish or a 10x6-inch baking dish.
Melt the remaining 1 tablespoon butter in a small skillet. Add to bread crumbs along with Parmesan cheese, the remaining 1 teaspoon garlic, and parsley and toss well to mix.
Scatter bread crumb mixture evenly over mushrooms and baked, uncovered, for 30 minutes.

Recipe formatted with the Cook'n Recipe Software from DVO Enterprises.
---
Sources:
www.thegardenercook.wordpress.com
www.amazon.com
www.123rf.com
www.besthealthmag.ca.com
www.timptations.com
www.dailykos.com