From the Kitchen Copy Cat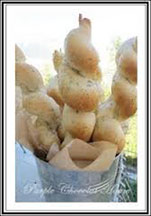 We had pizza at the Pizza Factory and I couldn't get over how cool their curly breadsticks are. So I've been fiddling around trying to figure out how to make my own ever since.
I've tried all sorts of doughs - roll doughs, bread doughs, and finally pizza crust doughs. The pizza crust doughs gave me the best results. With roll and bread dough, the end product is just too big and fluffy. The goal is a bite of tasty chewiness.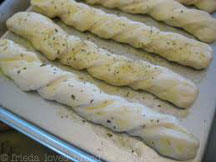 I tried twisting the dough and just baking it on a baking sheet, but this caused them to flatten and spread out too much.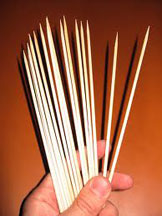 I also tried twisting the dough around wooden shish-ka-bob skewers the way the Pizza Factory does it. The result was OK, but I wanted a little more crustiness on the insides of the twists.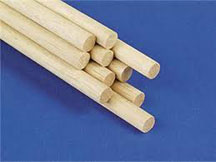 Hah! The technique I finally settled on was a 1/4-inch wooden dowel stick. I bought a full length (maybe 4 or 5 feet) and cut it into 12-inch lengths. I scrubbed them well to disinfect and let them dry thoroughly.
On bake day I buttered the dowels heavily and set aside. I found my favorite pizza dough recipe, and added a little less water than the recipe called for so the dough would twist well. I rolled out a large rectangle of dough and sliced it lengthwise, into 1-inch strips.
You have to work quickly - the dough starts to rise and makes the twisting difficult. So quickly I worked, twisting a strip of dough around each well buttered dowel. I lined my rimmed baking sheet with parchment paper, and sprayed it with Pam, then I carefully set each bread twist horizontally across the baking sheet, so that the rim would support the twists up off the surface of the sheet.
I made sure there was plenty of space between the twists so that as the dough rose, the twists wouldn't connect to each other upon baking.
The result was delicious perfection! We did a couple things - after they were baked we gently twisted some off the dowels so the insides of the twists could get a little hard and chewy. On others we just ate the bread right off the dowels. Both ways were terrific.
There's something really satisfying about being a kitchen copy cat and I intend to do much more of this in 2013. I'll pass on my successes. Meanwhile, is there a restaurant dish you've copied successfully? We'd love to hear about, so please share!
Sources:
www.purplechocolathome.blogspot.com
www.friedalovesbread.com
www.staceyalevine.com
www.micromark.com