BULK BUYING - Fast Pass to Smart Shopping!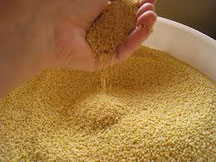 Bulk buying is one of the best ways to really stretch the grocery dollar, if you know how. The savings can be a hit or miss, however, if you don't know what you're doing. Buying the wrong things can lead to waste and spoilage, for instance.
But buying the right items in bulk (at the grocery store, local health food store, a co-op, or directly from the farmer) and thus saving a small fortune, isn't the only reason to buy in bulk.








Before we go any further, though, let's make a quick clarification, using information I found on one of my very favorite websites of all time, FrugallySustainable.com. The author, Andrea, makes it clear the bulk buying that saves big $$$ is not the shopping for bulk buys at the members-only, big box stores like Sam's Club and/or Costco. She says that's a whole different animal and represents a very different type of "buying in bulk" (one that's often associated with excess and waste).
The bulk purchases she refers to are the kind you'd find occupying an entire section or aisle at your local grocery or health food store. These bulk bins usually offer all sorts of foods - from dried fruit to nuts to dried beans, grains, and herbs.

And buying in bulk is not limited to the grocery store. Often, large sacks of grains and beans can be purchased directly from the farmer (go to www.localharvest.org to find farmers close to you that sell to the community) at a fraction of the cost, making bulk merchandise one of the most frugal ways to slash any grocery budget.
This style of purchasing food can lay the groundwork for your monthly grocery budget and underpins your ability to feed your family. It's the fast pass to smart shopping. There are people, though, who question the benefits of buying in bulk and ask if it's really worth it. The simple answer is "yes"! But decide for yourself; consider these other benefits and see if this approach to grocery shopping doesn't make great sense: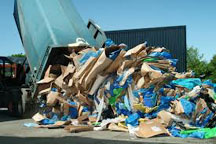 1. Protects the Environment: Purchasing in bulk reduces our carbon footprint. By eliminating the need for wasteful packaging, buying in bulk lessens the amount of trash that ends up in garbage dumps. Likewise, the transportation of goods is simplified, thereby easing the burden of CO2 emissions.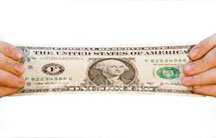 2. Stretches the Grocery Dollar and Saves Money: When done correctly, buying in bulk saves an average family up to 50% on their monthly grocery budget. It allows the freedom to buy products that would be undeniably more expensive if purchased in smaller amounts. For example, organic pastured meats suddenly become more affordable when purchased in bulk, directly from the farmer.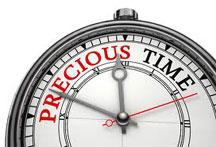 3. Saves Time: Buying in bulk can remove the need make daily, and even weekly, trips to the grocery store. Having what is needed on hand at all times is a tremendous time saver.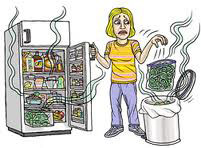 4. Reduces Waste: This method of purchasing goods allows the individual the freedom to determine an exact amount of food that is needed, decreasing the quantity of food wasted when using pre-packaged products.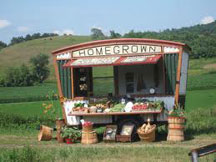 5. Helps to Promote Local Sustainability: Obtaining goods directly from the producer, in this case the farmer, should always be a priority, if this is at all possible. Buying in bulk provides even deeper savings when purchases are made straight from the farm. Planning ahead for storage of 25-50 pounds of grains and/or dried beans is worth the effort if it's food you and your family regularly eat.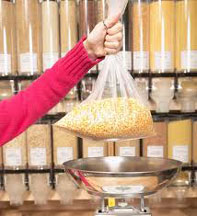 6. Allows for Personal Accommodation: Plainly put, buying from the bulk bins offers you the opportunity to select the perfect amount of food. And there's no pressure to pay for something you won't use. Instead, you are able to choose exactly what you need; whether that's just enough cumin to spice up that new beef recipe or plenty of quinoa to make a big batch of salad.
Convinced? I sure am. I have been bulk buying for over 30 years and completely agree with Frugally Sustainable's Andrea, and I share her passion. And Andrea is so passionate about this subject that she's offering a FREE PDF copy of her eBook, Buying in Bulk, found on her website, FrugallySustainble.com.
This is the year to improve on how we're doing things, and grocery shopping is a good place to start. So whether it's the 50% savings Andrea mentions above, or less, savings is savings. So let's master the art of bulk buying and put a little more money in our grocery accounts in 2013!
Sources:
www.frugallysustainable.com
www.cidercake.com
www.slowfoodusa.org
www.inhabitat.com
www.simplyfantasticbooks.com
www.tasksdonedaily.com
www.portalwisconsin.wordpress.com
www.thekitchn.com
---
---
---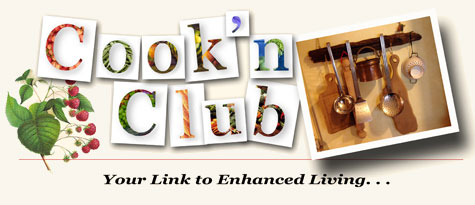 Contribute to the Cook'n Club!
DVO would love to publish your article, prose, photography and art as well as your cooking, kitchen and nutrition tips, tricks and secrets. Visit the Newsletter Submission / Win Win for All section in our Forum for more information and details.