WhatWhat's a ROUX and What do I DO with It?s a ROUX and What do I DO With It?
ROUX is the secret to so many wonderful dishes! It's a thickener and is often used to thicken soups and gravies and to create sauces for certain entrees (thin Hollandaise).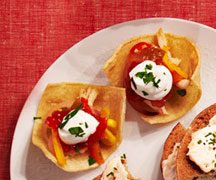 The typical roux recipe calls for 2 cups flour and 1 cup butter mixed together until well blended. The technique is to melt the butter in a heavy saucepan and then whisk in the flour, a little at a time, to make a smooth paste. This paste can be stored, tightly covered, in refrigerator for a few days. When ready to use, let it come to room temperature, and then add your needed hot liquid, a little at a time, whisking to create a smooth mixture. Stir constantly over medium to high heat until the preferred consistency is reached.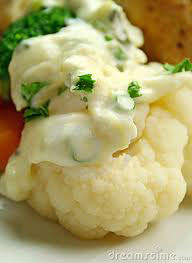 This is also called a white sauce, which can be made thin, medium, and thick. Thin white sauce is best for vegetables and soups. (For each cup sauce: 1 T butter, 1/2 -1 T flour, 1/4 tsp salt, 1/8 tsp pepper and 1 C milk.) Medium sauce is used for creamed and scalloped foods - pasta primavera is a good example. (For each cup sauce: 2 T butter, 2 T flour, 1/4 tsp salt, 1/8 tsp pepper and 1 C milk.) And thick sauce is added at the last 10 minutes of cooking to stews and chowders. (For each cup sauce: 1/4 C butter, 1/4 C flour, 1/4 tsp salt, 1/8 tsp pepper, 1 C milk.)
The technique for all white sauces is to melt butter in a heavy saucepan over low heat. You then blend in flour, salt and pepper. This is cooked over low heat, stirring until mixture is smooth and bubbly. Remove it from the heat and stir in milk. This is then heated to boiling for 1 minute, while stirring constantly.
White sauce is so versatile and can be made in many variations...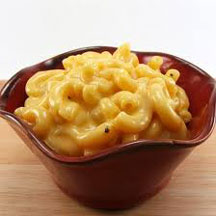 Cheese sauce: So good on vegetables, rice, macaroni and egg dishes. Prepare medium sauce. Stir in 1/4 tsp dry mustard and 1/2 C shredded cheese. Heat over low heat stirring constantly, until cheese is melted and sauce is smooth. Note...for richer cheese sauce and 1 C shredded cheese, 1 Tsp dry mustard, and add 1/2 - 1 tsp Worcestershire sauce. Heat over low heat till smooth.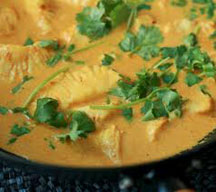 Curry sauce: Is delicious on chicken, lamb, shrimp and rice. Follow directions for medium white sauce and stir in 1/2 tsp curry powder with the flour.
Dill sauce: This is delightful on most meat or fish. Follow recipe for medium sauce and stir in 1 tsp minced fresh dill or 1/2 tsp dill weed with flour. A dash of nutmeg is a great companion flavor to dill, by the way.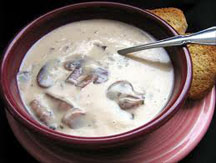 Homemade Cream of... Soup Mix: An exciting recipe - how great to have a delicious cream soup without the MSG and other mystery ingredients food manufacturers think they have to add! 2 C powdered nonfat milk, 3/4 C cornstarch, 5 chicken bouillon cubes. 2 Tablespoons dried onion flakes. 2 teaspoon basil and 1 tsp thyme leaves. 1/2 tsp pepper. Combine al ingredients. Mix well. Store in airtight container. Equals 9 cans of soup. For one can soup: Combine 1-3 C dry soup mix with 1 1/4 C cold water in a saucepan. Stir and cook until thickened. Add to casserole as you would canned product. (For Mushroom soup: Add a 4 ounce can of mushrooms with juice as part of the liquid called for in recipe.)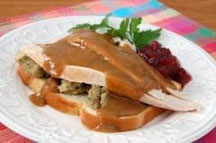 Gravy: A good brown gravy can be made from the juice from meatballs or any other beef drippings (or poultry). Add 2-3 T flour and stir into the juice of the frying pan. If not much juice is available, add some water (1/2 C) and stir until flour is a smooth paste. Add a little more water or milk and stir until thick and bubbly. Salt, onion salt and even a little beef, or chicken bouillon can be added if drippings or juice from meat is not available.
Potato flour or corn starch can also be added as a thickener. Put 1 T in a cup, add a little water and stir to dissolve. Add to hot boiling liquid and stir till thick. If you want it thicker add more potato flour or corn starch or flour. If too thick, add a little more liquid. Gravies should be tasted as you create them - they're finished taste is highly subjective!
Sources:
www.sustainableeats.com
www.dreamstime.com
www.evilshenanigans.com
www.qlinart.blogspot.com
www.cookwithcampbells.ca
www.food.com
www.thriftyfun.com