Try This for an Awesome Snack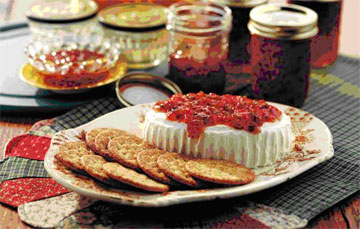 Flavors blast and mix to create a scrumptious bite. Tradition rings loud in my house, and this snack is a must-have every New Year's Eve. It's great for many reasons. Example: it's easy and fast to throw together if you have the jelly prepared beforehand. But probably my favorite reason is that it brings everyone in a circle at the table. We talk, laugh, and eat amazing food. I truly believe good food can bring people together. This is definitely one of them.
All you need:
1 block cream cheese
1 box crackers (any type. I like Wheat Thins, Townhouse, or Chicken Biscuit)
1 can hot pepper jelly (This can be store-bought. I've seen it at stores like Harry and David's, but it's very cheap to just make at home. See recipe below)
---
Hot Pepper Jelly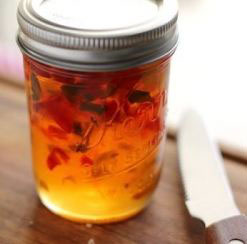 Ingredients:
2 1/2 cups

finely chopped

red bell peppers
1 1/4 cups

finely chopped

green bell peppers
1/4 cup

finely chopped

jalapeno pepper
1 cup

apple

cider vinegar
1 (1 3/4-ounce) package
powdered pectin
5 cups

white

sugar
A few drops red food coloring (optional) It looks prettier this way
Directions:
1 Sterilize 6 (8 ounce) canning jars and lids according to manufacturer's instructions. Heat water in a hot water canner.
2 Place red bell peppers, green bell peppers, and jalapeno peppers in a large saucepan over high heat. Mix in vinegar and fruit pectin. Stirring constantly, bring mixture to a full rolling boil. Quickly stir in sugar. Return to full rolling boil, and boil exactly 1 minute, stirring constantly. Remove from heat, and skim off any foam. (For a prettier mixture, add a few drops of red food coloring)
3 Quickly ladle jelly into sterile jars, filling to within 1/4 inch of the tops. Cover with flat lids, and screw on bands tightly.
4 Place jars in rack, and slowly lower jars into canner. The water should cover the jars completely, and should be hot but not boiling. Bring water to a boil, and process for 5 minutes.

Recipe formatted with the Cook'n Recipe Software from DVO Enterprises.
---
References:
http://allrecipes.com/recipe/hot-pepper-jelly/
Snack image:
http://www.grandmaskitchen.com/sites/www.grandmaskitchen.com/files/imagecache/hero-image/670x427-hot-pepper-jelly.jpg
Jar image:
http://6998ec567c1ba0e4d1df-35f536080503e7803921781ced385773.r35.cf2.rackcdn.com/styles/250square/rcf/d237bc4a-3ac5-47a6-9cb8-252f2cb2d61c.jpg