Ah Ah Ah Ah Stayin' Alive
with Non-Alcoholic Drinks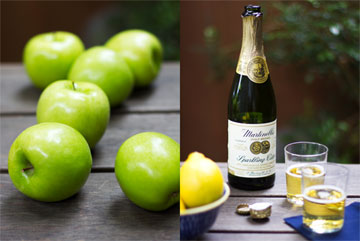 It's always scary to drive around New Year's Eve. Crashes kill. Driving under the influence accounts for many of those deaths. Stay safe this year by 1) avoid driving 2) Don't drive under the influence 3) Don't have alcohol at all.
I'm here to help you with that last one. I went onto the website for Martinelli's sparkling cider and found a ton of recipes for drinks without alcohol. They sure look yummy and worth a try. I love Martinelli's sparkling cider just plain, so I can't see how these could be bad.
---
---
---
---
---
---
---
---
---
---
---
---
---
---
---
---
References:
http://www.martinellis.com/recipes/n/nadhothldypunch.shtml
Martinelli image with lemons:
http://www.kitchenkonfidence.com/wp-content/uploads/2011/01/GreenAppleandSparklingCiderSorbet31.jpg