Calories, Calories, Calories:
Beat 'Em at Their Own Game!
Calories, calories, calories - some of us can become obsessed by them around this time of year. They do add up, though, and those of us with blood sugar issues do need to keep track of them. But let's beat 'em at their own game - we CAN enjoy some very tasty munching without packing on the pounds. Here are a few tricks to help us do so:

1. If you're a chips-and-dip lover, experiment with light cream cheese and buttermilk - add some sun-dried tomatoes and you have a delicious low-calorie dip that goes well with any chip or cracker, but especially well with the whole-grained variety. One product I've just discovered that is incredible for this purpose is Yolanda Pesto - sundried tomatoes with a smidge of basil. This is delicious mixed into light cream cheese!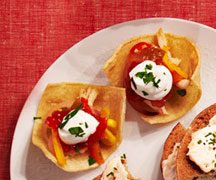 2. These mini chicken tostadas are amazing. I mix some leftover chicken (and turkey works as well) with a dash or two of taco seasoning, a bit of salsa and place them on crispy tortilla shells. I top with a tiny bit of light sour cream and garnish with some snips of cilantro. Divine and low-cal to boot!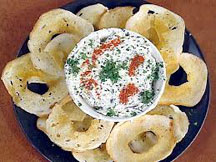 3. Consider using multigrain bagel chips as a foundation for all sorts of things - smoked salmon pureed into light cream cheese is superb, for instance.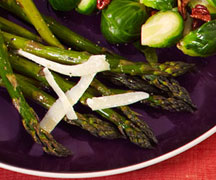 4. I like to roast asparagus with sea salt and then jazz it up with a little butter and freshly-squeezed lemon juice.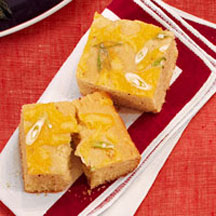 5. Cornbread can be a great low-calorie, satisfying alternative to the traditional rolls and other baked breads that swamp us during the holidays. I use a traditional recipe but substitute some whole grain flour for that white all-purpose flour, and I use buttermilk as my liquid. A recipe that showed up in Fitness Magazine has you top the batter with some grated sharp Cheddar cheese (1/3 cup) and some finely sliced scallions (1/4 cup). This sounds like a delicious flavor combination.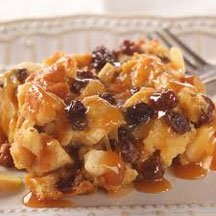 6. Bread puddings are a great way to have dessert without the added guilt. I use 100% whole wheat bread that I cube and toast. I substitute zylitol for the sugar, buttermilk for the liquid, and if making my recipe using apples, I like to add cinnamon, a little maple syrup, and raisins. I pre-cook the raisins so I'll have that nice rasiny liquid to make a low-calorie sauce with (used to top the pudding when serving). I don't share a recipe here because great bread pudding recipes abound - the trick is to make some healthy substitutions and you're on the right track.
7. Pears are in season now, and they can be delectable in desserts. My Aunt Annie used to make a pear tart that we begged for. I took her recipe and healthified the crust - which is where so many of the calories in pies of any kind show up. Here's the recipe:
---
Pear-Pecan Tart
Winter pears and delicious pecans team up to make a dessert folks will rave about.
Ingredients:
cooking spray
2

firm, but ripe Barlett

pears

cored and sliced into 12 wedges each
1 tablespoon
lemon juice
1 tablespoon

dark

brown sugar
3/4 cup
pecans
1/2 cup

sugar

(zylitol works great as a straight-across substitution)
3/4 cup

whole grain

flour

(I use a combination of teff, whole wheat, and oat flours)
1/2 teaspoon
baking powder
1/4 teaspoon
salt
1

extra large

egg
1 1/2 teaspoons

grated

lemon zest
2 tablespoons

butter

chilled
Directions:
Preheat the oven to 375 degrees F. Coat a 9 1/2-inch tart pan with cooking spray. In a medium bowl, toss the pears with the lemon juice and brown sugar. In a food processor, pulse together the pecans and granulated sugar (or zylitol) until mixture is light and fluffy; add flours, baking powder and salt. Add the egg and lemon zest and slice in the butter. Pulse until the mixture just begins to come together.
Turn the dough into the pan and press it over the bottom. Arrange the pears over dough in a circular pattern. Brush the fruit with a teaspoon of the brown sugar-lemon juice mixture remaining in the bowl, reserving any leftover liquid.
Bake 45 to 50 minutes, until dough is puffy and golden brown. Brush fruit with brown sugar-lemon juice mixture after 40 minutes. Let cool slightly in the pan before serving.

Recipe formatted with the Cook'n Recipe Software from DVO Enterprises.
---
Sources:
www.yolandapesto.com
www.fitnessmagazine.com
www.foodnetwork.com
www.fitnessmagazine.com
www.verybestbaking.com